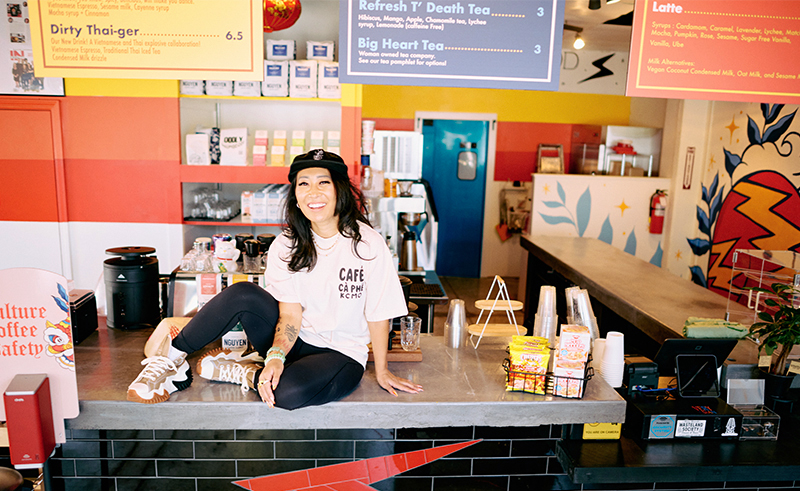 When Jackie Nguyen started Cafe Cà Phê in 2020, she wanted to create more spaces in Kansas City to celebrate Asian American and Pacific Islander (AAPI) heritage. 
Since opening the brick-and-mortar doors of her Vietnamese coffee shop, Cafe Cà Phê in 2022, Nguyen has intentionally highlighted fellow AAPI-owned businesses and spoken out against Asian hate. 
When she noticed a lack of festivals to celebrate AAPI heritage during AAPI Heritage Month last year, Nguyen and her team at Cafe Cà Phe stepped up to make sure Kansas Citians had a place to celebrate—and over 300 people came together in Columbus Park to enjoy AAPI-owned food and maker vendor booths and performances.
In 2023, Nguyen and her team have partnered with Fresh Karma Dispensaries to make the festival a Kansas City tradition. This year's AAPI Festival, APPIconic will be on May 20 in Columbus Square Park.
"Cafe Cà Phê's mission has always been to uplift local AAPI folks, particularly those with a smaller reach who might be overlooked for other opportunities," says Nguyen. "During AAPI Month in particular, we want to showcase the hella talent our Kansas City AAPI community has to offer and invite folks in to witness their brilliance."
The festival theme is Iconic: A Throwback to 1990 with a "1990s magazine cover" aesthetic—so dig out your favorite tube tops and acid-wash jeans and join for a day of live entertainment, booths by local makers and artisans, and nostalgic vignettes designed for photo ops.
Featured performers will include DJ Kay Fan, Three Trails Taiko, traditional Balinese dancer Wenny Grant, and more. Plus, attendees will be able to shop from over 20 AAPI vendors.