A series of uniquely themed dinners and events taking place this autumn in some of the area's most fascinating homes and venues
All FLAVOR! proceeds will benefit the essential services Good Samaritan Project (GSP) offers to people affected by HIV
ABOUT FLAVOR!
FLAVOR! is a series of culinary events taking place in some of Kansas City's most fascinating residences and spaces. The region's newest signature event, FLAVOR! will raise critical funds to support Good Samaritan Project's (GSP) programs and services for people affected by HIV.
Dinners begin late August and run through early November. Events range in size from 6-90 guests with tickets ranging from $25 to $175.
More than a fundraiser, FLAVOR! is a way to meet new people while enjoying incredible cuisine in some of KC's most interesting residences and spaces. FLAVOR! events are as intimate as they are eclectic – all with you in mind. 
What is FLAVOR!?
FLAVOR! is a series of themed dining experiences taking place in some of Kansas City's most fascinating homes and venues. Generous hosts and chefs open their homes and restaurants producing everything from a regionally-inspired seated dinner to a lavish backyard soirée. Let your imagination run wild!
When is FLAVOR!?
These unique dining experiences kick off in late August and run through November. Tickets start as low as $25 and run as high as $175.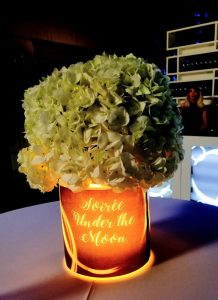 And we want you to know that FLAVOR! dinner hosts are incurring 100% of the costs of their events. That means 100% of your ticket purchases will go directly to support the life-saving services that GSP provides to one in six people living with HIV in Kansas City.
So please join us for an exquisitely FLAVOR!-ful and deeply intimate experience.
Tickets and information http://flavorkc.org/
Bon Appetit!
September 23, 2018: A MID-CENTURY MODERN PROGRESSIVE DINNER, hosted by John Escalada and Don Schreiner
Step back to 1957 for an Atomic Ranch experience in multiple homes built by Don Drummond at 98th Place. John Escalada and Don Schreiner invite you to their Mid-Century Modern neighborhood culminating in their home designed by Jones and Emmons of Los Angeles, with a pool addition designed by Robert McLaughlin, and a backyard landscape designed by Kristopher Dabner (President and Creative Director of The Greensman and FLAVOR! 2018 Co-Chair). This moving feast will feature signature cocktails, heavy hor d'oevres, salads, a main course and desserts in some of our region's most unique hidden gems. For more information visit www.kcmodern.com
September 16, 2018: COFFEE AT CAMELOT, hosted by Laura Welch and Leslie Stulken
Welcome to Castle Camelot, on Weatherby Lake, one of Kansas City's most famous homes! Your hosts, Laura Welch and Leslie Stulken, invite you to join them for a lakeside garden brunch overlooking Wetherby Lake. Featuring the best brunch has to offer – eggs, streusel, mimosas and more! – this is sure to be a mouthwatering meal at a memorable manor.
September 25, 2018: POP-UP CABARET FOR A CAUSE, hosted by Larry Wheeler, Heather Cole & Alan Stribling, Andrea Bengamina, Neil Trickey, Laura Laiben
Join us at KC's "best kept secret" dive bar – The Piano Room –  for an evening of "singin' & slingin'" with KC's most talented singing bartender, Heather Cole, along with the amazing Alan Stribling on the ivories. The iconic and legendary bar will be dressed to the nines and poised to entertain an exclusive group of lucky guests who will be sipping on hi-balls and munching on cabaret cuisine as they witness some of the finest entertainment that many KC folks have never heard of.  Expect surprises, sing-a-longs, and a fun-filled evening of exceptional entertainment, food and drink.  Register early as seating is limited for this one night performance.
Your Hosts:
Larry Wheeler, Intercontinental Hotel
Heather Cole & Alan Stribling, The Piano Room
Andrea Bengamina
Neil Trickey
Laura Laiben, The Culinary Center of Kansas City
September 28, 2018: GHOULS, GOBLINS AND (BABA) GANOUSH, hosted by Charles Everson and Ryan Cox

Please join GSP Board Vice President, Charles Everson, board member Ryan Cox, and a ghost (allegedly), for a Mediterranean meal at St. Mary's Episcopal. Catered by Jerusalem Café, this (completely secular) dinner features a tour of the haunted history of the St. Mary's building – not only featuring its impressive architecture, but also priests passing in the rectory, ghosts, and ghouls! In other words: Come for the gargoyles, stay for the ganoush.
September 30, 2018: A TOMATO TASTING, hosted by Suzanne Frisse – SOLD OUT
Suzanne Frisse invites you to Meadow Acres for a heirloom tomato dinner and garden tour. With 400 tomato plants in the gardens – types from A to Z… or Alicantes to White Queens, if you prefer – there's sure to be a tomato or two to tickle your taste buds. The menu features homemade focaccia and mozzarella, tomato bisque soup, tomato salad, choice of pork tenderloin or salmon, and dessert.
September 30, 2018: FIESTA DE PIÑATA, hosted by Paul Monteil, Chris Hernandez, Josh Dampf and Jordan Borrell
Back by popular demand – the smashingly-fun Piñata Party! Please join hosts Chris Hernandez, Paul Monteil, Josh Dampf and Jordan Borrell for a fiesta featuring piñata-whacking, a margarita machine, the Quesadilla Queen and the best tres leches cake in Kansas City. This event sold out last year, so buy your tickets now for un grande Sunday Funday!
October 2, 2018: ITALIAN GARDENS, hosted by Cody Hogan and Peter Crump
Hosts Cody Hogan and Peter Crump invite you to join them in their garden for an Italian-inspired evening of local delights. Using local, in-season ingredients and featuring the traditional courses of antipasti, pasta, secondi and dolci and wines from the vineyards of Lidia Bastianich. This dinner is sure to evoke the finest flavors of the Italian peninsula.
October 3, 2018: WAREHOUSE WONDERLADS, hosted by Jonathan Gregory and Eric Thomas
Welcome to the West Bottoms! Your hosts, FLAVOR! co-chair Jonathan Gregory and Eric Thomas, invite you to R24 studios for dinner. Featuring catering from Cucina della Ragazza and drinks from Cooper's Hawk and Tito's Handmade Vodka, this is sure to be a meal to remember. Cody Brown, founder of R24, will be on hand to discuss his process.
More on artist Cody Brown: www.r24studios.com
October 13, 2018: MILKWEED CREATIVE, hosted by Patricia O'Dell and Todd Schulte
Patricia O'Dell of In Kansas City magazine and Mrs. Blandings blog and Todd Schulte of Genessee Royale Bistro are collaborating to create a new project, Milkweed Creative. The couple will host an evening of Midwestern hospitality for eight at O'Dell's home. Start with crafted cocktails on the porch and move inside for a casual yet elegant seasonal dinner with a twist on regional cuisine with wine pairings.
October 21, 2018: FESTA DELLA RIFICOLONA – FESTIVAL OF THE PAPER LANTERNS, hosted by Laura Laiben and Sandy DiGiovanni
Please join your hosts, The Culinary Center of Kansas City's "Main Dish" Laura Laiben and Celebrity Chef Sandy DiGiovanni, for a special dinner honoring one of Florence's biggest and most colorful harvest festivals – Festa della Rificolona.  This authentic multi-course Tuscan meal ending with Chef's handmade Limoncello, will be celebrated in The Culinary Center of Kansas City's 'Tuscan Kitchen' around a long family-style table under twinkling lanterns. There will be surprises and you'll get a bit of hands-on cooking experience tonight as you work alongside the two chefs. Italian wine pairings, recipes and a special gift for each guest are yours to take home.  A raffle for a cooking class for two will be awarded to one lucky guest. Register early as seating is limited for this unique event.
October 27, 2018: EMERALD ISLE EATING, hosted by Maureen Hunt and Cindy Brewster
May the road rise up to meet you on the way to Weston, Missouri, for this delightful Irish dinner. Your hosts, Maureen Hunt and Cindy Brewster, invite you to the American Bowman Restaurant for a traditional Irish meal of chicken, wild rice and pound cake, before adjourning to the adjacent O'Malley's Pub for Irish music and dancing! Guests are welcome to come early to enjoy all the charm of downtown Weston before dinner with their hosts.
November 3, 2018: DIA DE LOS MUERTOS: CELEBRATION OF LIFE AND ART hosted by Caroline Huffman and Hugo Ximello-Salido
Join GSP CEO, Caroline Huffman, and Hugo Ximello-Salido, GSP's Bilingual Community Prevention Specialist and Mexican born artist, for a Dia de los Muertos celebration to remember! You'll enjoy Mexican finger foods, sugar skulls, and margaritas in front of life-size catrinas as musicians play. And you'll have the chance to bid on Hugo's art during a silent auction. Food, fun and friends? This sounds like a perfect FLAVOR! fiesta!