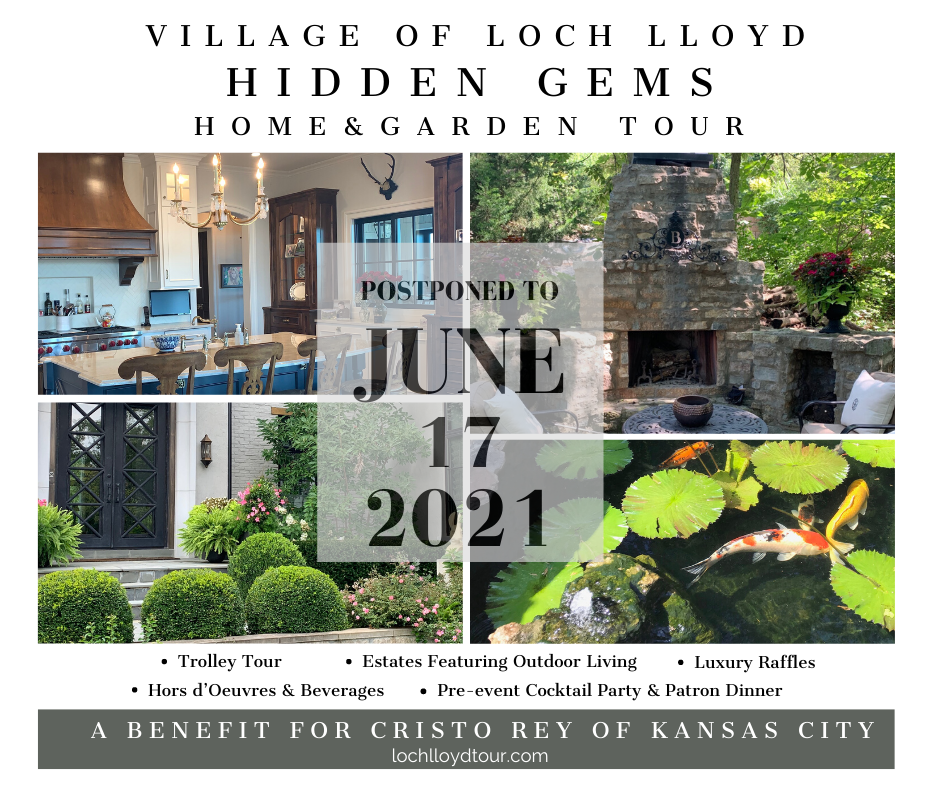 The Hidden Gems 2020 Home & Garden Tour and all events surrounding the Tour will be postponed until June 2021. We are excited that all homeowners are on board for next year.
Village of Loch Lloyd's Home & Garden Club Hidden Gems Tour, hosted by the Loch Lloyd Home & Garden Club. A benefit for Cristo Rey of Kansas City.
Every three years four Loch Lloyd residents graciously agree to open their beautiful gardens and homes to benefit a selected local charity. The Tour will showcase two exceptional home interiors and four exquisite gardens followed by a reception, in the clubhouse, at The Country Club of Loch Lloyd. The Tour will take place on June 17, 2021, from 10am-3pm with beverages and hors d'oeuvres served at various estates. Luxury items will be raffled. Raffle tickets are available to purchase now or the day of the tour. You do not need to be present to win. Trolleys will take guests to each of the four estate homes and gardens followed by a reception at the clubhouse, where dessert will be served.
We are excited to announce two wonderful events prior to The Tour. A Cocktail Party will be held on Thursday, June 10, 2021, from 6-8pm, on the lawn, of the clubhouse, at The Country Club of Loch Lloyd. One lucky winner will be awarded a loose diamond from Diamonds Direct during a "Champagne Diamond Drop Event." You must be present to win for this raffle. A Patron's Dinner, featuring James Beard-nominated Chef Jonathan Justus, will be Monday, June 7, 2021 and hosted by a resident of Loch Lloyd.
Like the Village of Loch Lloyd itself, the four estates showcased on the tour are "Hidden Gems" that purely represent this outstanding gated community, however, most are unaware of their beauty.
100% of tour ticket sales will go to the charity of choice, Cristo Rey of Kansas City.
Tour tickets are $70 and can be purchased online HERE. 100% of ticket sales will go the charity of choice, Cristo Rey of Kansas City.
Important information for the day of the event:
Loch Lloyd is a gated community and it is important that you choose the correct ticket for ease of parking. You will not be able to enter or park through the main gate unless you are a resident or a country club member. Parking is available one block south of the main gate at St. Mary Magdalene Episcopal Church. Trolleys are available from there to start the tour. Parking shuttles will be available for exiting the event throughout the tour.
PLEASE NO LARGE BAGS, STROLLERS OR PHOTOGRAPHY. BE PREPARED TO WALK ON UNEVEN GROUNDS AND SLOPING TERRAIN. NO REFUNDS, RAIN OR SHINE.
Monday, June 7 — Patron's Dinner
Thursday, June 10 — Diamond Drop Cocktail Party | 6pm-8pm
Thursday, June 17 — Tour | 10am-3pm
More Information can be found at https://www.lochlloydtour.com/optin35757085
16750 Country Club Drive
Loch Lloyd, MO 64012