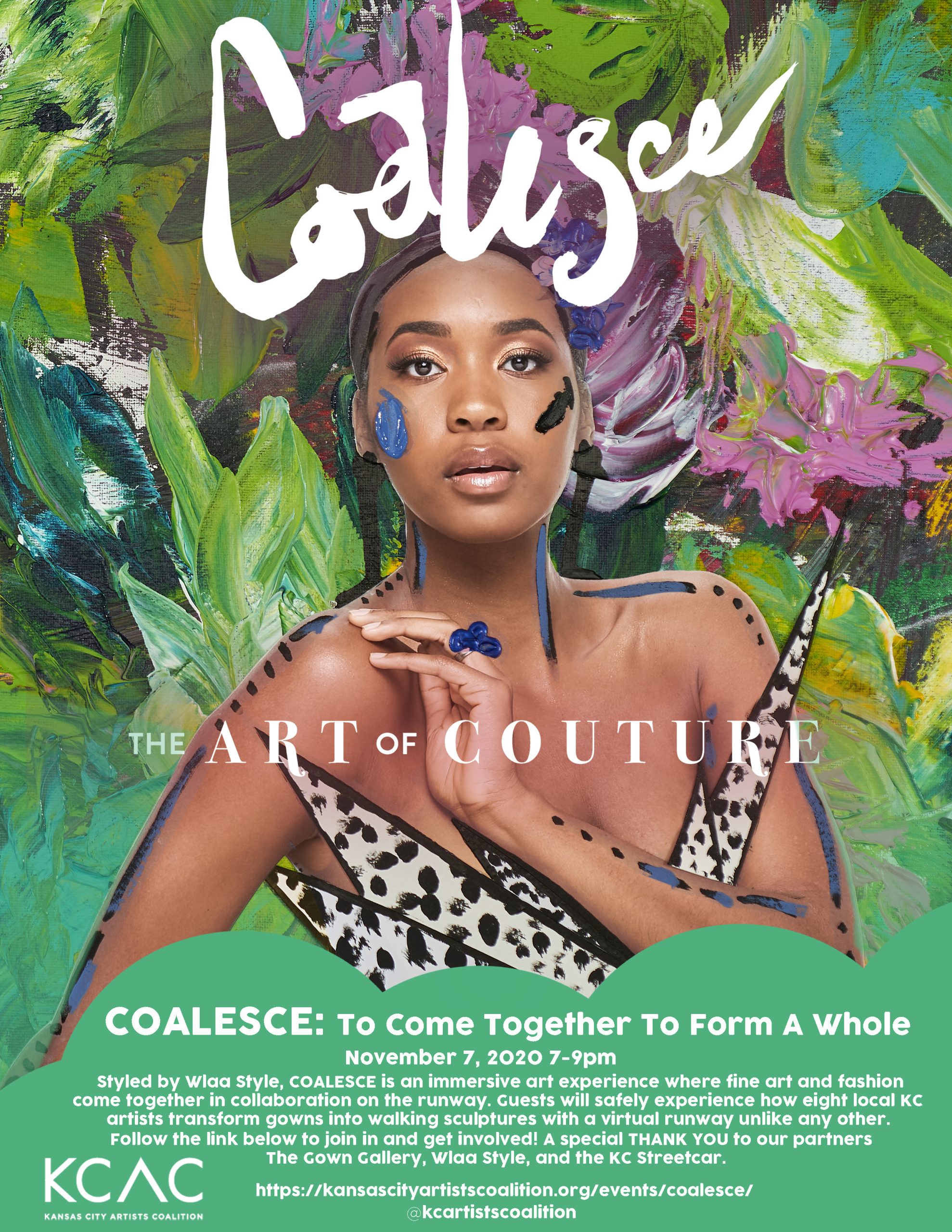 Coalesce: To Come Together To Form a Whole
On Saturday, November 7, 2020 from 7:00 p.m. – 9:00 p.m., Kansas City and beyond is invited to virtually join with The Kansas City Artists Coalition for a glorious evening in celebrating the fusion of art and fashion.
Styled by WIaa Style, Coalesce is an immersive art experience where fashion and fine art come together in a breath taking collaboration celebrating fine art on the runway. Guests will safely experience how eight local Kansas City artists transform gowns into walking canvasses of fine art with a virtual experience unlike any other.
This year, Coalesce will be held virtually and with a twist. In the weeks leading up to Coalesce, guests will be invited to guest talks, artful experiences and more. Stay tuned for more details on how to join in and get involved. Special thanks to our partners and sponsors The Gown Gallery, WIaa Style and the KC Streetcar.
SCHEDULE OF EVENTS
Cocktail Hour – 7 to 7:30 pm
Join us for a lively opportunity to mix and mingle with all of the stylish guests virtually. Grab a beverage, enjoy a live music performance and chat with your friends before the fashion begins.
Coalesce 2020 – 7:45 to 8:15 pm
The moment you have been waiting for is here! Sit back and buckle up for a visually stimulating and artful happening unlike anything you have experienced before. See how eight local artists take a gown and turn it into moving art.
Meet the Artists – 8:30 to 9 pm
Did you see that stunning dress?!? Well here is your chance to meet the artist behind your favorite design. Jump into a virtual room and get a chance to visit with the artists. Learn about their technique, how they made the choices for their dress and see what challenges they came up against along the way. Visit with as many different artists as you like as you hop from one virtual room to another.