Buzz is starting to build to a frenzied peak on the Country Club Plaza. The question everyone wants to know is "When is Shake Shack opening on the corner of 47th& Central?"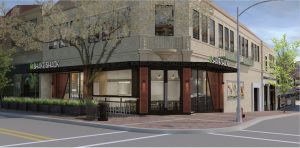 The answer is probably, allegedly, possibly the week after Labor Day—mebbe. Word on the street is that that Shake Shack's owners won't give an exact date until a few days out from their grand opening. But that certainly hasn't stopped looky-loos from peppering construction workers with questions.
If you're not familiar with Shake Shack, you soon will be once they fling their doors open. The "modern day roadside burger stand" has a cult-like following thanks to a zealous group of social media savants and carnivorous fans from around the world.
The restaurant prides itself on their 100% all-natural Angus beef burgers and chicken sandwiches—no added hormones or antibiotics ever. Even their shakes features milk from dairy farmers who pledge not to use artificial growth hormones. Oh, and they may very well have the best crinkle cut French fries this side of Idaho.
Since the original Shack opened in 2004 in NYC's Madison Square Park, the company has expanded to more than 180 locations in 23 U.S. States and the District of Columbia. Oh, and they're loved throughout the globe as well with more than 70 international restaurants across London, Istanbul, Dubai, Tokyo, Moscow, Seoul and more.
Ever since they announced in February that they were setting up shack, er, shop in Kansas City, people have been salivating thanks to word of (watering) mouth and their green-friendly reputation. The 3,562-square foot Shack—which replaced Talbot's—will feature an outdoor patio and plenty of seating for guests. In keeping with Shake Shack's commitment to eco-friendly construction, the Country Club Plaza Shack will be constructed with recycled and sustainable materials—including table tops made from reclaimed bowling alley lanes.
We're not saying you should get in line now, but—all things considered—maybe you should get in line now. As soon as we get an exact date, you'll be the second to know. We promise.