Sponsored post:
When Q39's owner/executive chef Rob Magee plopped down at our table to discuss his new menu, he confessed he just wolfed down a couple of his brand-spankin' new recipes—both of which may or may not have been desserts. Clearly, Magee is a fan of his homespun, award-winning barbecue. And if the constant line out the door at Q39 is any indication, so is the rest of KC.
For Magee—who eats lunch or dinner at his restaurant practically every day—this is the third new menu update and first update with this many new additions. "We've added over 15 new items," he says. "I love challenging myself to explore new ways to build our championship barbecue. We have our core signature items, but we are all about keeping it fresh and creating new barbecue and wood-fired dishes with a twist."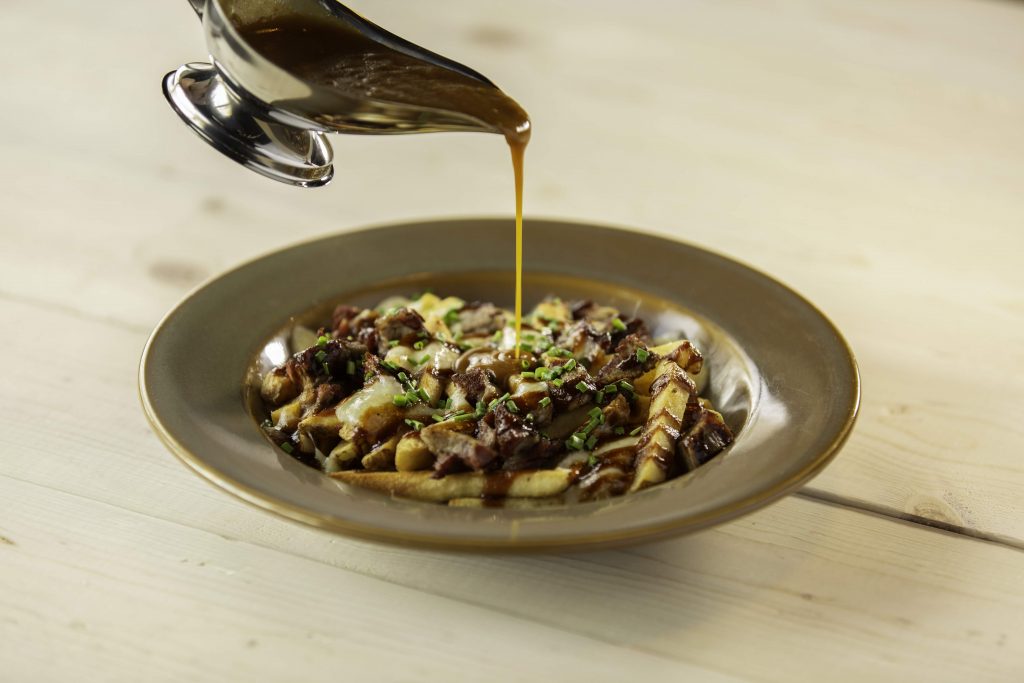 1.  Smoked Beef Brisket Poutine
It took a whopping nine months of "taste testing" for Magee and his culinary crew to perfect all the recipes before unveiling them late last month. Even Magee was shocked at how many orders he was selling right off the bat. "The Smoked Beef Brisket Poutine appetizer?! I'm selling double what I thought I would," he says. One quick glance around the room confirmed the dish's popularity. Five out of six nearby tables were noshing on the decadent French-fries-on-steroids appetizer.

2. The Buffalo Cauliflower Wings
Behold vegetables! Yes, at a barbecue joint. No, that's not a typo. Magee says he stumbled across a similar dish that caught his eye (and pinged his tastebuds) and he decided to give his own version a spin. "We played around. It turned out really good. Really, really good. I thought let's put it on the menu," he says. The cauliflower florets are not for the faint of heart. The buffalo sauce is just spicy enough to clear up your sinuses. Fortunately, their homemade buttermilk dressing helps stifle some of the heat.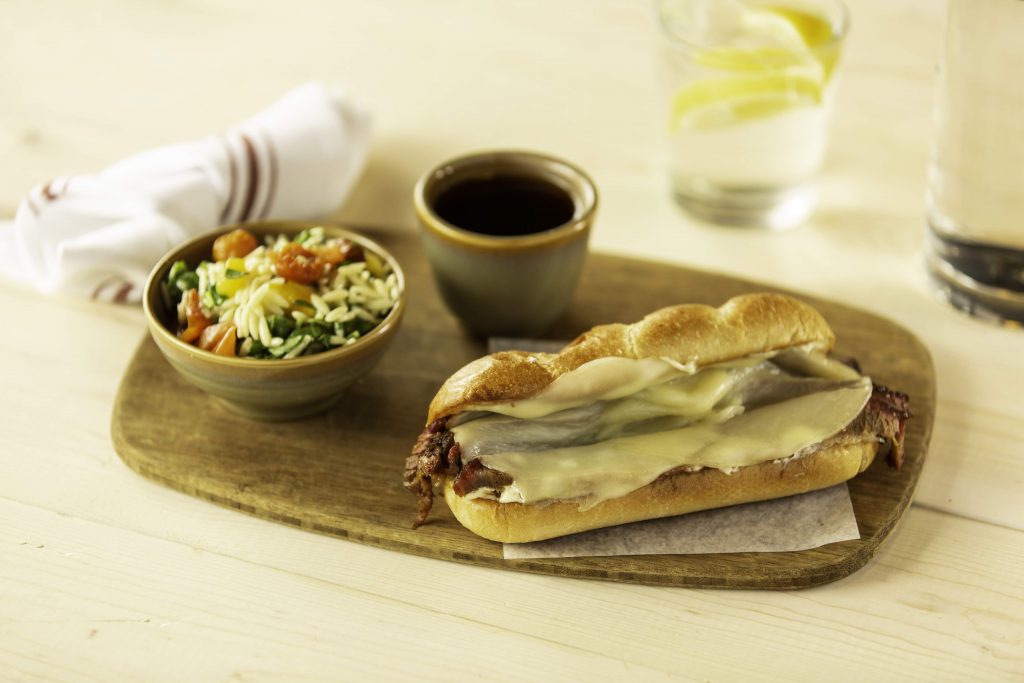 3. The Smoked Beef Brisket Dip
Four new specialty sandwiches were unveiled with the new menu rollout. Magee says, "each one of them has its own twist." The Smoked Beef Brisket Dip, for instance, is laden with provolone and horseradish aioli and served on a hoagie with a side of au jus. "It's a classic—with a barbecue spin," he says. Two other sandwiches feature Magee's to-die-for pork belly, the P.B.L.T. a take on the classic BLT and the new customer favorite, Grilled Pork Belly Sandwich. "In KC, pork belly is becoming more and more popular. It's fun, exciting option—and one that's not used around here a lot," he says. "We came up with a sandwich that's smoked and grilled. It's a great combination. Heck, we even use pork-belly bacon on the wedge salad."
 Speaking of, the Q Wedge is probably the most flavorful salad now being served in the metro. From their in-house smoked blue cheese to the spiced onion straws, it's "layers upon layers of flavor," Magee says. Oh, and let's not forget the generous portion of crisp bacon lardons on top. "I've never had bacon that thick that tastes that good," he says. "We put elements in our wedge that most chefs don't—including roasted, oven-dried cherry tomatoes. That makes them sweeter."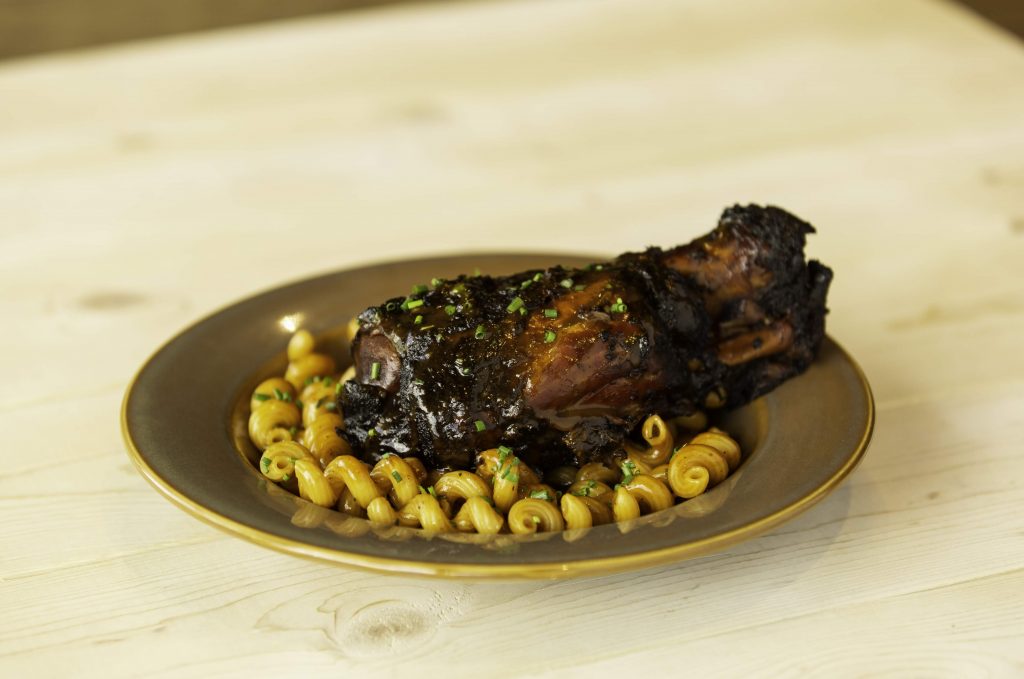 4. BBQ Smoked Pork Shank
New entrees include among other things, a Smoked Chicken Cassoulet and a BBQ Smoked Pork Shank that is—we kid you not—the size of your head. Unless you're going in on an empty stomach, we'd suggest pacing yourself. By the time you get to the main dish, you may already be full.
5. Carrot Cake
If you have even the slightest bit of room left, Magee wants you to order the "slab" of homemade carrot cake for the table. Or—at a minimum—get it to go. "Mmmmm—warm carrot cake. We put it in the center of the table and people go at it," says Magee. "It's a great shareable dessert. People may not want to have an entire dessert, but, man, they'll take a fork and stab into it."
A new menu wouldn't be complete without new cocktails and a smattering of new desserts. Magee touts his bar menu and raved about the newly revamped sangria. "Our apple sangria? More apples, more strawberries, more fruit. I don't have martini lunches anymore. I have sangria lunches," he says with a laugh. "Because who doesn't like apples?"
One thing is certain, you absolutely, positively will not leave Q39 anything less than satisfactorily stuffed. Magee guarantees it. And he also swears by his new menu. "People like trying new things," he says. "I've created food I know people will like. The fun part? Watching them enjoy it—and then some."
Q39's new menu is now available at both locations—Midtown and Overland Park.