Another year is almost in the books—and what a year it was. From the dishes we couldn't get enough of to the décor that set our social feeds on fire, we're rounding up some of the highlights from the year in food.
Best New Pho Destination
Pho Sai Gon
Pho might be one of the world's most perfect dishes—hot, comforting broth, chunks of meat or seafood and veggies come together in a bowl that's the culinary equivalent of a big hug. That's especially true at Overland Park's Pho Sai Gon, where chicken, beef, and tofu pho are available in small, medium or large sizes. The all-important broth is flavorful and nuanced, and a self-serve toppings bar lets diners customize their dish even more.
Best Comeback Story
Ragazza
You can't keep a good woman down, as Laura Norris proved when she prevailed over woe after woe to reopen Ragazza. The restaurant relocated from its cozy Westport spot to a bigger, sleeker space on Main Street, keeping some of its most beloved dishes (hello, giant meatball of dreams) while introducing new offerings, such as the succulent swordfish. While the look is different, the feel is just as delightful as ever. In an increasingly tough restaurant landscape, Norris climbed her way back to the top.
Best Supporting Role by an Egg
Carbonara at Farina
Eggs are the building blocks of many a dish, from your standard omelet to a fluffy cake. But in Farina's carbonara, the humble egg ups its wow factor, stealing center stage. The relative simplicity of the dish makes it possible—tendrils of bucatini are topped with pancetta, grana padano, black pepper and resplendent golden yellow egg yolk. Cut into it and golden liquid spills into the pasta, adding richness and depth that amount to a win for overlooked eggs everywhere.
Best New Vegan Treat
Cinnamon Rolls at The Littlest Bake Shop
Need proof that dairy doesn't make or break desserts? Meet The Littlest Bake Shop, where chef-owner Iris Green serves up goodies that are both vegan and gluten-free, including cupcakes, muffins, cookies, and scones. But perhaps Green's biggest hit has been the bakery's cinnamon rolls—indulgent and finger-licking good, regardless of your diet. Follow the shop on Facebook to see what's cooking and know when a tray of these treats is making its way out of the oven.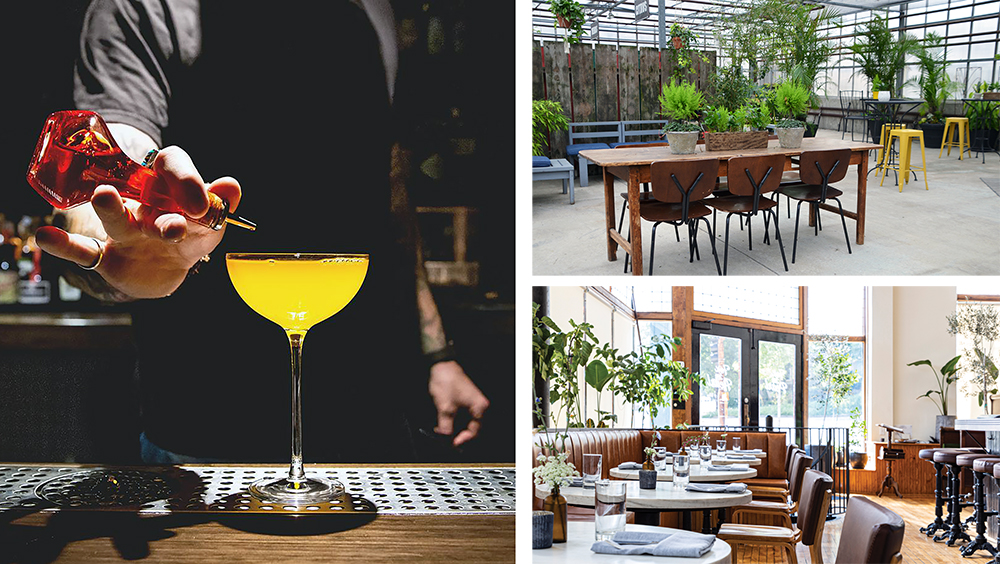 Best Throwback Vibes
Hey! Hey! Club
J. Rieger & Co.'s Hey! Hey! Club is more than a winking tribute to Kansas City's jazz roots—the original Hey Hay Club was a destination for Count Basie, Lester Young and more when it was open downtown in the 1930s. Back then, patrons sat on hay bales, but this iteration of the club leans more into the glamour and luxury of the 20s with a spectacular chandelier, custom dark wood bar, Chesterfield-style sofas and a working fireplace. The cocktail menu goes for an even older-school vibe, harkening back to the westward expansion from the late-1700s to the founding date of Jacob Rieger's distillery in 1887.
Best Use of Plants as Decor
Tie—Fox and Pearl and Café Equinox
Patios are great and all, but Fox and Pearl, along with Café Equinox, have cracked the code on creating an enjoyable experience for guests that evokes the outdoors without pesky problems like weather: tons and tons of plants. At Café Equinox, they're less of a design element than a key part of the coffee shop's concept—it's a botanically inspired café nestled in Family Tree Nursery's Shawnee location where guests can sip lattes surrounded by plants of every shape and size. At Fox and Pearl, natural light helps grow food-focused plants such as citrus, olive, and fig trees and herbs throughout the dining area, making the posh Midwestern restaurant feel a little warmer and more inviting.
Best New Reason to Wake up Early
Donuts at Fairway Creamery
There's a reason the donuts at Christopher Elbow's Fairway Creamery usually sell out by noon: They're really, really delicious. The chef-driven creations may look simple, but the flavors are delightfully complex considering what we've come to expect from the sweet, carby treats: House-made vanilla-bean custard enveloped in golden brown dough and topped with powdered sugar; glossy blueberry with a generous sprinkling of streusel; or the rustic cranberry-orange cake donut, studded with fruit. It's the stuff dreams are made of—just don't forget to set that alarm.
Best Use of a Blow Torch
Oak & Smoke Cocktail, Silo
Adding a smoked element to the Oak & Smoke is performative at Lenexa's Silo Modern Farmhouse, a surprisingly well-rounded eatery on the Canyon Farms Golf Club. A blowtorch-wielding server heats up wood, trapping the smoke in an empty glass that moments later contains Woodford Reserve Double Oaked Whiskey, ginger syrup, lemon juice, honey, and bitters. The drink is good, and the flavor of the smoke truly does come through, but the process of getting it is even better—theater at its tastiest.
Best New Slice
Sarah's on the Hill
At Sarah's on the Hill, owner Sarah Breitenstein specializes in an array of comforting dishes—including pizzas that strike that magical middle ground between crispy yet chewy crust and ooey-gooey cheese. The Strawberry Hill restaurant offers up 16-inch or quarter pies, a.k.a. a perfect indulgence for a single diner. Choose from specialties like the Charlie Ryan—fresh garlic, shredded chicken, tomato, red onion, sliced green olives, bacon, mozzarella, and a drizzle of olive oil—or create your own combination.
Best Transition
Los Alamos Cocina
Change can be a good thing, as Los Alamos Cocina proves. Originally a Westside grocery store, Los Alamos transitioned from being a market with a modest lunch offering to a restaurant with some groceries over time. Then earlier this year, owner Agustin Juarez went all in on serving food. Now guests can focus on enjoying the restaurant's signature menudo, served on the weekends, and platters of barbacoa, pork adobo, and pozole, all prepared by Juarez and his wife, Blanca.

Best New Ballgame Snack
Totchos at The K
The beautiful geniuses who brought us Kauffman Stadium's Brisket-Acho (chopped brisket, barbecue baked beans, cheesy corn, coleslaw, and barbecue sauce over tortilla chips, for the uninitiated) outdid themselves this season with the introduction of the Brisket-Totchos. As naming conventions suggest, the game day snack is, like its ancestor, a decadent dish of barbecue, this time with tater tots serving as the base for queso blanco, shredded smoked brisket, Sweet Baby Ray's barbecue sauce, and sliced green onions.
Best New Cocktail in a Can
Boulevard Brewing Co.'s Flings
For too long, cans have been the domain of beer companies, but in 2019, that all changed. Society was reaching peak canned seltzer levels when hometown hero Boulevard Brewing Co. stepped in to save the day with its line of canned craft cocktails, Boulevard Flings. Available in a variety of flavors—blood orange vodka soda, cucumber lime gin and tonic, mai tai, margarita and the recently added rye whiskey mule and bourbon smash, they're flavorful, colorful, and coozy-ready.
Best New Podcast for Foodies
Open Belly
Open Belly podcast opened KC's eyes and stomachs when it launched in February. Created and hosted by Danielle Lehman, each episode is an interview with an immigrant restaurateur or chef talking about their food, culture, and story. The first season featured Fannie Gibson of Fannie's West African Cuisine, Keeyoung Kim of Sura Eats, the Bataineh family behind Queen Sweets Bakery, and more. Sadly, season two of the show moved on to explore another city's food culture, but it was delicious while it lasted.