It wasn't so long ago that coffee shops were the backgrounds to our lives: meetings and solo work sessions, catch-ups with friends, and caffeinating respites between everything else. And while much of the world has changed, one thing remains the same: Our love for the local café.  
Fortunately, there is a new batch of spots to fall for with spaces as tempting as their menus—so pull up a chair and come thirsty. We'll meet you for a drink.
Keith Bradley, Thomas McIntyre, and Tyler Enders highlight all things local as the co-owners of Made in KC, but they're also bringing a taste of the other locales to Kansas City through their coffee and bar concepts. First came Front Range, a Fairway-based concept that takes inspiration from Colorado's mountains (stay tuned for a Waldo outpost opening later this year). Now they're hitting the beach with Outta the Blue, a tropical spot in Leawood's Park Place. 
It's a challenge to remember you're still in Kansas as you set eyes on the majestic king palm trees that anchor the space, one of many design touches that reinforce the theme. Surfboards decorate the walls and window seats double as swings just in case you want to imagine swaying in the breeze. 
The coffee program bears a close resemblance to Made in KC cafés, with a few beachy twists—the coconut latte has been one of the shop's bestsellers, Bradley says. Guests can also enjoy teas, a seasonal shrub, kombucha, and juices.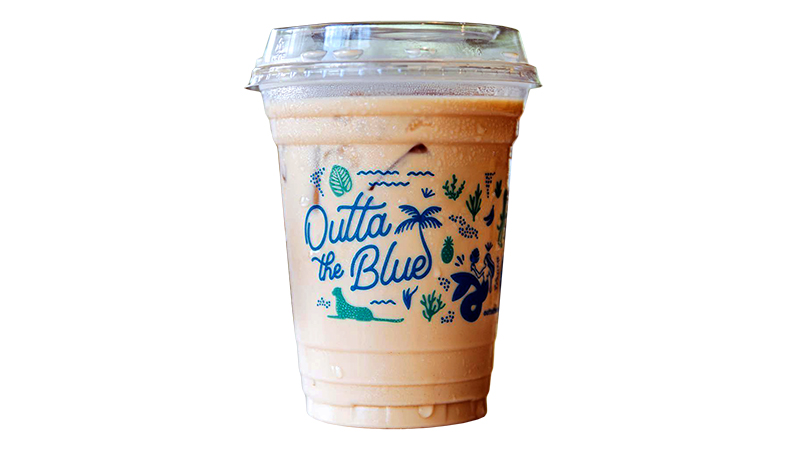 Outta the Blue's bar program includes some classic cocktails, but also a tropical selection, which includes a painkiller, a blue Hawaiian, and more. The concept also marks a departure for the group when it comes to wines.
"With our other locations, we're kind of working within the confines of local wine and regional wine, but here we have a really great variety of natural wines, some orange wines, some new things on the menu that will also always be changing," Bradley explains. 
But never fear—local companies are well represented on the food side of the menu, with Scratch Bakery KC pastries and vegan sandwiches from Mattie's Foods. The mix of Kansas City and island vibes has made Outta the Blue a hot spot since it opened in June.
"I think there's just a real hunger to get back out and explore this city that we've kind of had to stay away from for the last little bit," Bradley says. 
If you can explore with a mojito in hand? Even better.
---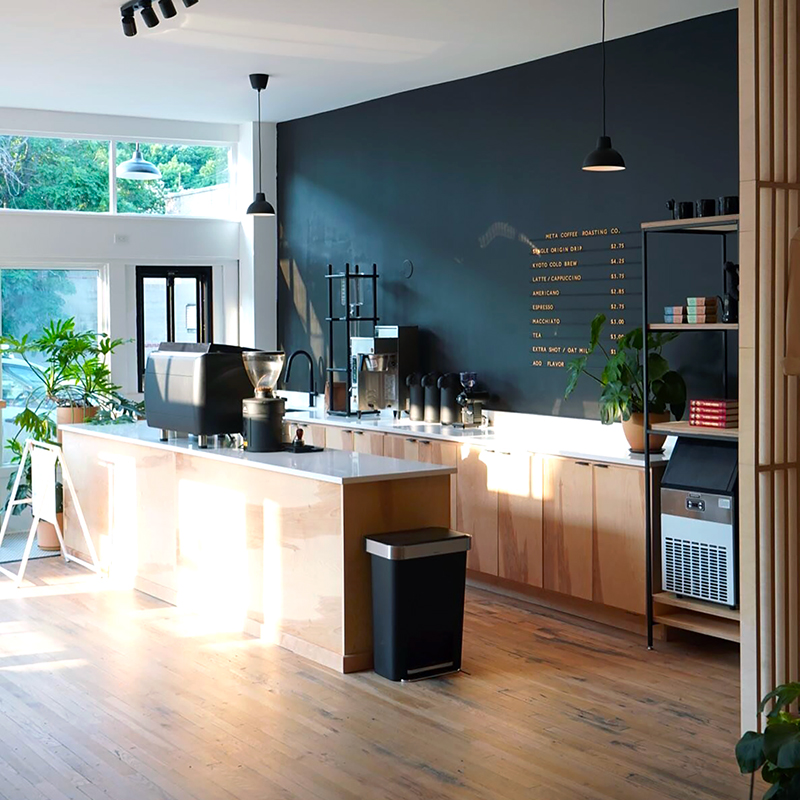 Simple doesn't mean boring. At Meta Coffee Roasting Co.'s new Rosedale café, the space and menu are deliberately uncomplicated to keep the focus on what matters: the coffee. 
Zach Tarhini started Meta Coffee back in 2015, roasting out of his basement and selling whole beans and cold brew at the Brookside Farmers Market. Shortly after launching the business, Tarhini met Jordan Fox, a fellow local entrepreneur who had recently started Foxtrot Studio, a lifestyle company specializing in handcrafted leather goods. The two talked about how cool it would be to open a collaborative space, but nothing came of the idea until last fall, when a storefront opened in Rosedale a few blocks from Fox's home. 
Tarhini was initially skeptical: The pandemic was in full force, and he was worried the neighborhood might be too out of the way for customers. But it wasn't long before he was won over by the location's potential as well as the community.
"There's not a lot of great coffee out here, and so it's been really cool seeing people from the neighborhood and how pumped they've been about coming in," he says. 
Meta Coffee is at the forefront of the shared space, which leads into Foxtrot's stylish shop. It's not the biggest storefront, but Tarhini and Fox make the most of it with a high-impact color palette of black and white accented by light wood, house plants, and an abundance of natural light. 
"We wanted to keep it pretty open so it kind of flowed, but there's that visual divider as well where we have our respective spaces," Tarhini explains. "We want the product to be the focus, and so there's not a lot of distraction."
He takes the same less-is-more approach to the menu. You won't find any kooky specialty drinks, just one coffee available on drip each day, one cold brew, and one size for everything. At a time when customers have an overwhelming array of choices, Tarhini hopes the simplicity makes it easier to home in on the coffee.
"This is what we have," he says. "It may not be the most vast menu, but we try to do everything that we do have really, really well."
---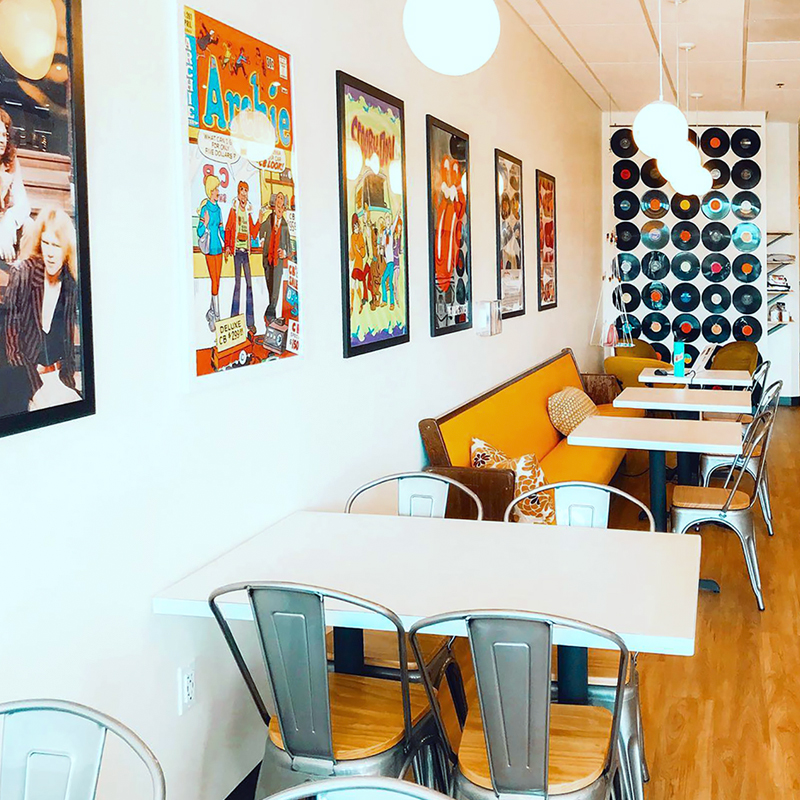 Where can you find KC's grooviest coffee? South Overland Park's Jinkies! Coffee & Hangout, of course. Mom and daughter duo Lisa and Madi Dombrowski opened the 70s-themed coffee shop and bakery in January as a way to showcase baker Lisa's sugar cookies and other confections as well as Madi's passion for local coffee. 
"This is completely new for both of us, having a storefront shop," Madi says. "It's definitely been a learning experience, but we've been able to learn and grow with it together."
The pair wanted to offer a fun environment and settled on paying tribute to the Me decade, which holds special meaning for the Dombrowskis—Lisa grew up during the 70s and instilled a love of the era in Madi. 
Fittingly, Jinkies's décor is filled with playful references to pop culture of the time, such as a cheese-grater light fixture that pays tribute to a design featured on That 70s Show. Posters of the Dombrowskis' favorite bands and movies of the era adorn the walls, and one corner is covered in records from Lisa's father's personal collection—Madi's personal favorite element of the space.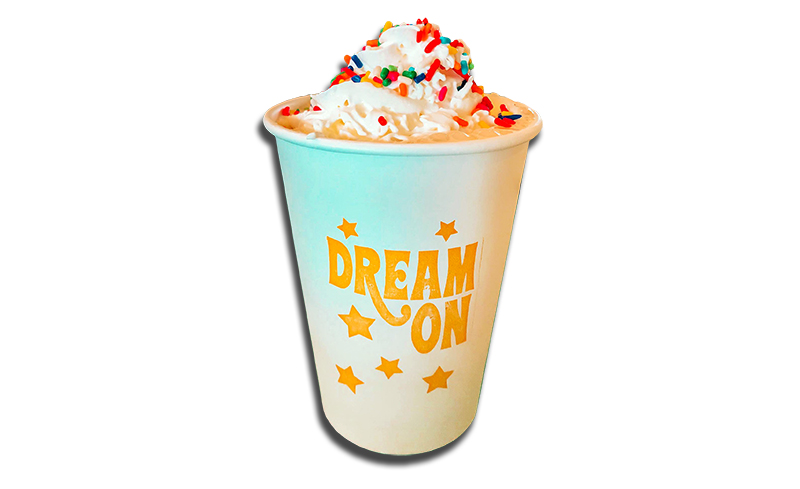 The menu has just as much personality. All the pastries and baked goods—including deluxe cookies, pop-tarts, and danishes—are made fresh in-house. Lisa spends most days baking to keep the pastry case stocked but also experiments with new recipes, like lavender honey muffins. 
On the coffee side of the business, Jinkies brews beans from Blip Roasters and offers classic drinks as well as specialties that are one of a kind: The Strawberry Fields, made with strawberry cream and espresso; the customer-favorite Cookie Dough latte; and a selection of lemonades in flavors like cotton candy, bomb pop, and lavender. Madi and co. serve up equally inventive limited-edition drinks, like a creamy salted butter popcorn latte inspired by Lisa's love of the snack. 
"It sounds so off the wall and strange, but we ended up finding a way to make it, and it is delicious," Madi says with a laugh. 
---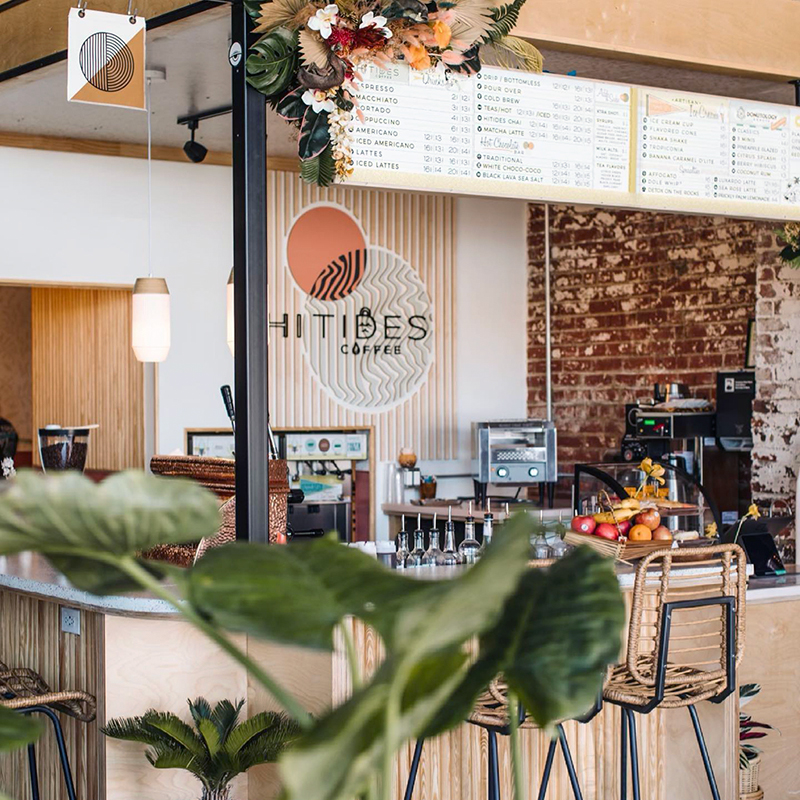 Collaboration is at the heart of Collective Ex, an all-inclusive creative space in the Crossroads owned and operated by Michelle and Johnny Dawbarn. A coffee shop felt like a natural conduit for conversations among the collective's members as well as the broader community, Johnny says. 
"We want all those people in the same space so that we can collaborate together and that really spilled over into the coffee shop, the same idea of saying, 'We're not experts in donuts, we're not experts really even in coffee,'" he explains. "We can come up with some great ideas, but we need to partner with someone who really knows what they're doing."
Thus, Hitides Coffee was born, a café within Collective Ex that makes the most of local partnerships, serving up exclusive blends from Marcell Coffee, plus Donutology donuts and Meshuggah Bagels.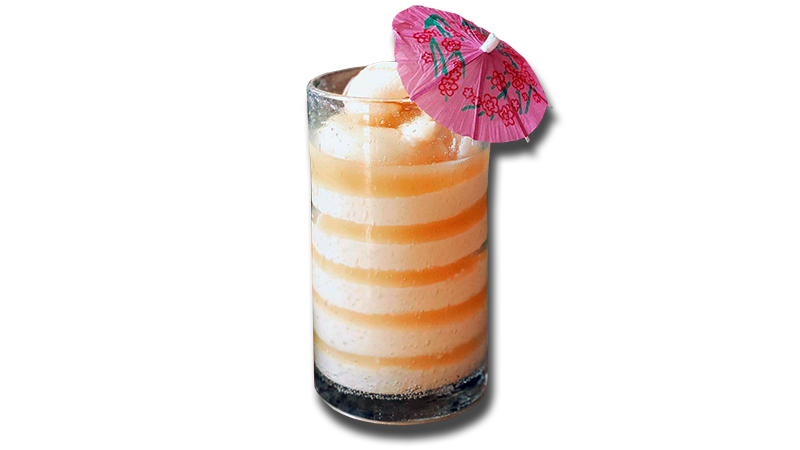 In many ways, Hitides is both a love letter to Hawaii and the midcentury-modern style that came onto the scene as leisure travel was on the rise. The build-out of the space was done by members of the collective, and Johnny drew influence from his own travels as well as vintage travel brochures and Hawaiian cookbooks from the 60s for the design, filling the shop with memorabilia that's sometimes kitschy but always cool. 
Those tropical vibes are also felt on the menu. In addition to classic donuts and bagels, Hitides offers its own custom flavor combos, including pineapple glazed and berry hibiscus donuts, plus pineapple ring and citrus avocado bagel toasts. And guests will find a selection of artisan ice creams in flavors like banana caramel d'lite as well as the ever-popular Dole Whip. Johnny says Hitides also makes a point to work directly with companies based in Hawaii, including Shaka Tea and Hawaiian Sun.
"Some of that stuff is a little more expensive, doing it directly from them, but we like that we're supporting the culture and supporting some great people," he says.
In fact, the Dawbarns will be meeting with some of their vendors while visiting Hawaii later this fall—one more way collaboration comes full circle at Hitides.