Sponsored content:
What's the single busiest day of the year for restaurants? You guessed it—Mother's Day. So if you're taking mom out on the 12th, you'll want to pick a place that's not only serving inspired cuisine, but will cater to her every whim.
That's where The American comes in.
Opened on Valentine's Day in 1974, The American put Kansas City on the world's culinary map while introducing fine-dining fans to some of the country's most celebrated chefs. Although The American is no longer open to the public on a regular basis, the restaurant will be open for Mother's Day as part of its famed Concept Series, one-time-only events that are open to the public.
Executive Chef Andrew Longres knows that expectations to dazzle mom's palate will be high. Fortunately, Longres has found his niche. With an elaborate culinary pedigree—including several well-known stints here in KC and at the renowned The French Laundry in Napa Valley—Longres was named executive chef at The American in 2017.
Longres' culinary team is planning an elegant, prix fixe brunch. "Guests can expect an exquisite three-course prix fixe menu with four selections for the first course, six options for the second course—including a fabulous dish with white asparagus—which is a fairly rare offering in season now, and four decadent desserts" says Tom Johnson, the managing director at The American. "And fresh-cut floral arrangements from the incredibly talented team at Trapp and Company will adorn each table as well."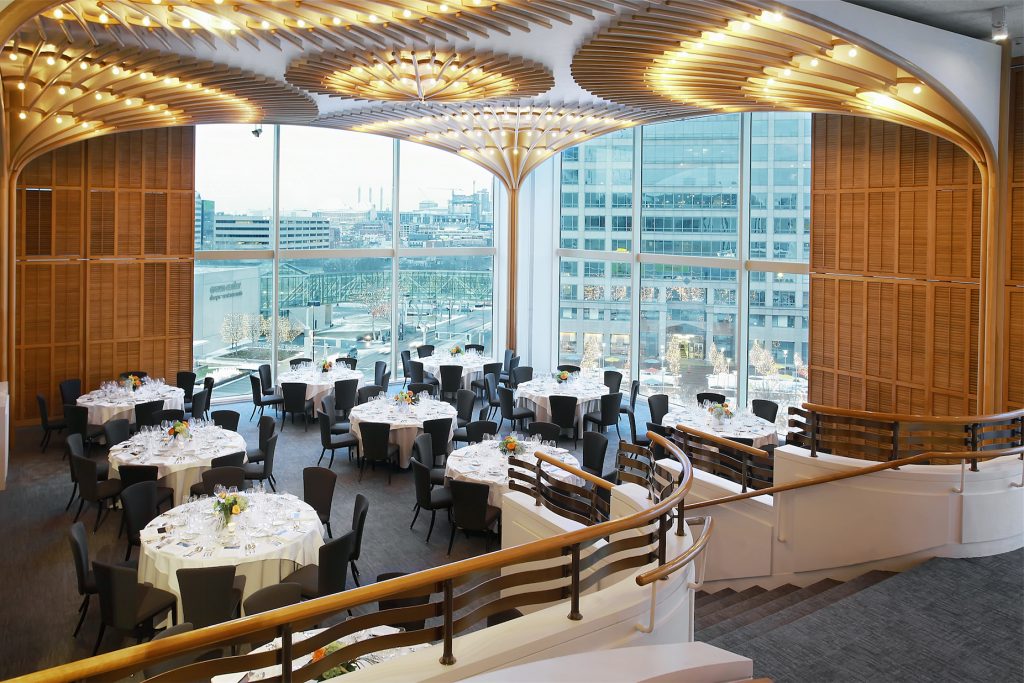 In terms of ambience, The American simply cannot be beat—its posh dining room offers stunning views of the city. "The architecture, designed by the famed Warren Platner, features white-oak columns branching into elongated hearts and three-story, floor-to-ceiling windows that offer an unparalleled view of Crown Center and the downtown Kansas City skyline," says Johnson. Little known fact? "The American's masterful architecture was awarded the prestigious Design Icon Award from the James Beard Foundation last year," he says. "We were only the third restaurant to receive the award. It's quite an honor."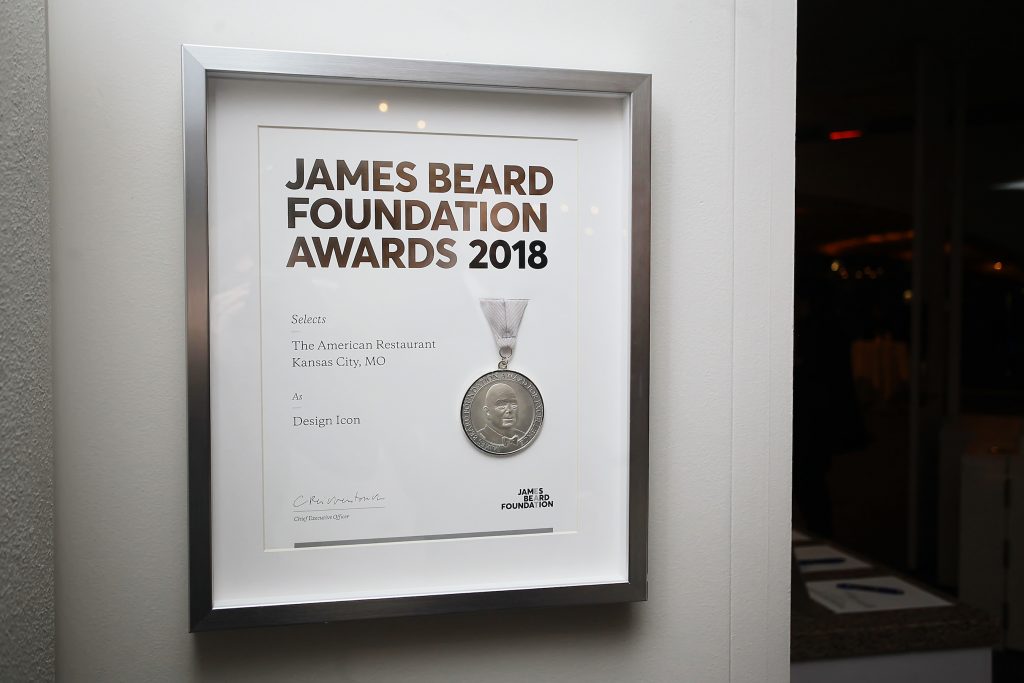 Some of KC's most revered culinary pros got their auspicious starts at The American, including James Beard Award winners Debbie Gold, Celina Tio and Michael Smith. Both Local Pig's Alex Pope and Bluestem's Colby Garrelts honed their early-career skills at the beloved restaurant. Chocolatier Christopher Elbow, meanwhile, cut his teeth as pastry chef in the early 2000s.
Nowadays, notable guest chefs from across the world still share their culinary gifts as part of The Concept Series. The American, also available for private functions, has become the quintessential place to hold fundraising galas or glam wedding receptions, and, of course, family get-togethers for holidays like Mother's Day. For decades, it's been touted as the place to come to put the exclamation point on a special occasion.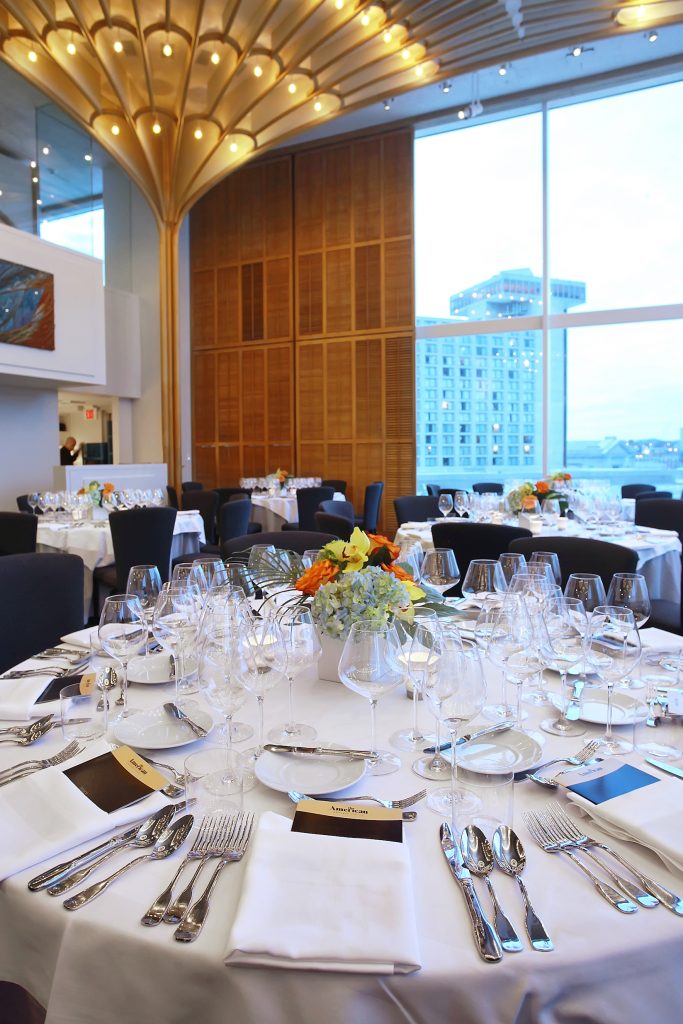 This year, The American's delectably crafted Mother's Day brunch is priced at $75 per person (includes gratuity) and will offer a delicious mix of featured items. "Of course, The American's high-quality service will complement the brunch," says Johnson. "And since Mother's Day Brunch is a family affair—a special three-course, prix fixe menu for guests ages 12 and under is also available." Chef Longres' culinary prowess continues to impress with his latest menu—just take a look:
First Course (select one):
Spring Greens, Blossoms, Crispy Rye Toast, Spring Radish, Banyuls Vinegar
Warm Spring Pea Soup, Whipped Crème Fraiche, Garden Herbs
Spaghetti Pasta, Spring Fennel, Lump Crab, Crispy Shallots
Marinated Beet Salad, Rhubarb, Basil, Lemon Olive Oil, Goat Cheese
Second Course (select one):
Eggs Florentine, Crispy House-Made English Muffin, Garlic Wilted Spinach, Poached Eggs, Hollandaise, Crispy Roasted Potatoes
Savory Crepe with Chicken, King Trumpet Mushroom, Gruyere Cheese, Spring Onion Soubise
French Omelet, Fresh Zingerman Creamery Farmer Cheese, Petite Salad
Seared Salmon, Peas, Bacon, Cultured Cream Spring Onions
Roasted Striploin, Marble Potatoes, Wilted Spinach, Pickled Mushrooms, Veal Jus
White and Green Asparagus, Carrots, Hen Egg Emulsion, Crispy Potatoes, Garden Herbs
Dessert (select one):
Sweet Spring Berry Pavlova, Hibiscus, Mascarpone
Crème Caramel, Salted Praline Croquant, Sweet Cream
Dark Chocolate Mille Fuille, Hazelnut, Strawberries
Meyer Lemon Ganache, Olive Oil Cake, Almond, Yogurt
If you're looking for true culinary experience and a place to treat Mom to impeccable service, look no further than The American. For Mother's Day Brunch reservations, call The American at 816-245-7331.