Kansas City, we did it. The Chiefs are playing in Super Bowl LIV this weekend and that means it's time to party—watch party, that is!
Looking for some party snack alternatives to Rotel dip, pizza rolls, and lil' smokies? (No shade—we love all of those things.) Consider this your Super Snack Guide filled with delicious ideas that you can buy locally. Let's eat!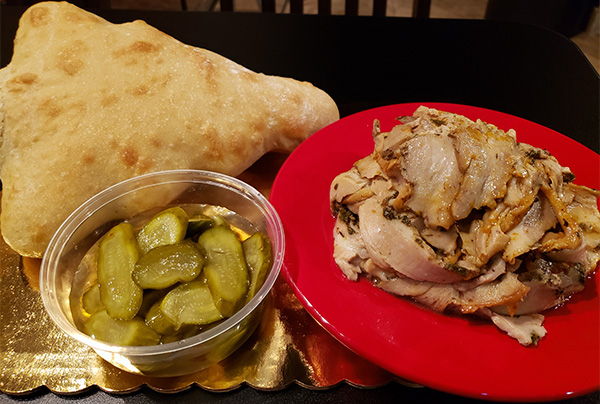 Best Regards Bakery—Porchetta Party Pack and ArrowBread
There's a special reason that Best Regards Bakery owner Robert Duensing is charging $7.20 for ArrowBread—house-made ciabatta studded with heirloom tomatoes, herbs, and spinach.
"It's normally $10, but I love the Chiefs and Lamar Hunt," he says. "I met Lamar and he was kind enough to give me some business advice. He was inducted into the NFL Hall of Fame in 1972, and that was also the year that Arrowhead opened, so we decided to create a special price."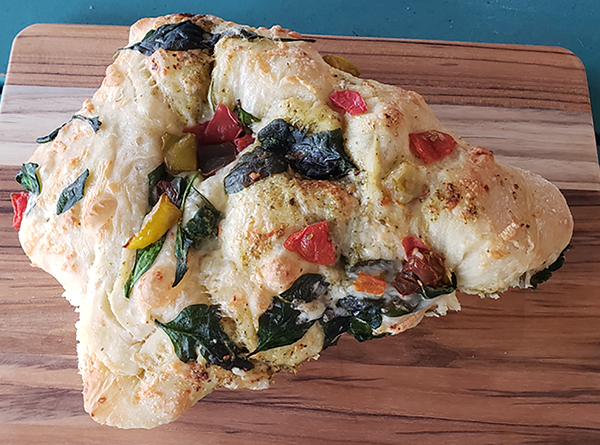 Can you even have a Chiefs Big Game party without meat? Best Regards Bakery has your sandwich needs covered with a Porchetta Party Pack, complete with an ArrowBread loaf, slow-roasted pork belly, house-made pickles and secret sauce. Duensing estimates the $50 package will feed four to six people as a main course, more if you have additional snack options.
Best Regards Bakery launched online ordering this week to help expedite the process. Place your order before Friday and specify your pick-up on Friday, Saturday or Sunday.
The Better Cheddar—DIY Cheese and Charcuterie
Red wine, golden-hued cheese—just like that, you've got a color-coordinated food spread that pairs perfectly with the Big Game! If you're new to cheese-board building, Lincoln Broadbooks, manager of The Better Cheddar, a certified cheese professional and certified sensory evaluator offers a crash course.
"Pick three to five cheeses in a mix of milks and textures," he says. "Try goat, sheep, and cow's milk, or something more unusual like buffalo. Then vary textures between hard, semi-hard, and soft."
From there, you can add flavor and complexity with accompaniments ranging from crackers and charcuterie to jams and dried fruits. Broadbanks prefers a sea-salt flatbread or water cracker, as well as a sweet cracker so you get that punch of sweet and savory. Other options include a crusty baguette, honey, mustards, pickled vegetables (or The Better Cheddar's staff favorite, pickled quail eggs), nuts, and olives.
Overwhelmed by your options? The Better Cheddar will build a board for you. Prices start at $37.99 per pound. Broadbanks recommends placing your order in-store so you can taste cheeses and other accompaniments. Plan to give the store 24-hour notice and get ready to wow your guests with an Instagram-worthy spread!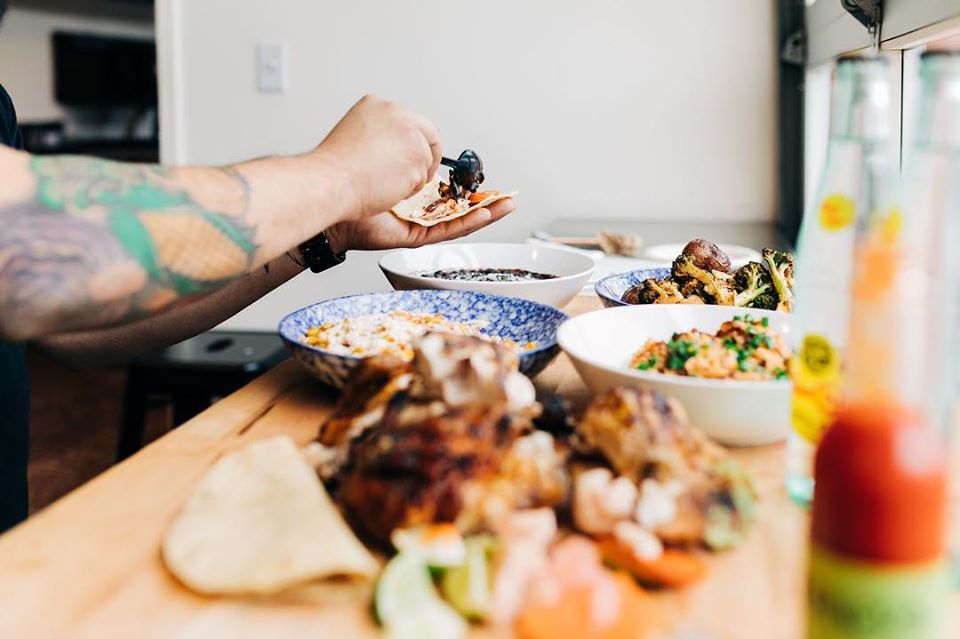 Poi-O—Wood—Fired Chicken 'n Fixins'
One whiff of Poi-o's wood-fired chicken and your party guests might just forget about the game! Call in to order a half or whole chicken, served with house-made pickles, pillowy tortillas, and zesty salsa.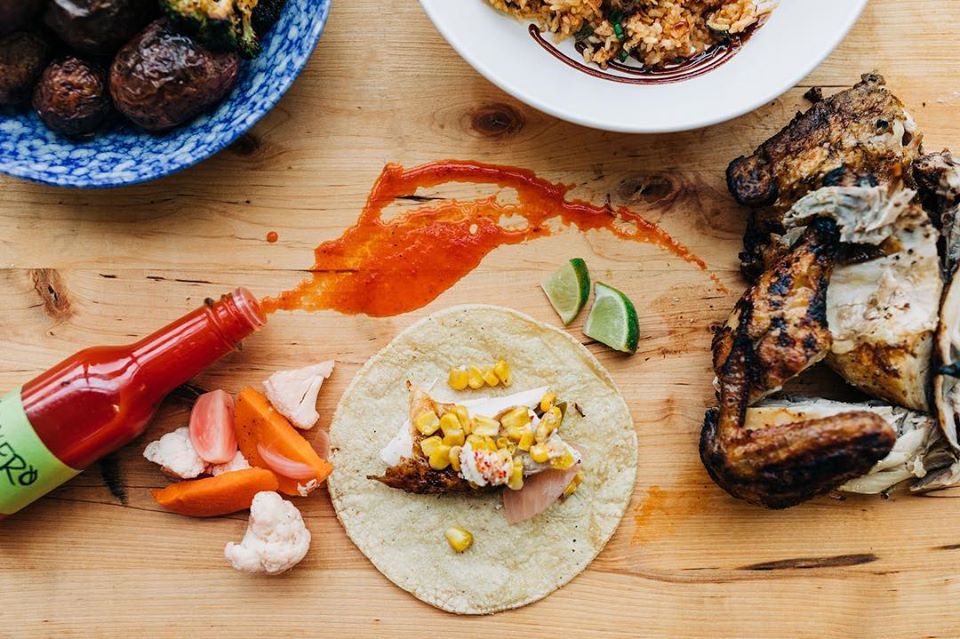 Then, pick your sides (sold separately) to easily create a party-friendly feast. Charred broccoli with chili and lime, black beans, kimchi fried rice (a house favorite), elotes, slaw—those are just a few options.
A whole chicken feeds approximately four people, and sides are shareable. Unless you want to stash some sides for yourself—we won't tell!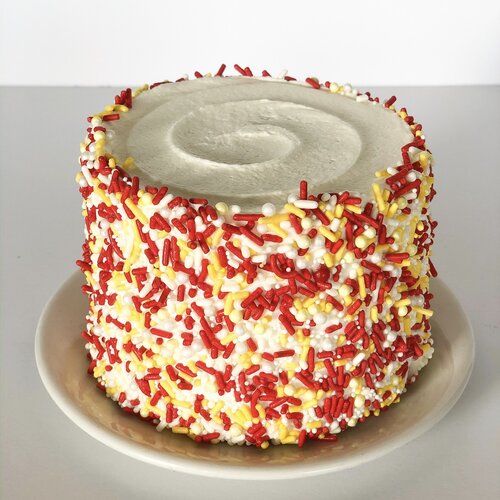 Dolce Bakery—Color-Coordinated Confections
Of course Dolce Bakery unveiled a special Chiefs-themed menu—and we want one of everything! Each of the five options is as eye-catching as it is delicious, from a mini four-inch party cake adorned with red and yellow sprinkles to Chiefs rosette sugar cookies.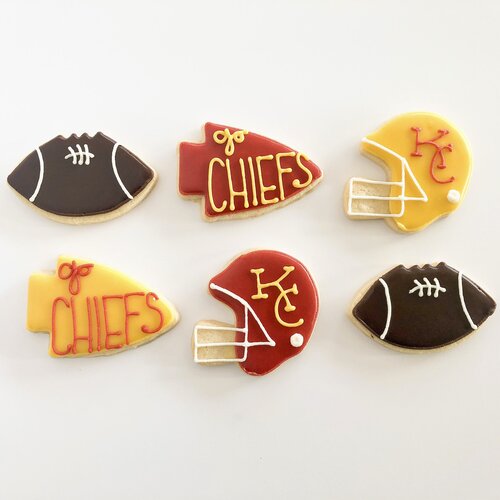 The Chiefs sugar cookie set will be a big hit—butter cookies with vanilla cream cheese icing in three shapes, including footballs, helmets, and arrowheads.
You can place an order on Dolce Bakery's website—but plan ahead—they need 72 hours advance notice for all orders.