Sponsored content:
Bradley Gilmore loves to talk food. As the executive chef at Lenexa's upscale eatery, Ignite Wood Fire Grill, and a slew of other restaurants in the metro, Gilmore wants you to enjoy his exceptional cuisine and then dish about it with him. "I could talk about our awesome new fall recipes all day," he says, chuckling. "How much time do you have?"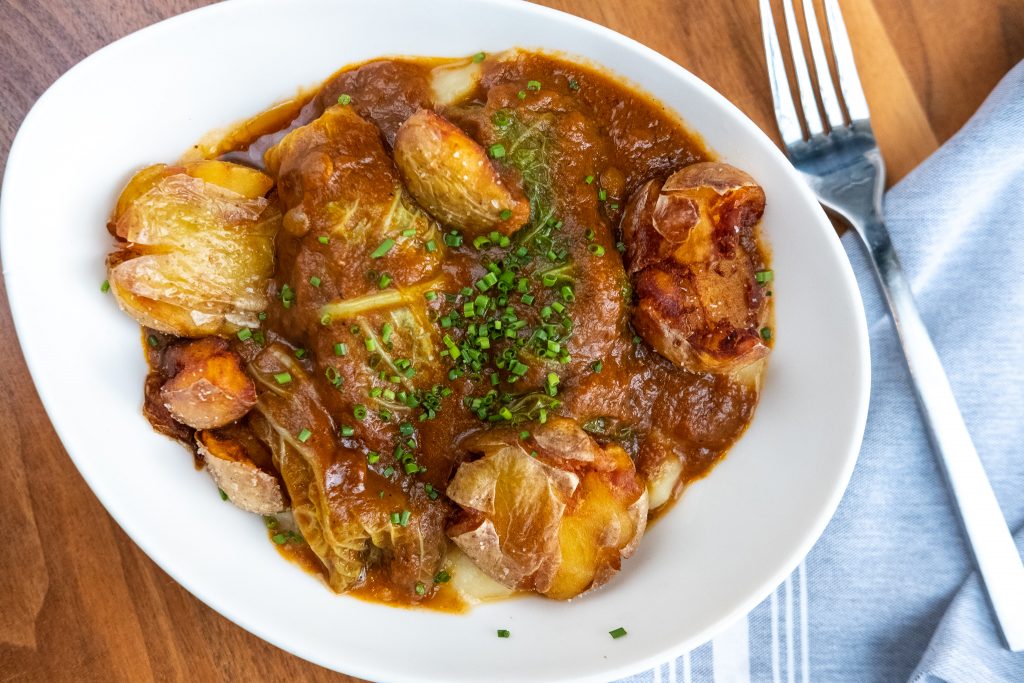 "Fall-icious" Fare
One glance at Ignite's extensive new menu and you'll see all the hard work Gilmore and his team have put into their inspired fall fare. As Gilmore's beloved summer tomato season winds down, he's excited to break out cabbages and squashes. "To me, fall means slightly heartier fare—and bolder flavors," says Gilmore, who mentions his braised oxtail cabbage rolls, "complete with tostones, lentils, and a rich tomato chipotle sauce." What was originally an oxtail dumpling blossomed into this stick-to-your-ribs dish. "I wanted something warm and rich, and stuffing the cabbage roll and smothering it seemed to be an appropriate way of celebrating fall," he says. "I love it. Customers love it. It's a unique dish. It may never be a top seller, but it's made with a lot of love."
Which of course, led us to ask what's the most popular dish on the autumn-centric menu? "Our biggest seller is our autumn flatbread," he says. Gilmore deftly combines Brussels sprouts, Kurri squash purée, ricotta cheese, pumpkin seeds, fried sage, and a dollop of pomegranate molasses on his homemade flatbread. "It's the perfect mix of salty and sweet. Besides being seasonal, it has a delicate flavor—satisfying, but not overwhelming."
When we met to kibitz on Gilmore's dishes, sleet was intermittently spitting just outside Ignite's windows. Gilmore was undaunted. "We have such a short span for fall. It's no wonder customers lunge for fall flavors. All these menu items are certainly a fresh change after summer."
Spice, Spice, Baby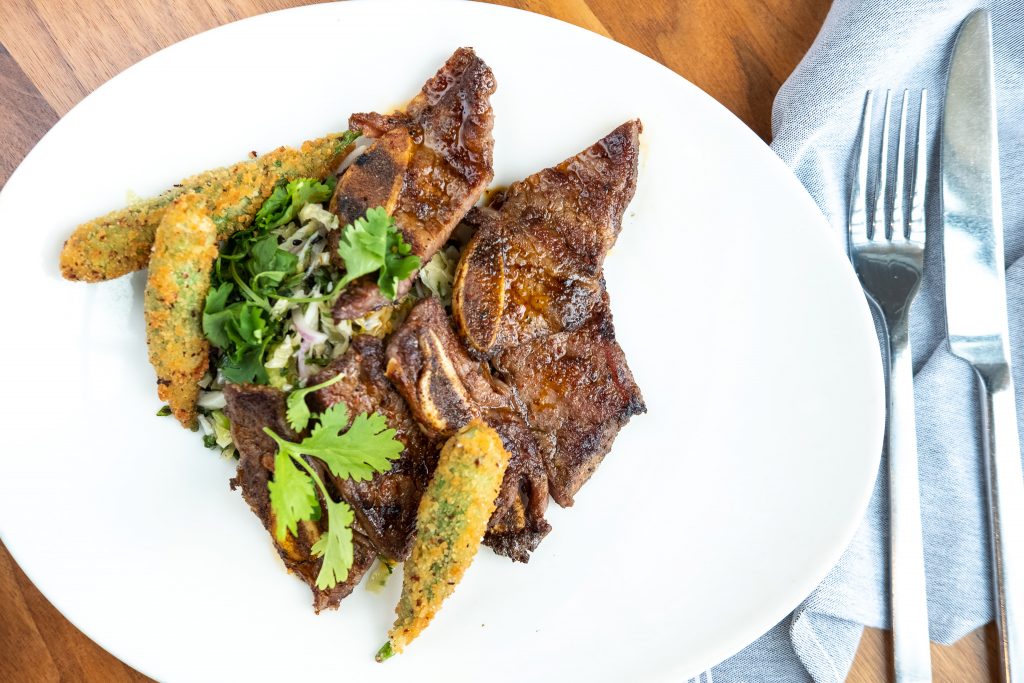 Need a bit of zing in your dishes? Gilmore is known to be a bit bold when it comes to using spices in the kitchen. "I'm not shy," he says. Two of his new wood-fired small plates prove that theory. First up, his Schezwan Short Ribs—a marinated cross-cut short-rib with sesame slaw and crispy, fried okra. "This one's got a bit of bite to it."
His Fiery Shrimp, meanwhile, is downright brazen with a red Fresno chili-lime marinade served over—naturally—a fall-tastic red cabbage slaw. "I do love my skrimps! Since I'm from North Carolina, I'm used to eating a lot of shrimp," Gilmore says. "It's got a kick to it. If you don't like spicy, you probably won't enjoy it. Taste-wise, you're gonna feel it—and then use the slaw to cool it down."
Check out any of the other non-entrée offerings, and it's easy to see that even side dishes have Gilmore's signature spin to them, from cauliflower vindaloo to Gilmore's roasted red pepper soup-of-the-moment. "What I love about our new menu—it appeases so many crowds, everyone from the heartier meat-and-potato-crowd to the Keto-crowd," says general manager Brittany Socha Gilmore. "It's never difficult to find something appealing and tasty. We have something for everybody."
Cheers to you!

And because it's five o'clock somewhere, Gilmore's bar squad has upped the ante on their signature, indulgent cocktails. "We source our own barrels of [Maker's Mark] bourbon, [Knob Creek] whiskey and [Patron] tequila," says Gilmore as he sipped Ignite's famed old fashioned with a charred orange peel nestled inside. "Now this is a crowd favorite. No one can else can get this smooth of bourbon. We designed it with different flavored staves," says Gilmore. "What can I say? I'm a fan of old fashioneds. The bartender brings me one every night—you know, just to make sure it's always up to par. I like quality control."
We spied two fall-icious adult beverages that caught our eye too. The Apple Orchard—made with apple cider, honey, cinnamon, and local Lifted Spirits gin. "It's not hot, but it's the ultimate toddy," says Gilmore. And the Fall 75—a play on the classic French 75 cocktail—with an infused apple-cinnamon-cranberry mix and topped with prosecco. "It's all our fall flavors in one boozy beverage," he says. And if you like your wine, Gilmore was quick to point out Ignite's legendary happy hour where "any glass of wine we sell during happy hour is only $5." (3 to 6:00 p.m. daily, plus all night on Monday, and Saturdays during the day.)
Want to pop in for lunch instead? Gilmore says bring your appetite. "Our 'power lunch' features a pick two for just $12. Pair any of our handcrafted sandwiches—I'll say pick the Shrimp Po'boy, our Cubano, or house-made meatball sandwich—and pair it with any of our soups, salads or pastas," he says. "It's one of the best deals in town—and a great way to check out our menu." Ignite's regular dinner menu is available all day long as well. "Lunch is super casual," he says. "Trust me, we get plenty of construction workers who like to wolf down our local Hatfield Burger over lunch."
Finally, when we peppered Gilmore to share one of his autumnal trade secrets, he raised an eyebrow. "Fine. I use Espelette—a very dry French chili. I use it to finish a lot of dishes," he says. "Some people use salt. Nope, not me.  The unique flavor from that chili gives dishes an unexpected twist. Heck, I use it on everything from finishing our fries to our ahi tuna."
The more you know, people—the more you know.