Seasonal farm dinners have been around for well over a decade in Kansas City, and their popularity has only increased with our ever-growing interest in knowing not only who is making our food, but who is growing it, too. Although we may be weary hearing the words "farm-to-table" in a restaurant environment, it is a term that still feels fitting when talking about an actual dinner prepared by a chef with ingredients fresh from the farm and served in a bucolic setting. 
While local chefs enjoy a symbiotic relationship with the farmers they buy from, farm dinner collaborations are now a way for the two to support each other professionally and financially. Local chefs understand the benefit of supporting the local farmers who keep their restaurants stocked with food, and most are more than happy to host a seasonal dinner or cooking class if it provides the farmer the opportunity to diversify their income and ensure their financial survival during the cold winter months ahead. In that same vein, we should also consider our own attendance at farm dinners as an enjoyable and entertaining way we can show our own support for our local farm families.
Since the pandemic, there has also been a rise in the number of trained chefs who have decided to grow, butcher, cook, and serve their own meals on their own land or in their own homes. Tired of running restaurants in the city, they are opting to host dinners as an agritourism tool to connect people to their land and food source, while they raise a little income for themselves and their operation in the process. There are chefs growing their own vegetables, processing and curing meat, baking bread, making pasta, and even making their own wine, all in the name of creating a restaurant-quality meal on their own property for crowds that gather weekends to eat under a starry sky.
There is something undeniably romantic and nostalgic about dining outside in the fresh air while sitting at an old wooden table covered with an embroidered tablecloth and set with mismatched china, glassware, and silverware that just puts everybody in the mood to eat. It taps into our yearning for a simpler, less technology driven, time. Even as we sit and enjoy these elaborate, coursed farm meals, it is easy to glaze over the amount of hard work that goes into growing, raising, and cooking every single ingredient on your dinner plate. It is a humbling thought, and one that will stay with you long after your hunger has been satiated with good food, fine wine, and great company. 
Whether they are hosted on a back porch, in a barn, in a grove of trees, or out in a field, farm dinners bring you as close as you will ever be to the land and what is grown or raised on it. So, as the Indian summer gives way to crisp fall weather, check out this list of seasonal farm dinners below and make your plans to take a leisurely drive outside of Kansas City to partake in the annual alfresco tradition of a true farm feast.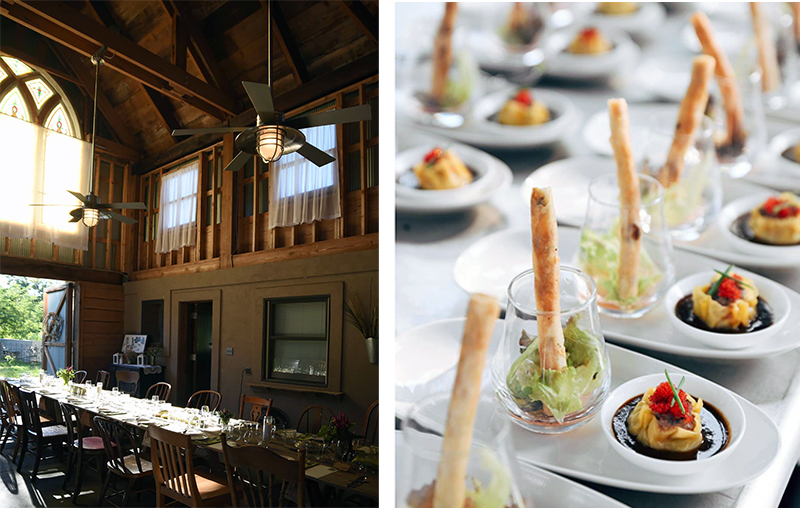 Farm Table Dinners
Green Dirt Farm
Weston, Missouri
After 14 years of hosting one-of-a-kind farm dinners from May to October and working with some of the best chefs in the Midwest, many people consider Sarah Hoffman's annual Green Dirt Farm dinners a seasonal "must-do" event, especially as fall approaches and brings with it more favorable temperatures. As one of the first farms to host a proper chef's-table dinner among the rolling green hills on their family farm near Weston, Missouri, Green Dirt Farm has established a model that many other local farms now follow. Conceived to introduce local chefs and guests to Green Dirt Farm's small-batch sheep's- and cow's-milk cheeses, the dinners have now taken on a life of their own, with 36 guests seated at one long family-style table inside a charming (but non-air conditioned) barn made of recycled timbers and other salvaged odds and ends. Guests start with a sampling of Green Dirt Farm cheeses and a seasonal cocktail, then as local musicians play, a guest chef serves a five-course plated dinner that features Green Dirt's grass-fed lamb and award-winning artisan cheeses, with produce sourced from area farmers and each course paired with a different wine. Tickets are $195 per person, all-inclusive, and must be pre-purchased from the Green Dirt Farm website.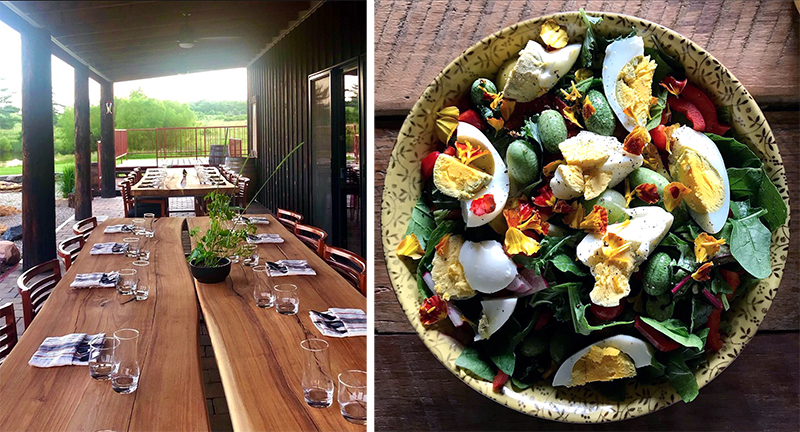 Origin Restaurant
Burning Barrel Farm
LeCompton, Kansas 
Even though Brian Strecker is chef at the just-launched Origin Restaurant at Burning Barrel Farm with his partner, Kristin Werner, the two of them have been in the business of feeding people for many years. Strecker spent the last two decades working in kitchens. His last stint was at Pachamama's in Lawrence before it closed in 2015. After that, he purchased a 30-acre Christmas tree farm in Lecompton, Kansas, where he built a commercial kitchen and a meat fabrication facility, picking up new construction skills as he went. Soon he was joined by Werner, who had been farming for as long as Strecker had been cooking. Together they planted vegetables and fruit trees, fermenting, canning, or making wine out of whatever they didn't eat themselves, eventually adding pasture-raised chickens, ducks, cows, and even heritage-breed Mangalista pigs into the mix. Dinner starts with a cocktail hour where guests are free to roam about the farm pond before the duo serves an inspired three-course chef's menu. A recent dinner featured Asian-inspired dishes made with farm-fresh ingredients, including charred eggplant dumplings with chicken-heart confit and hot pot greens; Mangalista loin tataki with smoked lardo, shishito peppers, spiced potatoes, and marigold jus; and for dessert there was hyssop crème brûlée with iced sage and chocolate mint tea. Origin Restaurant seats 20 people at one family-style table every Friday and Saturday night and is open between now and December. Tickets must be pre-purchased from their website for $60 per person, not including gratuity or additional drink pairings (with or without booze) that are $3-$5 a piece and consist of clever drinks like hard seltzers and fruit wine they make themselves.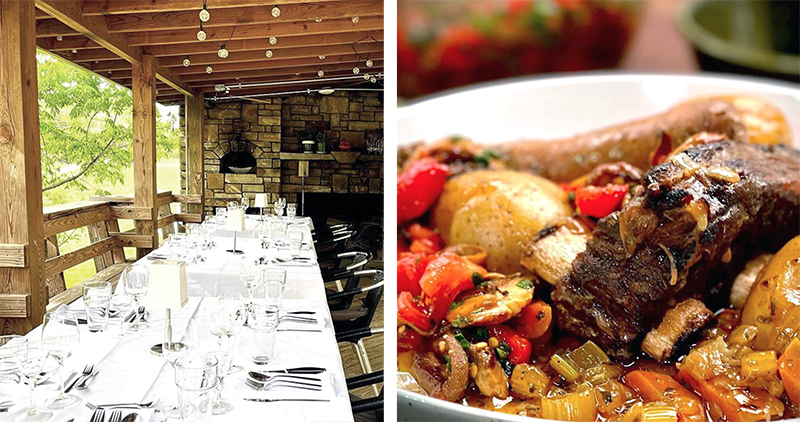 Pop-up Dinners
Chef Jonathan Justus & Camille Eklof
Smithville, Missouri 
When Jonathan Justus and Camille Eklof decided to close both Black Dirt, their Kansas City restaurant, and Justus Drugstore, their original restaurant in Smithville, they began the search for just the right spot to open the next version of their beloved restaurant. Now, having found the perfect place in midtown Kansas City, the new Justus Drugstore should open sometime before the end of this year or early next. In the meantime, the couple has been supporting themselves by hosting pop-up dinners at their private home located on land near Smithville Lake. The menus are wildly creative and give insight into the kind of food you can expect when the new restaurant opens. Communicating only through Instagram, Justus will usually make a post announcing when they plan to do their next multi-course tasting experience serving ten to 12 courses for only 12 people at a time on his covered outdoor patio. More recently, with the weather being so hot, Justus has been hosting more intimate dinner parties of eight inside his Smithville home, preparing dishes around a theme like French Provençal, Spanish tapas, or even a succulent seafood dinner, serving four courses family-style with guests seated at one long table. With these smaller dinners, Justus manages to prep, cook, plate, and serve his guests all by himself. Dinner can range anywhere between $75 to $85 per person (paid via Venmo) for the four-course family-style dinner for eight, but that does not include alcoholic drinks or gratuity. Wine is $10 per glass and if you bring your own wine there is a $35 corkage fee. For more information about attending one of his dinners or buying it out for your next private party, you can email justusdrugstore@att.net or simply follow @chefjonathanjustus on Instagram.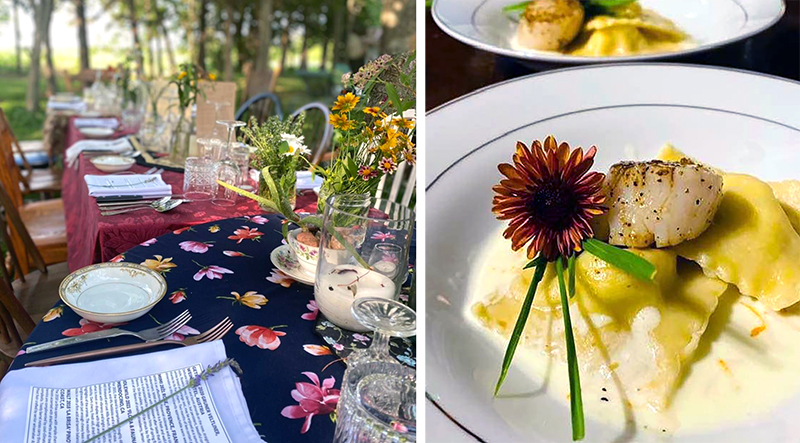 Farm Dinners
Saltwell Farm Kitchen
Overbrook, Kansas
In 2020, Shantel Grace and her partner, Rozz Petrozz, had gone foraging in the woods southwest of Clinton Lake near Lawrence, Kansas. After a successful afternoon, the two came back with the ingredients for dinner and a plan to turn the long-abandoned McKinzie farmstead they had stumbled onto in Overbrook, Kansas, into their new farm-to-table restaurant and family home. After buying the property and undergoing a year's worth of construction, DIY projects, and shopping at their neighbors' yard sales for mismatched antique plates, cups, and silverware, the Saltwell Farm Kitchen finally opened last summer with Petrozz as chef in the kitchen and Grace working the front-of-house. The two met working together at Grace's restaurant, Ramen Bowls, and their collective industry experience is what makes their farm dinners feel effortless, with food that celebrates local farmers, foraging, and Midwestern cuisine. This is due in large part to the veteran staff they have hired to help them with their dinners, including Kate Frick, a local bartender and the founder of the Myers Hotel Bar in Tonganoxie, Kansas, who now runs the bar at the Saltwell dinners. There are 45 seats each night and each party sits at their own private table in the backyard among a grove of walnut trees with fans and café lights strung between their branches. A recent dinner featured rustic, but delicious, courses including sour-cherry toast with whipped ricotta, a fried green-tomato salad with blue cheese dressing, summer sweet corn chowder, ribbon pasta, heirloom eggplants, mashed potatoes, and beef tenderloin, topped off with a dessert of cheesecake with black raspberries. Tickets for Friday and Saturday night for the eight-course tasting menu are $69 per person. Wine pairings are available for an additional $30 from a fine selection of domestic and international bottles. Wines by the glass are $11, and hand-crafted cocktails are $15. You'll pay for everything at the bar at the end of the night. For more information or to make your reservation go to saltwellfarmkitchen.com.