What makes a meal remarkable?
Upon arrival, take in the vibe and ambiance of the restaurant—the lighting, the décor, and the music. Then it's the choice of the meal. The anticipation rises, the aromas, then finally it's the tastes—sweet, salty, sour, bitter, pungent, all mingled together with the texture, viscosity, juiciness. It's the memories created at that moment. A great meal is being present.

Black Sheep Restaurant + Market
The Reuben sandwich. Be still my heart.
While holding a tantalizing triangle of my most favorite sandwich, Thousand Island dressing trickles from the edge of my pinky, gracing my wrist. The first bite of buttered, griddled golden-brown marbled rye gives way to gooey swiss cheese, then a perfect ratio of sauerkraut complementing the meaty pieces of tender Boyle's corned beef.
My shoulders melt with satisfaction. Combining the sandwich with a swig of jammy Malbec makes the Reuben at Black Sheep a remarkable meal. Now the fun of capturing the rogue dribble of Thousand Island from my wrist.
Brookside Poultry Company
Roast duck, chicken thighs, cheddar biscuits, shrimp and grits, key lime pie. The South is in the Midwest.
At Brookside Poultry, hospitality greets you at the front door, just as you would expect from a Southern boy. Slow-roasted Barham Family Farms duck appears at our table. The beautiful burnt-caramel skin snaps with the first bite, revealing tender, succulent, citrus-brined, slow-roasted meat.
The flaky crunch of golden chicken thighs crackles to expose tender meat. Pairing it with jalapeños, cabbage, and celery gives the meat a bit more spice, without adulterating the chicken.
Butter-braised shrimp are nestled in Parmesan grits, indulgent enough to scrape the bowl with the cheddar biscuits. But then the realization that key lime pie is still to come.
Balanced between tart lime, sweet condensed milk, light cream, and the crunch of the graham crust, every tangy bite is honored as a ritual. A meal here is meant to be shared with friends.
Lidia's
Butternut squash ravioli, swordfish, pollo al limone. And all the desserts.
How about a dance with the classics and a sprinkle of an upgrade?
Hints of nutmeg within the brown-butter sage sauce of the butternut squash ravioli makes a decadent appetizer.
A scallopine of chicken breast nestled next to sautéed spinach with capers, roasted lemons, and Cerignola olives swirled in butter creates a creaminess that lingers on my taste buds.
To my surprise, grilled swordfish with just a hint of smoke is on the menu. It's accompanied with purple potatoes, meaty oyster mushrooms, almond slivers, and a pop of golden raisins to create an unforgettable fork-able bite.
All the desserts found their way to the table, including my favorites, the bruléed bananas and crunch-coated gelato, followed by the hazelnut cake.
Our Daily Nada
Salmon toast and French sauvignon blanc. Eating on a sofa while reading.
Greeted with a soft smile and hello, I recognize the elegance of simplicity with my first glance at the menu. There is one sauvignon blanc available, from France.
The crisp, refreshing wine is poured into a mindfully chosen, delicate glass. Smoked salmon toast is a perfect accompaniment to the bright wine. A significant piece of multigrain toast is iced with horseradish cream, then adorned with smoked salmon, pickled shallots, cucumbers, capers, and glittered with dill. Relaxing music allows me to create while comfortably lounging on an emerald-green sofa. A meal as memorable as a scene straight out of a book.
Bichelmeyer Meats
Street tacos. Saturday lunch to go.
Thin slices of marinated pork pivot on a spit with pineapple dawning the top. As it rotates, the flame caramelizes the pineapple, forcing the juices to stream down the pork. The next turn, the juice crisps on the marinated meat, locking in layers of flavor and tenderness. Corn tortillas are heated with a bit of oil, stuffed with the shaved pork, topped with minced white onion and cilantro, and served with a side of spicy, creamy avocado jalapeño sauce and a fresh slice of lime.
With saliva sneaking out to the corner of my mouth, the tacos begin my weekend like a smile to pursed lips.
Freshwater
House charcuterie, braunschweiger-stuffed beignets, braised-beef neck and gnocchi, butternut squash agnolotti, tagliolini with trout anchovies, chocolate mousse and white ale. And new friends.
When I think a tough day isn't going to get lighter, I enter Freshwater to join jovial patrons at the bar with intention of being a witness, a butterfly hidden in the wallpaper, to release the day.
Marlin, the bartender, swiftly introduces me to everyone at the bar. Obviously, I allow him to pick my dinner, with the option to opt out at any time. House-made charcuterie with accoutrements keep me busy while beignets stuffed with braunschweiger are being made. Soon six different pastas line the bar in front of me. The braised-beef neck and gnocchi have a bright acidity complementing the natural sweetness of the potato gnocchi. The salted trout anchovies are a curious delight snuggled with the tagliolini.
Although absolutely stuffed, milk-chocolate mousse paired with a sip of white ale rounds out an evening of dining with new friends.
Antojitos del Peru
Yuca fries. Sharing a secret place.
The nondescript Peruvian restaurant is tucked away in a shopping center off Quivira. It's a place to remember my Spanish, but it isn't necessary. Examining the menu, I spy yuca fries. A bottled Diet Coke is delivered with a straw and the scorching hot yuca fries rest on the table with a sidecar of fiery chili green sauce. A sprinkle of salt, a squeeze of lime, and generous amount of secret sauce is an unrivaled bite. Crisp outsides yield to a firm yet flaky interior, making the yuca fry far superior to the traditional French fry. It's my crave-able secret.
The Russell
Seared ahi tuna with roasted vegetables. A memorable lunch.
The wood-burning oven matches the whispers of smoke drifting in and out of my senses. A small distraction compared to the tempting cookies, scones, and other bready things calling my name from the case. That campfire scent subtly tugs at memories of summer nights, a bottle of wine and dancing with friends.
I settle on seared ahi tuna, sliced and shingled to reveal the dark fuchsia center. Roasted zucchini, carrots, petite peppers, and cauliflower with a miso broth ladled in the shallow bowl with sprinkles of micro greens and flower petals envelop the fish. I'll save room for a chocolate chip cookie next time.
Heirloom Bakery & Hearth
Strawberry pastry. An afternoon treat.
Succulents adorn the walls and honeycomb is free to scrape a piece, while bakers are busy creating in the open kitchen. A few items are already scratched off the daily menu, but before I know it a delicate strawberry-and-cream pastry is on a plate, my hot tea is in hand, and magically, a seat opens in the crowded room. Starting at the edges, every nibble of the flaky, not-too-sweet dough finishes with a satisfyingly crisp tenderness. Purposefully, the tart, sweet, local-strawberry center is saved for last, just so I can lick the final crumbs from my fingers.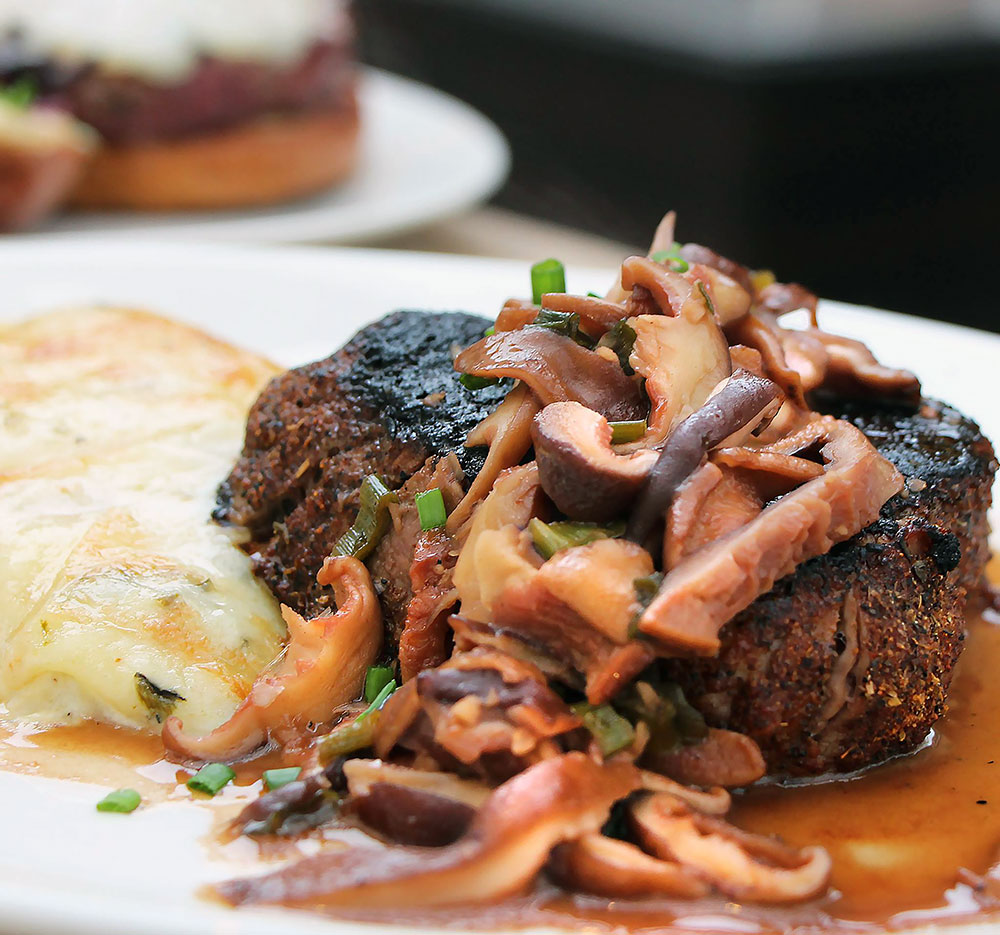 J Gilbert's
Steak. And a win. 
The bar is full except one seat. Live music floats in the air as vodka, chilled, and four oysters are slurped down for immediate satisfaction. Relaxing, I register the artist is playing Eric Clapton, one of my favorites, from a favorite time.
My order is taken, a simply grilled filet with mushrooms and asparagus. After this particularly intense day—and a win—a juicy, rare steak, with slight notes from the wood-fire grill, accompanied by a Mt. Veeder Cabernet, is the only answer to temper my flame.
A wood-fired grill is something to respect. It takes patience to learn and honor the inconsistencies of a wood fire. The real talent comes into play when a steak is cooked flawlessly, every time.
The Antler Room
Believe it or not, everything on the menu, in one sitting.
Dating is a fascinating sport to play. A gentleman and I are indulging in conversation, looking up, there are three fellas with mild East-Coast accents, receiving food at a steady pace. My date and I look at each other with a shrug and join their evening. First, buttery brioche pinned with violet borage flowers brings a refreshing cucumber perfume to the caramelized foie gras torchon precisely centered on thick-sliced toast.
Cauliflower; white, green, and purple asparagus; and the farm carrots—all with flattering accompaniments—mingle as if they themselves were going on a date.
One glass of rosé turns into three red, the crispy duck confit dances in our mouths, and the chef walks past with haste. He returns to the kitchen to begin crafting our next course in front of us—tiny, fragile tortellini. All five of us cut each pasta in half to savor the workmanship and artistry.
Affäre
Smoked watercress and apple salad, white asparagus. Celebrating spring.
Locally grown maché and watercress are gently rolled with a walnut vinaigrette, pieces of   tart apple tucked in a jar and sealed with a flutter of smoke. This salad isn't an everyday salad, it's an experience.
For white asparagus, the season is ridiculously short, a tiny pin-drop in the growing year. It takes four years to foster before it can be cut and served—as white as a pearl—yet tender. The spears only require subtle cookery to enhance the distinct flavor. The mindfulness of the ingredients shines brightly.
Story
Cauliflower bisque with walnut pesto, braised pork, butternut squash and pecorino ravioli, elk tenderloin with parsnips and oh, what a sauce, doughnuts with house limoncello. A special dinner with mom.
First, Champagne—the tiny bubbles automatically bring joy. Next, we're sipping velvety cauliflower bisque topped with a walnut pesto from a cool, contemporary soup spoon. Then we switch wines and share house-made ravioli with braised pork and butternut squash. Without hesitation, my mom looks up over her glasses to whisper, "I can have another one of those…"
Elk tenderloin is a complete must. The deep-pink elk is too special to rest next to the humble potato, so it arrives with the much more complex and sweet parsnip. A silky demi-glace allows every morsel to swivel and play around the plate.
Notably last, the doughnuts, each curiously quarter-sized and light, stacked by a culinary architect, and paired brilliantly with house-made limoncello. 
Jarocho
Oysters, scallop ceviche, whole fried fish, gooey duck. Amazing seafood in an unlikely setting.
Oysters are simple. Good oysters with a squeeze of lime are intoxicating. My friend and I share a dozen before scallop ceviche arrives, attended by lime, chili oil, and jalapeños served with tostadas.

Our server arrives with a romantic observance of our next course. "It is like a piece of art, so beautiful," she murmurs. It's a delicate piece of white fish with caviar, chili oil, borage, sea urchin cream, and a scattering of miniature cilantro leaves.
Gooey duck crudo is as crisp and light as a cucumber, while the stomach—seared—is the foie gras of the sea. The meal ends with a smoky mescal to seal the simply remarkable, unexpected romance with food found on Kansas Ave.
The Farmhouse
Blackberry mojito, spinach and strawberry salad, breakfast sandwich, French toast. Summer Saturday brunch.
Hot and sweaty, I'm welcomed by Heather and a blackberry mojito at the height of the season. First a spinach and strawberry salad, while I watch farmers sauntering back to the kitchen with more mouthwatering crimson strawberries. The breakfast sandwich, with house-made ham, a perfect egg, gooey, melty cheese, and crisp spinach on a lightly toasted everything bagel is my main course.
French toast bites are for dessert, conveniently cut so a knife isn't required. Each forkful fits for dunking in the sidecar of real maple syrup.
Lauren Lane Culinarian
Blue cheese soufflé, ricotta gnocchi, milk-braised lamb, panna cotta. A private pop-up dinner.
An authentic meal prepared by a gracious woman in her beautiful home. I'm welcomed by familiar faces and a large glass of red wine. Fresh spruce, pine, and pomegranate set the table for the holidays. The blue-cheese soufflé is subtle, teasing our taste buds for the next course. Petite pillows of ricotta gnocchi, tossed with brown butter and sage, are exquisite enough to relish one by one. Another cork exits a bottle of red and no glass is left below half-full. As the table ignites with conversations enveloping farming, media, and the future, milk-braised lamb with root vegetables serves as our main course. The final course is as delightful and heartfelt as the hugs at the end of the evening. Delicate panna cotta with raspberries, lighter than pudding, and more substantial that whipped cream.
Grünauer
Currywurst, red cabbage, spaetzle, Rubensalat, Gruner Veltliner. The finale to a busy day.
Occasionally I find myself in downtown Kansas City, dashing to meetings every hour. After wrapping up my day I head to Grünauer. A crisp Gruner Veltliner quenches my thirst. Ravished, the currywurst with red cabbage is on order. Spaetzle accompanies the meal, like a best friend. Shortly after my hunger subsides, and a few phone calls and emails, I order the Rübensalat. Sweet, earthy beets speared on my fork scoop up the goat-cheese ricotta from the plate sweeping up the peppery arugula and capturing a few toasted pumpkin seeds. The perfect crescendo with the last swig of white wine.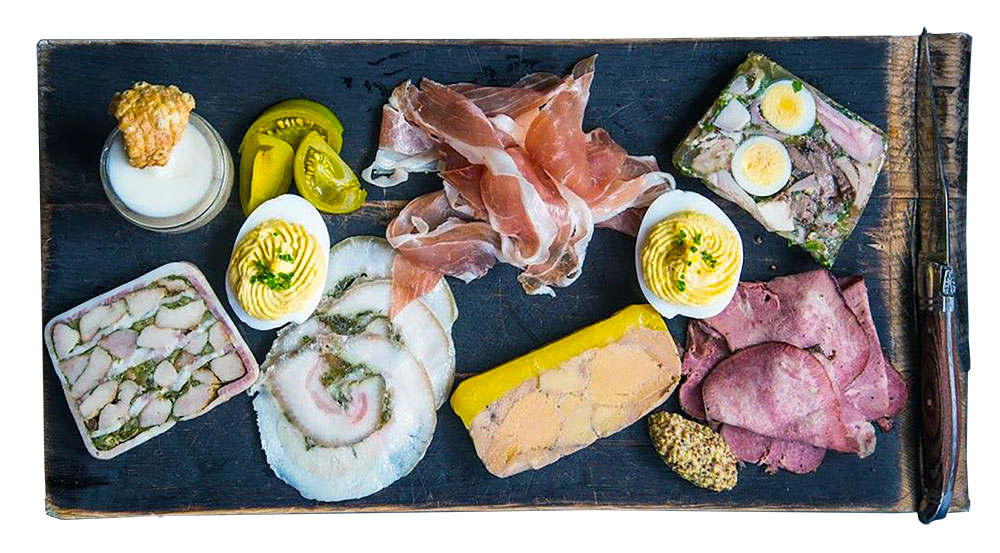 The Rieger
Charcuterie, bone-in rib eye, and so much wine. At the chef's table.
There is a fascination with watching people perform their craft, be in their rhythm, create, then offer it to another. Sitting at the chef's table is observing performance art.
Wine swirls and hangs on the edge of my glass while noshing on house-made charcuterie. Crisp horseradish pickles pair decisively well with the rabbit pâté. My friends and I begin negotiations for custody of the chicken terrine, rabbit sausage and prosciutto, as if that were the only course we're having. Roasted bone marrow is spread on grilled ciabatta, then the star arrives. Sliced for all of us and grilled to rare, the bone-in rib eye pairs with a bold Zinfandel.
Jasper's Restaurant
Shrimp scampi, pappardelle with pork ragu, lamb osso bucco on polenta, zabaglione, Italian doughnuts. A special wine dinner.
Welcoming smiles are my greeting along with "Welcome to Jasper's," making me stop, take a breath and be present.
I'm late, as usual. The room is already filled with cheerful guests awaiting the descriptions from the winemaker and the restaurateur. A small plate of nibbles from the reception is carefully guarded at my place setting; salumi, arancini, and foie gras raviolini en brodo. While sipping on the bubbles and sampling the appetizers, shrimp scampi is served, followed by pappardelle with pork ragù. Two wines are poured for deciphering our favorite while we relish a lamb osso bucco on a bed of white polenta. I'm happy I saved my bread to collect any remnants on the plate. Two desserts, a classic zabaglione with cream along with Italian doughnuts (which happen to be a perfect vessel to scoop up the zabaglione), are the ideal finishing taste.