Brakes slam on as Waldo Thai comes into view. Its corner spot in an unassuming strip of businesses makes it hard to see coming, and parking around the back of the building means getting there takes a little more work, leading guests through a back entrance.
The restaurant is worth the little bit of extra effort it takes to get there, not for the aesthetic, but for the authentic cuisine coming out of the kitchen, bright and textured, with flavors deep and memorable. Waldo Thai's space includes two sides—one featuring a sizeable bar, high tops, and casual seating in view of flat-screen TVs, the other geared toward a more dining-focused experience. Waldo Thai's is pleasantly nondescript, all black and blue-gray with neatly folded turquoise napkins perched atop darkly draped tables.

The latest in the aptly named line of metro "Thai Places," Waldo Thai opened with something of a built-in following, but it's not an exact copy of its Overland Park sister restaurant. Where that eatery serves an expansive menu of noodles and rice dishes, curries, and other Thai favorites, Waldo Thai's menu is more measured, with options lining the front and back of a single sheet of slightly crumpled paper and another sheet dedicated to exotic cocktails, beer, wine, and spirits.
Cocktails incorporate Thai ingredients, like the Thai and Jasmine teas in the Madame Butterfly, a blend of JTS Brown, Novo Fogo Cachaça, Irish cream, and cold brew, and the Soy We Meet Again, featuring a bourbon base accented with basil, palm sugar, soy, and frozen lemon. The latter drinks like an Old-Fashioned with slightly sweet, citrusy finish and occasional flashes of the basil's sharp herbal scent.

Appetizers make up the menu's single largest category, and it would be easy to make a meal of these offerings alone. The Peek Gai Yud Sai, a large stuffed chicken wing, has become one of Waldo Thai's signature dishes and practically demands to be ordered. While the presentation and flavors are sophisticated, the server drops it off with a reminder: "Thai food is family food," she says. "You eat with your hands." The subtext: Don't be afraid to get a little messy.
Wing meat is removed from the bone and presented in prim slices alongside a sweet and sour cucumber relish, which adds much-needed crunch to the chicken and a hint of acidity that pairs well with the flavors bundled inside: ground pork, bean thread noodles, shiitake mushrooms and celery. Another standout is the Khao Tod Nam Sod, a blend of beautifully crispy seasoned rice, not a grain overcooked, mixed with cured pork sausage, scallion, peanut and red onion served with lettuce cups.
Waldo Thai also offers a few soups, including Thai favorite Tom Yum Gai, and a selection of salads, each showcasing something a little different—green papaya starring in one, spicy seafood figuring prominently into another.
Entrées include specials such as the Hor Mok Ma Praw, a steamed seafood curry custard served in a young coconut, sautés, and veggie-based dishes, as well as noodles and curry. If ever there was a time to ask for a recommendation from your server, this is it.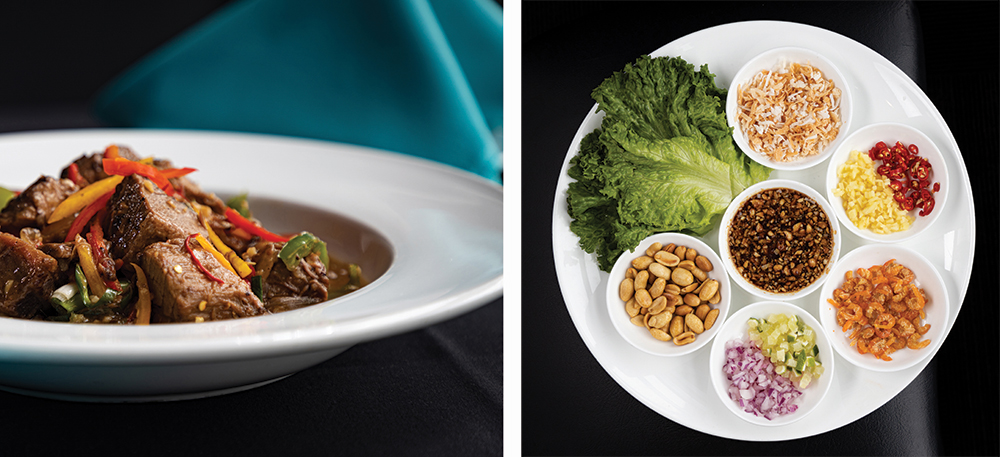 Waldo Thai is proud of its flat noodles, which are made fresh daily and tossed with flank steak, egg, onion, peppers, Thai basil, and gai lan in the satisfying Phad Kee Mow Nua, a perfect dish for those looking for an entry point to Thai cuisine. Among the curries is the exceptional Mussaman Brisket. The coconut Mussaman peanut curry is packed with spices and flavors that come through clearly, complementing the heat of roasted Thai chilis and lifting the house-roasted brisket, which melts in your mouth. Most entrées come with a dome of rice that arrives on a separate plate so you can steal spoonfuls of your dining companion's food to sample with your own.
Unfortunately, not every dish is as successful. In the crispy pork belly dish Ka-Nar Moo Grob, the meat is unpleasantly tough and lacks flavor, the decadent cut of meat outshone by the accompanying medley of spicy vegetables.
But mostly, you get the sense Waldo Thai prepares plates of food it knows and executes well. Along those lines, dessert options are modest, with just a traditional mango sticky rice, but with Betty Rae's right down the street, it's just a short walk to something sweet and satisfying.
Thai food and ice cream—that's a neighborhood worth visiting any time.