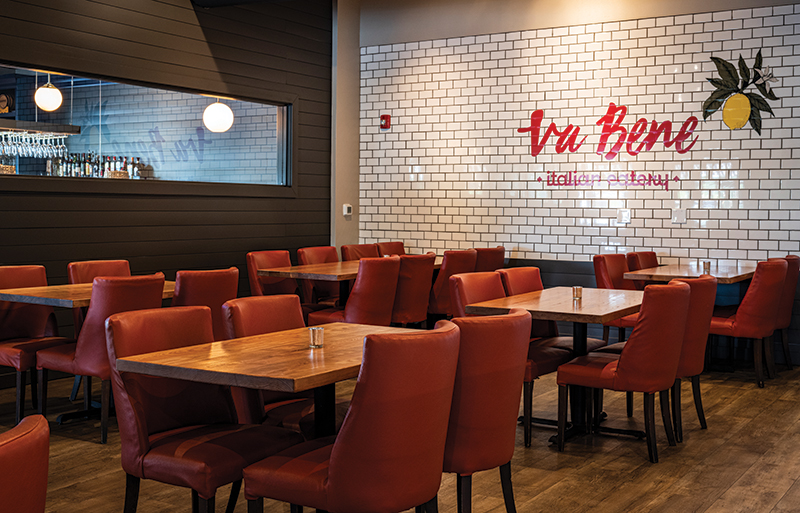 In Italian, "va bene" means "OK" or "all right"—it's what you say when somebody casually asks how you're doing or to affirm that you understand what's being said. Prairie Village's Va Bene Italian Eatery opts for a loftier translation—all is right—but the restaurant seems at home with the more colloquial interpretation, too.
The space has the feel of a European bistro, polished and inviting inside with a largely covered wrap-around heated patio. The relaxed, breezy atmosphere is one of Va Bene's greatest strengths, and the restaurant is packed on a spring evening as business casual-attired happy-hour goers finish up and the crowd shifts toward couples and friends meeting over slices of pizza and glasses of wine.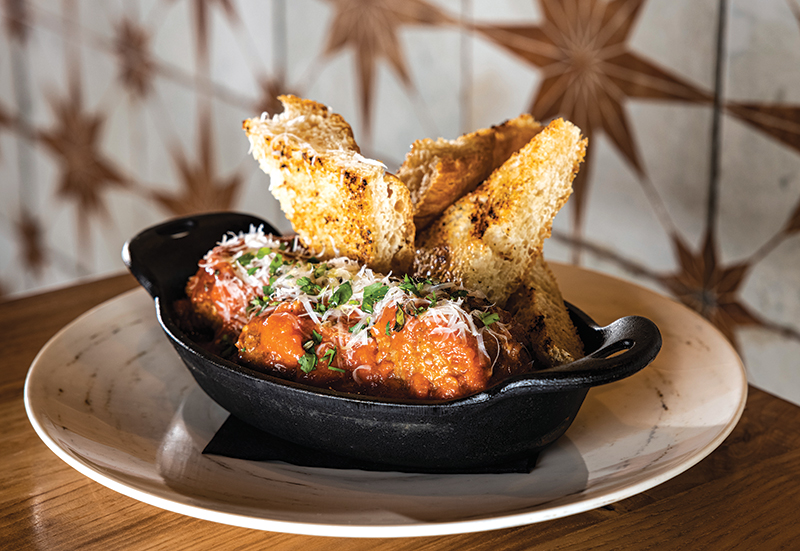 The wine list is tightly edited, and a good number of the offerings are Italian. More notable is Va Bene's house-made limoncello, a prominent ingredient in many of the restaurant's cocktails. The Italian mule, made with the lemon liqueur as well as amaretto and ginger beer, is light and refreshing, though like many of the cocktails on the menu, it skews sweet, so order accordingly.
The dinner menu features dishes guests will expect, starting with whipped ricotta and grilled focaccia, toasted cheese ravioli, and mushroom arancini. The rice fritters are a tad over-fried, but the mushrooms come through and an artichoke aioli provides a tasty, tangy foil to the richness of the molten fontina at the arancini's core.
Spaghetti pomodoro, a thick slice of four-meat ragu lasagna, and cacio e pepe are among the pasta dishes served, along with a tagliolini scampi—at least, that's what it's called on the menu, although it's not what comes in the bowl. Instead of the long, thin noodles advertised, the dish arrives with broad, flat pappardelle. While the pasta is still delicious, the shape is not the ideal vehicle for the scampi's white wine and olive oil sauce, and it makes for a clunky eating experience, though the clean, simple flavors of the dish still shine. The slow-braised beef pappardelle is more successful—its rich flavors feel fully realized.
All pasta dishes, as well as pizzas, can be supplemented with a meatball. Va Bene's version is made with pork, beef, and ricotta, and the end result is tender but slightly over-seasoned.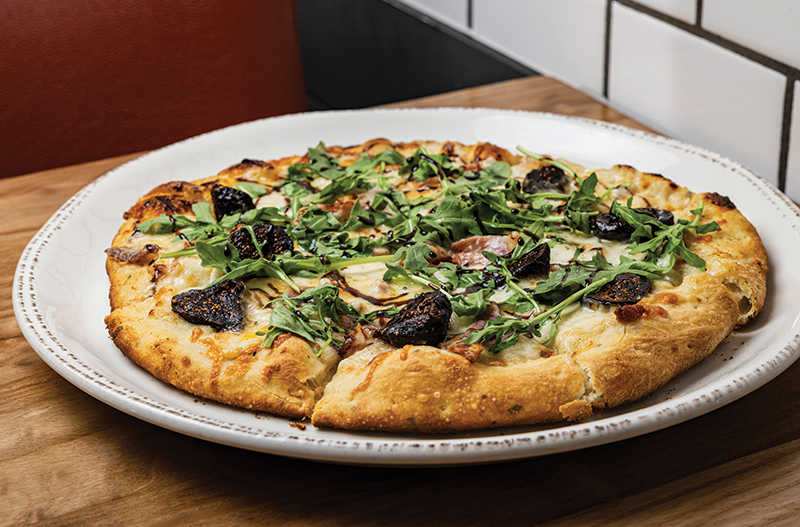 Fortunately, there are no missteps when it comes to the restaurant's pizzas, which are truly the main attraction. The crust strikes the ideal balance between chewy and crunchy, and rustic marinara sauce on several of the pies is sweet without tasting artificial. It's especially good on the pepperoni pizza, which adds yellow pepper and Calabrian chili to the mix, introducing much appreciated heat and complexity. Other pizza options include fig and prosciutto with a pancetta cream sauce and the quattro meat, loaded with house-made Italian sausage, pancetta, genoa salami, and pepperoni. All are designed to serve two to three people.
For a taste of Italy sans some of the carbs, Va Bene offers entrées such as chicken piccata, eggplant parmesan, and pot roast with a chianti demi-glace. And when dessert rolls around, diners can choose from orange chocolate chip-filled cannoli, which lean more tart than sweet, as well as gelatos made in-house, frozen whipped hot chocolate with a peppermint spoon, and, lest diners riot, tiramisu.
Much of the dinner menu, including salads and sandwiches, is also available at lunch. And on Saturdays and Sundays, Va Bene serves up brunch, introducing some playful additions to its lineup—lemon ricotta pancakes, fig and hazelnut French toast, a ciabatta breakfast sandwich and the Saturday and Sunday pizza topped with scrambled eggs, smoked bacon, and breakfast sausage.
Italian fare for breakfast, lunch and dinner? Va bene.