Room service has its time and place, but sometimes you have to shirk off the robe and venture down to the hotel restaurant and bar. It's an alluring proposition at the reimagined American Reserve Bar & Grille, located inside the Ambassador Hotel.
With a revamped interior and new chef and menu, the restaurant is a seductive marriage of style and substance. While the space has the same bones, it's been refined with hardwood floors, white marble tabletops and gold velvet seating areas. Tucked away in a banquette to the side, it's easy to forget you're in a hotel lobby at all until you hear the mechanical whir of elevator doors sliding apart and the high-pitched squeal of a (presumably very fancy) toddler in temporary residence.
Moments like these—when the realities of travel intersect with The American Reserve's attempt to create a fine dining atmosphere—can be jarring, especially if you're just stopping by for a meal. Business visitors talk shop over margaritas, and a group of men in baseball caps cluster to get a view of the evening's game on the bar's discreet TVs, creating a rift between the food and drinks' high quality and price point and the overall restaurant experience. But it's a disconnect The American Reserve works to overcome.
Fans of the restaurant's previous iteration will recognize the tall, mirrored bar that serves as a focal point and still serves up delicious cocktails. The Goats & Rabbits, made with both Tom's Town Bourbon and Restless Spirits Whiskey, comes with a side of local history courtesy of a full menu page that delves into the rivalry between the Pendergasts and local leader Joe Shannon. The American Reserve also serves up a bevy of seasonal cocktails, including a few hot options. The mulled wine is cozy and comforting, brimming with citrus and spices. And thanks to sommelier Eric Willey, the restaurant's wine program has been elevated, with an impressive, expansive wine list boasting 180 different bottles.
The restaurant menu has been similarly leveled up under the direction of new executive chef Bryant Wigge. He's introduced a new weekend brunch menu, featuring an assortment of classic offerings like omelets, huevos ranchero, and breakfast bowls alongside fruity brunch punch and a $20 bottomless mimosa, two of many available brunch cocktails.
Come dinner time, there's a focus on proteins at The American Reserve, one that should be indulged right off the bat with the luxurious steak tartare. The buttery meat is balanced out by pops of acid from capers and shallots, and a silky poached egg yolk. Served with slices of crusty, grilled ciabatta, it's an indulgent start to the meal.
The steak adoration continues with a selection of U.S.D.A. prime natural cuts sourced from Kansas-based Creekstone Farms, offered in addition to a handful of entrées. The Tomahawk Pork Chop is slow cooked, coaxing out flavor, and served with white beans and black kale accentuated with lemon, chili flakes, and a little more pork for good measure. Ironically, most of the meat is removed from the pork chop and fanned across the plate, with the bone emerging like a flag post, so as not to deprive you of going after the last bits of meat.
Seared scallops are served with a similarly striking presentation, placed atop a layer of smoked sweet potato mash sprinkled with pomegranate seeds and crispy sage leaves. The scallops could do with a harder sear for texture, but the center is perfectly cooked, the pure, mild flavor of the scallops playing well with the earthy fried herbs.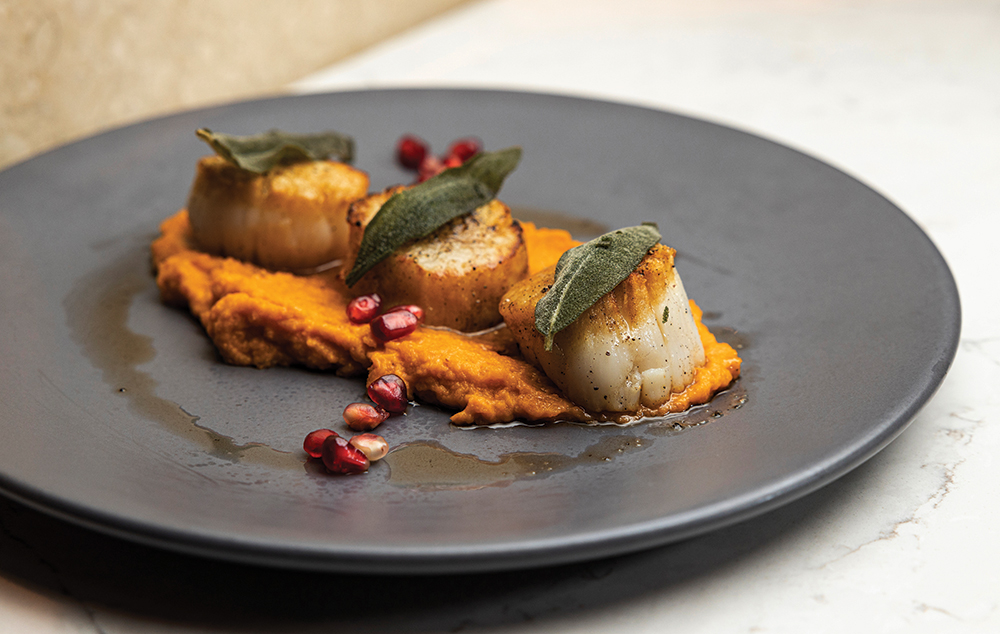 Dessert offerings include a ricotta doughnut and a Basque cheesecake, a crustless version with a texture more akin to pound cake than a slice of its New York-style cousin. Roasted strawberries and an accompanying tart strawberry sauce lend the dish moisture and cut through its richness.
Whether you're checking in as a guest or checking out new spots for dinner before catching a performance downtown, The American Reserve is worth a reservation.