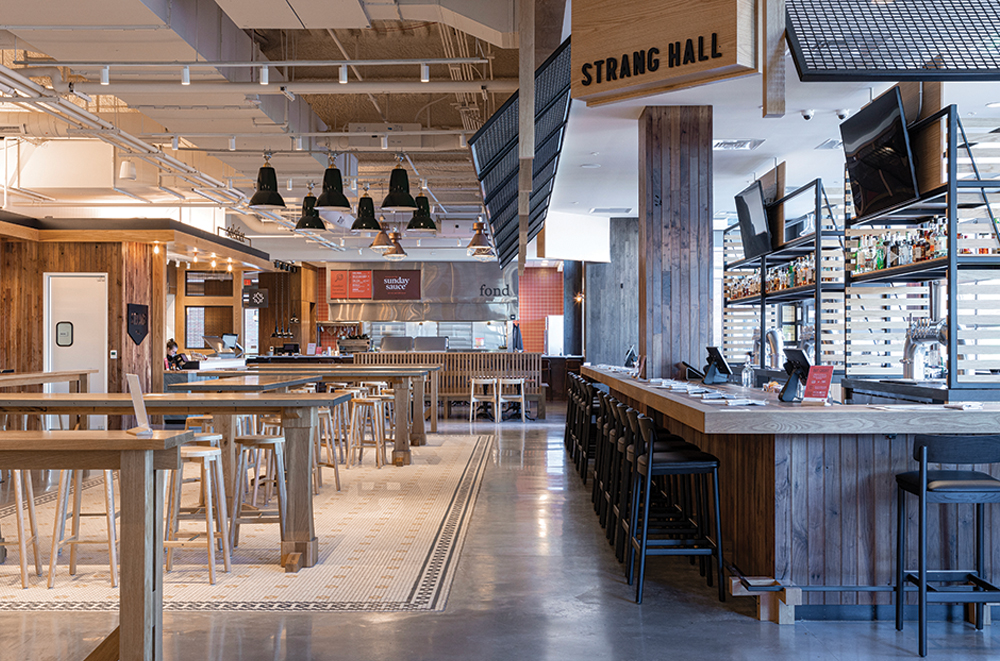 For some of the most interesting eats in Overland Park, look no further than Strang Hall.
Opened at the end of 2019 on the ground floor of the Edison District, Downtown OP's new mixed-use development, the food hall is an exciting hub for the neighborhood, delivering chef-driven eats in a stylish, streamlined space.
It helps that the concepts are diverse: There's Basabasa, a fried-chicken spot with Asian influences; craft pizza and sandwich shop Norcini; Nida, serving nouveau street tacos; Southeast Asian eatery Anousone; super food-focused Solstice; and Fond, where familiar dishes get a twist.
But it's not the variety that makes Strang Hall something special—it's the quality of the execution, from menu design to food preparation. All of the kitchen fronts feel fleshed out enough to stand on their own, with nobody playing it safe to attract potentially overwhelmed diners. Put them under one roof, and it's an embarrassment of riches.
Chef Remy Ayesh's Nida is a standout, with tacos inspired by flavors from around the world. Barbecue lovers will be all-in on the black gold brisket taco, smoky with a hint of coffee offset by a chimichurri crema. Other offerings include the carnidas, made with confit pork shoulder and belly and topped with grilled pineapple salsa, and the fried gulf-shrimp taco, made with crunchy tempura-battered shrimp and piled high with slaw. Whichever version you opt for, top it with the burns-so-good sundried-tomato hot sauce and Ayesh's refried black beans, velvety smooth and expertly seasoned.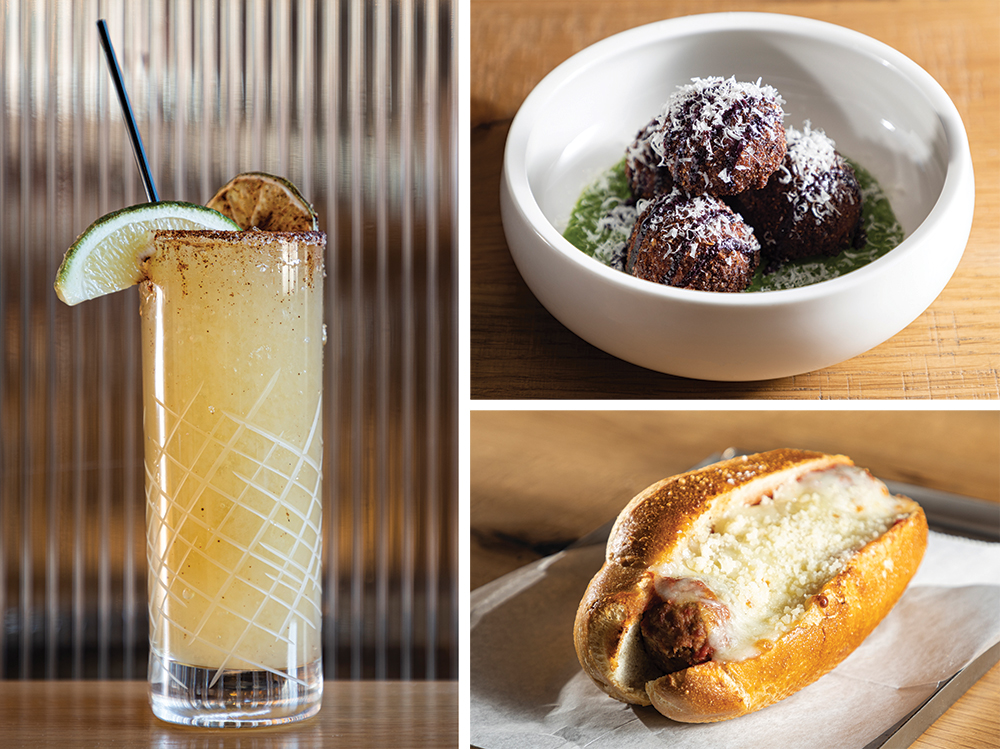 Norcini, helmed by Chad Tillman, also makes an indelible impression. Pizza doughs are cold-fermented for 72 hours to produce a chewy-meets-crunchy texture. Diners can choose a single topping or specialty pies like the Incedio, featuring mozzarella, fresh basil, chili flakes, garlic, blistered tomato and salsa rossa. Norcini's other specialty is sandwiches, lusty behemoths served on Le Monde baguettes roughly the size and shape of a kid's toy football. The Jersey Butcher features heritage pulled-pork shoulder, with garlicky, peppery greens, and a dusting of pecorino romano providing a sharp lift.
Along one wall of Strang Hall, guests will find the bar, which is equipped with garage doors opening to an outdoor dining area. Here, the signature cocktails represent a rainbow of colors: The Pink, a light and effervescent vodka cocktail with sparkling water, cranberry, and vanilla; the chai tea-infused Rittenhouse Rye Brown; and the Blue, made with burnt rosemary-infused gin and blue curacao. Strang Hall also puts its spin on a few classic cocktails—the spicy margarita cleverly uses Tea Biotics ginger lime kombucha.
There's a unifying aesthetic throughout the space; each concept shows personality through the food rather than branding, which extends from the look of the fronts to the font of the menus. It's a wise move. With so many options to choose from, the uniformity smooths out the experience. Strang Hall also smartly takes pains to distinguish its environment from other food halls, serving food on substantial, minimalist plates and bowls or metal trays rather than paper products, providing sturdy silverware bundled in cloth napkins, and keeping a steady flow of staff bussing tables.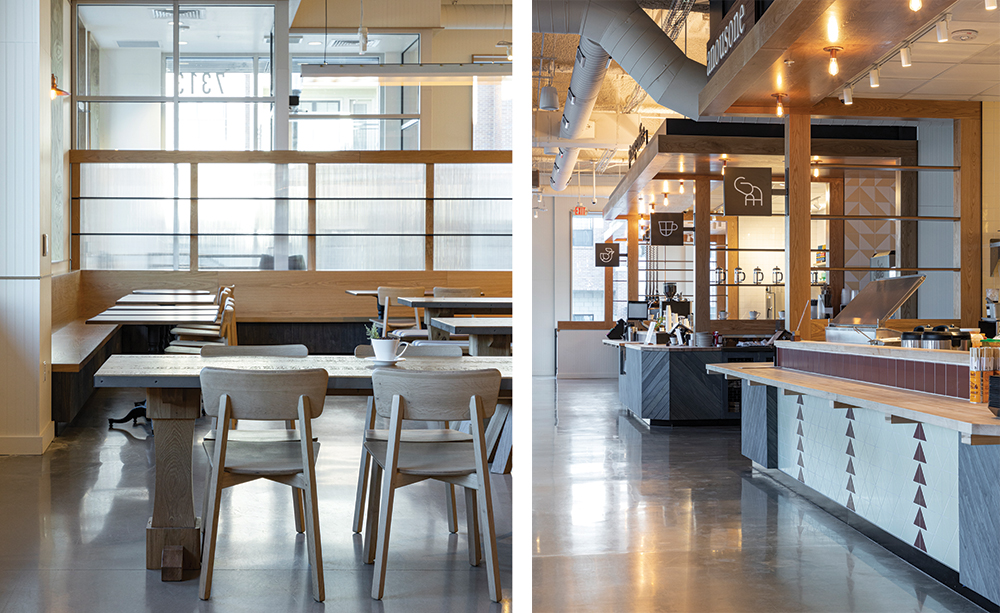 Granted, it would feel mighty odd to eat some of the offerings at Strang Hall with plastic cutlery, especially those at Fond, perhaps the most high-end of the food hall's concepts. Chef Mark Dandurand's menu includes pork tenderloin in a bourbon maple sauce and salmon with smoked chili grits, as well as some truly drool-worthy dessert specials.
The crowd includes young and old faces; kids scamper around as groups of twenty-somethings share plates and sip craft beers. Guests glance around at their neighbors' dishes with open curiosity.
"What are those?" a woman stops to ask, pointing to a colorful plate of pork belly buns. "The bread looks so soft!"
The steamed buns, a product of Anousone, are indeed soft and fluffy, just as you'd hope. The pork could be a touch more tender, but the crunch of slaw, tang of quick-pickled cucumber, and three-spice hoisin sauce make the overall dish a success.
Exposing people to new food in an environment where they feel easy and low-risk to try? We'll call that a win, too.