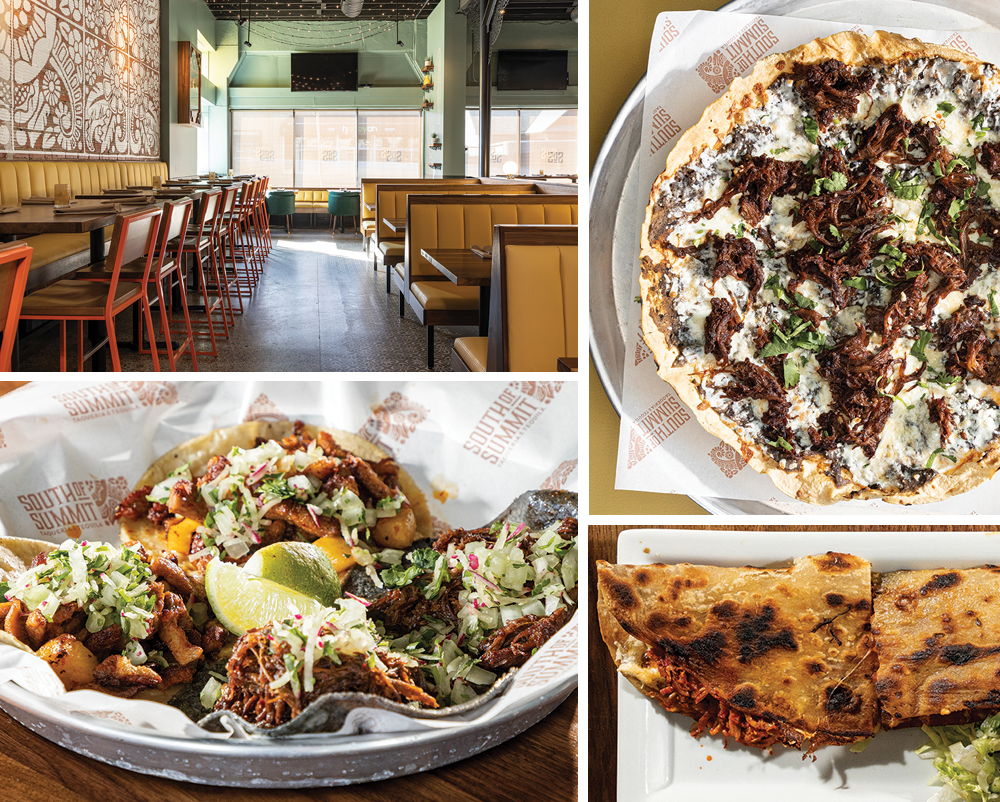 Summit Restaurant Group has officially taken over Waldo with the opening of South of Summit Taqueria and Tequila, its third concept on West 75th Street. The restaurant joins Summit Grill and Bōru Ramen Bar, forming a block of local eateries that now includes a little Mexican flair.
The food is consistently enjoyable at South of Summit, but it's unfortunately not all that easy to get. Walking in the door, diners are immediately confronted with a wall of bodies when the restaurant has a waitlist. A hostess might be waiting to take down your party's name and number of people on a chalkboard, or you could be left to write it yourself with some helpful guidance from fellow patrons. There's also no clear bar area from which to grab a drink while you wait for a table.
"It's like you have to figure this whole place out," a woman says in response to a query about how she procured her margarita. The answer: Awkwardly ordering from the counter where food is being expedited.
Although the space feels small, especially when there's a crowd, South of Summit's look is appealing. The restaurant channels an alfresco dining experience with rows of string lights hanging overhead and tiny cacti and succulents perched on the sky-blue walls.
Once you're seated, everything runs a bit more smoothly. A platter of crispy, well-salted tortilla chips, along with a spicy house salsa, arrive to snack on while you peruse the food and drink menus. South of Summit serves up a long list of tequilas and mezcals, and the cocktails reflect that, from the tequila-heavy margaritas to original concoctions like the Dulce Calor, a vibrant magenta mezcal-based cocktail with a mango habanero purée and habanero shrub.
Only the strong-willed will be able to resist the queso fundido, an oaxaca cheese-based dish studded with roasted poblanos and chorizo verde. The latter gets slightly overpowered by the smokiness of the peppers, but who cares when you're sinking a spoon into salty, stretchy cheese, pulling it to its breaking point and piling everything in a piping-hot flour tortilla? Other shareable plates include the machete quesadilla, shaped like its namesake, and the tlayuda, a giant tostada of sorts.
The restaurant serves up a handful of mains, including an al pastor-topped torta, a burrito with black beans, cheese, fries and a choice of proteins and grilled skirt steak. However, tacos are the main attraction, and South of Summit largely hits its mark, starting with its tortillas. Flour, corn, and blue-corn varieties are all tasty and hold together remarkably well, even when tasked with saucy filling.
Eight different taco varieties are offered: The al pastor is a pleasure, with sweet, spit-roasted adobo pork just as tender as you'd hope, and the barbacoa boasts big, bold spices and flavors. The crispy tilapia taco is also a standout, the fish impressively moist and flaky and complemented by a smoky ancho mayo. Vegetarian options include a roasted mushroom version as well as a cheese-curd taco, which is more fun in theory than execution.
The tacos are served a la carte, but they're surprisingly filling. Two to three will satiate most people with a side of rice and beans, or the sublime elote. Bathed in mayo and butter and sprinkled with cotija, lime juice and Tajiin (a seasoning blend of chili, lime, and sea salt), the side is by far the most memorable part of the restaurant experience. The elote is almost more indulgent than dessert options, although South of Summit delivers a choice churro with three enormous cinnamon-and-sugar-sprinkled pastries per order.
Batches of the sweet fried dough, plus tons of tacos, pop up what feels like every few seconds in the window of the semi-open kitchen before they're whisked away to their final destinations. Much credit is due to the team preparing food at a rapid pace, seemingly without sacrificing any flavor. The quality and value of their creations will keep guests coming back for more—even if diners don't quite know where to wait.