Flames dance toward the ceiling and onion volcanoes erupt as "Happy birthday" is sung for the third time in less than an hour: Welcome to dinner on a weeknight at Shinju Sushi and Hibachi, a new restaurant at the Shops of Prairie Village. 
Families, friends, and apparently a whole host of people celebrating birthdays gather around three U-shaped hibachi tables in the restaurant's dining room. They offer a front-row seat to the entertaining process of watching your food chopped, seasoned, and cooked on the grill. And at Shinju, the view is even closer than you'd expect because of chairs that are a little too short for comfort. They place diners at about chest height against the dining counter, which makes for a slightly awkward eating experience, although most guests seem to adjust to it fairly quickly.
Each hibachi entrée comes with a cup of miso soup and a salad delivered swiftly after ordering. The combo feels familiar and comforting, and the salad's traditional ginger dressing makes full use of the root's zingy flavor. 
Then the show begins as the chef rolls into view with a cart of ingredients and a clear sense of showmanship. If you've been to a hibachi restaurant before, you're likely accustomed to the stunts you'll see here—spinning spatulas with dizzying speed; juggling raw eggs; arranging the rings of a chopped onion in descending size, pouring oil down the middle and setting it ablaze; and the ever-popular (or dreaded) food toss.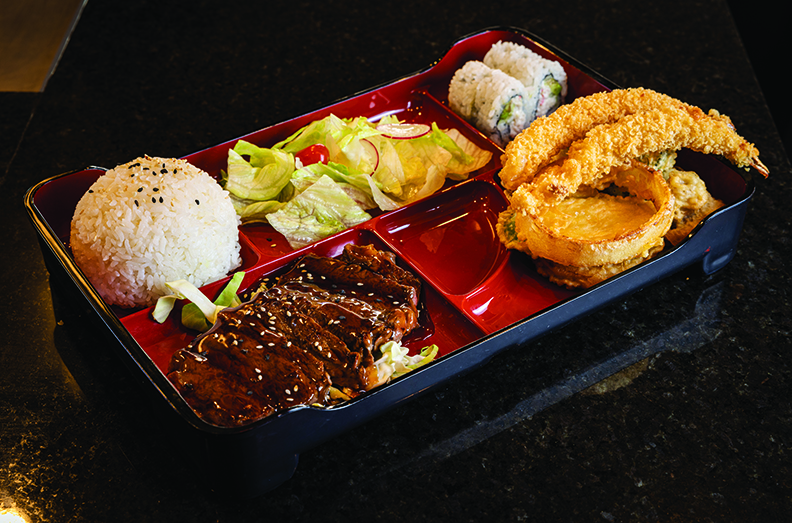 Although many spots opt to throw chunks of shrimp, Shinju goes with bits of fried egg launched from behind the grill toward guests' open and expectant maws. Such is the magic of a hibachi restaurant that people who start their dinner as strangers end up fist-bumping over shared egg-catching success and cheering for their tablemates with a fervor usually reserved for sporting events. 
These interactive elements, along with watching the frying rice, a medley of veggies, and the meats of your and your tablemates' choice, are typically the highlight of the dining experience. But Shinju sets itself apart with the food—the fried rice is garlic-forward; the zucchini, mushrooms, and onions are tender and retain their distinctive tastes; and the proteins are each given the appropriate care.
Whether you select steak, chicken, shrimp or one of the less traditional options (Shinju offers everything from filet mignon and calamari to scallops and lobster tail), it's an incredibly satisfying plate of food, even if you didn't see it come together before your very eyes.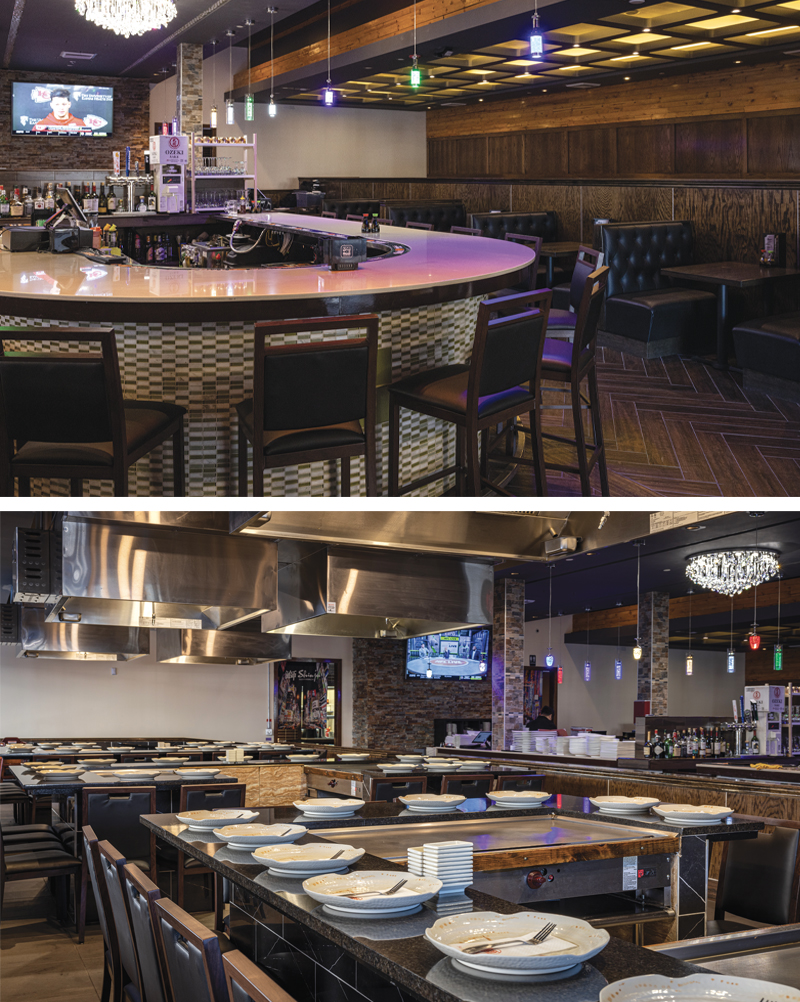 Hibachi is the main attraction at Shinju—the flames and cheering pretty much guarantee it—but the other half of the dining room is dedicated to standard tables where guests can enjoy a little more space and privacy. And there are also lots of other menu offerings guests can try regardless of where they're sitting, including sushi: sashimi, classic rolls, and more than 30 specialty rolls. Each description includes details of what's both on the inside and outside of the rolls, which is helpful given the sheer quantity of options. While such variety is often used to cover up a lack of quality, that's not the case at Shinju. The amazing tuna roll lives up to its name when it arrives topped with two types of luscious tuna and a soy mustard sauce that lends acidity. The hotline bling roll balances out spicy jalapeño crunch with sweet-and-salty eel sauce. 
The kitchen also serves up ramen, udon, fried rice, and an array of stir-fried noodle dishes, plus bento boxes, which include rice, miso soup, a house salad, tempura, and four pieces of a California roll alongside mains, such as chicken, beef or salmon teriyaki, orange chicken, or tonkatsu.
Yes, it's a big menu and it can overwhelm at first glance but stick with it. Shinju is worth exploring, one flame-filled meal at a time.