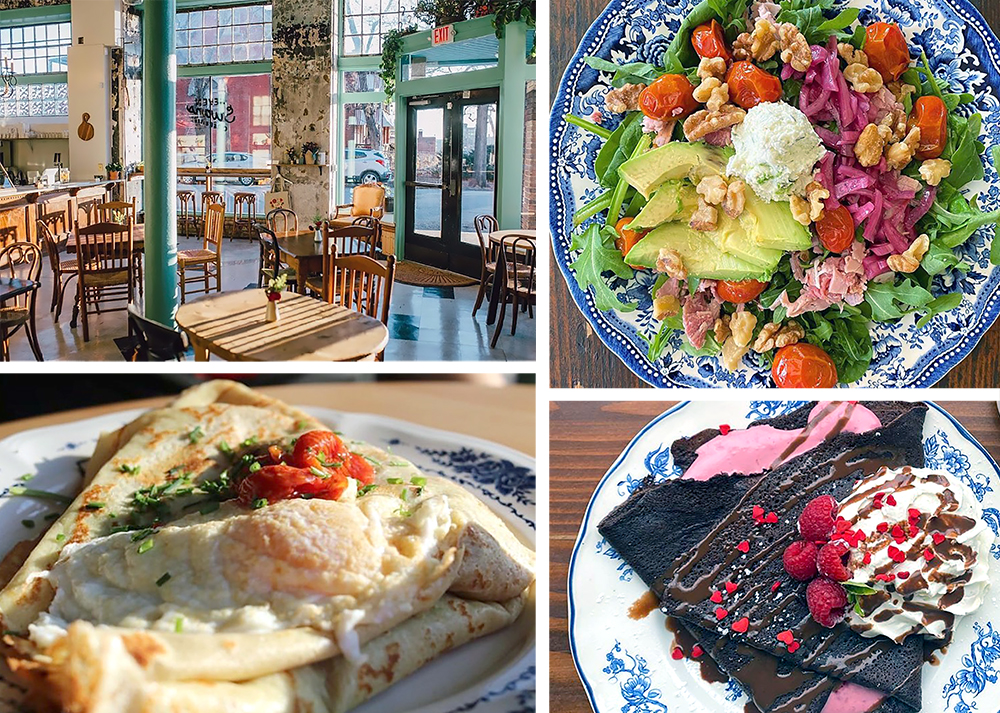 Once upon a time, there was a food truck that delighted Kansas Citians with its inventive crêpes. People loved the food truck so much, they helped raise money to bring it to life as a restaurant where guests could always find it. And they lived happily ever after, full and satisfied.
OK, so Seven Swans Crêperie's origin story isn't exactly a fairytale, but you feel like you've stepped into one when you enter the Westside eatery. Its mismatched wood tables and chairs contribute to the sense that you've wandered off the beaten path into the modern-day version of an enchanted cottage. Nods to its namesake waterfowl are visible in the gentle curve of an ornate light fixture and the minimalist mugs. That softness is juxtaposed with unfinished walls and hodgepodge of color and texture—a patterned wallpaper here, a wood paneled wall there, and pops of seafoam and brass. Green leaves spill out over the edges of pots and planters, and plates are displayed decoratively throughout. 
Rather than looking sloppy or calculatedly disheveled, the effect is cozy and welcoming. Perfection isn't the goal; enjoyment is—and you've come to the right place. 
Open 8 a.m. to 3 p.m. Thursday through Sunday, Seven Swans offers a relatively small menu of sweet and savory crêpes, plus a soup of the day, a seasonal salad and housemade granola. Muffins, cookies, cake and quiche beckon from the pastry case at the counter, where guests can place their order and take a number for their table. There's no fancy bar—coffee is available hot or iced alongside an assortment of Hugo Teas. 
Seven Swans' approach proves less is more, because what it chooses to do, it does impeccably. The crêpes are thin but not overly fragile, a little eggy with crispy edges and golden-brown spots. They're the building blocks much of the restaurant is constructed with, and they do not disappoint—the crêpes are an ideal backdrop for the clean, considered flavors of each dish.
Savory varieties include the Frenchie, made with caramelized onions, gruyere and fresh parsley, as well as an eggs benedict interpretation complete with Local Pig applewood-smoked ham, roasted asparagus, a sunny-side up egg and a sharp hollandaise sauce that sidesteps the usual richness in favor of acidity. The Bruncher is an impeccable take on a smoked-salmon breakfast with fresh dill cream cheese, arugula, marinated red onion, capers, and sesame seeds. Seven Swans does a remarkable job of ensuring you can distinguish each individual ingredient while appreciating the way they contribute to the dish as a whole.
On the sweet side of the menu, there's the Clean, a sophisticated lavender lemon curd-filled crepe topped with fresh berries and candied lemon. Other offerings feel more expected, but are nevertheless delicious—cinnamon, sugar and Kerrygold butter get kicked up a notch with a sprinkle of sea salt in the simple cinnamon toast crêpe, and a generous spread of Nutella is married with banana or strawberry and honeyed almonds in Seven Swan's Paris creation. It's the dessert you dreamt of as a kid (complete with a dollop of fluffy whipped cream) brought elegantly to life. Vegan offerings include a selection of the main menu's crêpes made with plant-based ingredients. 
With such a singular focus—and a rather novel one at that—Seven Swans runs the risk of coming off as gimmicky or cutesy, but the restaurant manages to emanate sincerity. Groups gather around the charmingly discordant tables and appear delighted by the vibrant plates presented to them, each a little different than the one next to it, but all bearing something tasty. 
It's an experience akin to finding yourself immersed in a great story—one you don't want to end.
Editor's Note: During the stay-at-home orders, the menu is available for curbside pick-up only, Thursday through Sunday, 8:00 a.m. to 3:00 p.m.