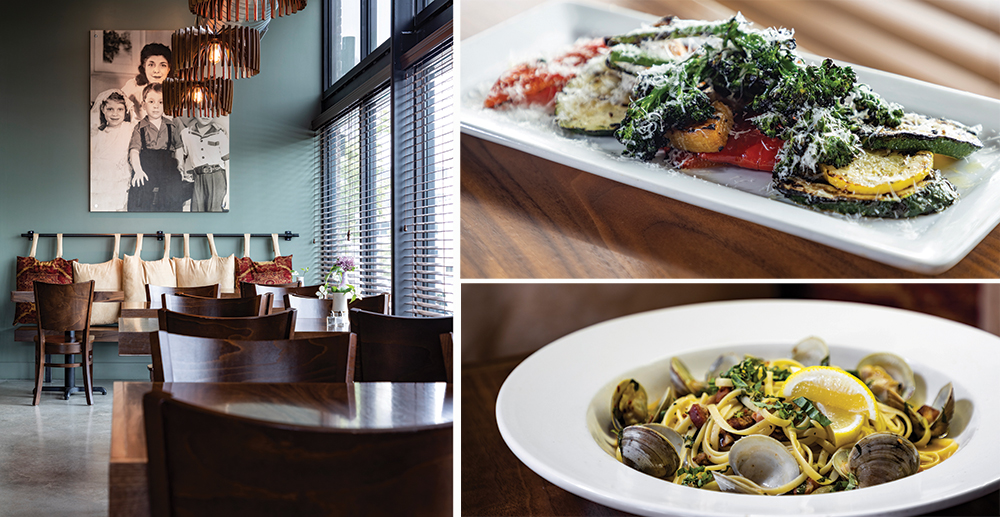 Growing up is hard. We can all remember the painfully awkward school photos, unflattering haircuts, and profoundly embarrassing social interacts. If only we had all transitioned as gracefully as Ragazza.
The restaurant, which takes its name from the Italian word for girl, has grown up and into a new location on Main Street. Although it would be misleading to call its move effortless—a series of woes and delays turned a planned two-month period between the old Westport restaurant closing and the new opening into a much longer period that stretched through fall all the way into spring—the new and improved Ragazza makes owner Laura Norris' time and energy seem well worth it.
Although the sense of approachability and community remain at the Main Street restaurant, it's a little more polished and confident. The aesthetic is elegant but quirky, corks suspended mid-air above tables, a family portrait on one sage-green wall and a map of Italy on another, the space between them punctuated by light fixtures in an array of funky shapes.
Perhaps the biggest superficial difference is the size. A dining room that wraps around the bar allows for much more seating than Ragazza's original location did, and it's greatly needed. Fans eagerly awaiting its reopening flock to the Italian eatery, their chatter reverberating off concrete and glass and spilling out onto the street outside. (The noise level is borderline-problematic but already being addressed by Norris and her team.) Couples on dates, friends out for a glass of wine, families and everyone in-between laugh and smile over glasses of vino and sumptuous plates of food.
Purists will be glad to see all their favorites are still at home on the menu. The meatball grande remains a standout, a globe of tender Italian-American joy with a generous helping of fennel and satisfying heat. While most of the reds on Ragazza's expansive wine list can stand up to its bold flavor, the server recommends the Poggio Anima "Samael" Montepulciano d'Abruzzo. Medium-bodied and savory, it's a worthy complement to the meatball and the accompanying red sauce, an expert balance of sweetness and acidity. Other antipasti include the crisp arancini, which boast a crusty outer layer flecked with bits of spinach leaves and a cheesy provolone center, and the soon to be famous garlic-infused eggplant fries served with tomato sugo and pesto aioli.
For those who prefer not to lapse immediately into a food coma, Ragazza offers a selection of soups and salads, including a Caesar salad packed with umami tang from anchovies, and a light chicken broth-based soup accented with Scimeca's sausage, artichoke hearts, and tomatoes.
Spaghetti and meatballs are, of course, always a safe bet when it comes time for entrees, as is the stick-to-your-ribs lasagna—so stacked, its structural integrity puts the Leaning Tower of Pisa to shame. (Ask for extra sauce to help balance out the layers of pasta.) Comforting, Italian classics are the soul of this menu, but there are also new additions, such as a hearty swordfish dish. The smell of garlic wafts off the plate before it even touches down on the table. The fish explodes with flavor, courtesy of a lemon caper butter sauce, as do the meaty sautéed greens and rosemary potatoes. There's not an under-seasoned morsel on the plate.
No Italian feast is complete without cannoli, and at Ragazza, an order is ideal for sharing, as it comes with two of the mini treats. Perfectly crunchy, flakey shells (courtesy of local Italian icon Vocci's) encase a not-too-sweet and not-too-salty filling. And for $1.50, it would be borderline irresponsible not to snag one or two amaretti cookies, packed with almond flavor.
The restaurant also serves up a satiating brunch, which includes a selection of panini, pasta dishes, and breakfast fare with Italian flair like the Big Gay Breakfast, smoked pastrami hash with a side of polenta and gravy, and the Ragazza Benedict-ish, polenta with poached eggs, Hollandaise, pancetta, and arugula. Lunch will soon be joining the lineup, but whatever meal you come for, it's an experience.
For those not dealt a big, boisterous Italian family of their own, a few hours at Ragazza is the next best thing.
You're not always exactly sure what you're getting, but you are sure you want more.