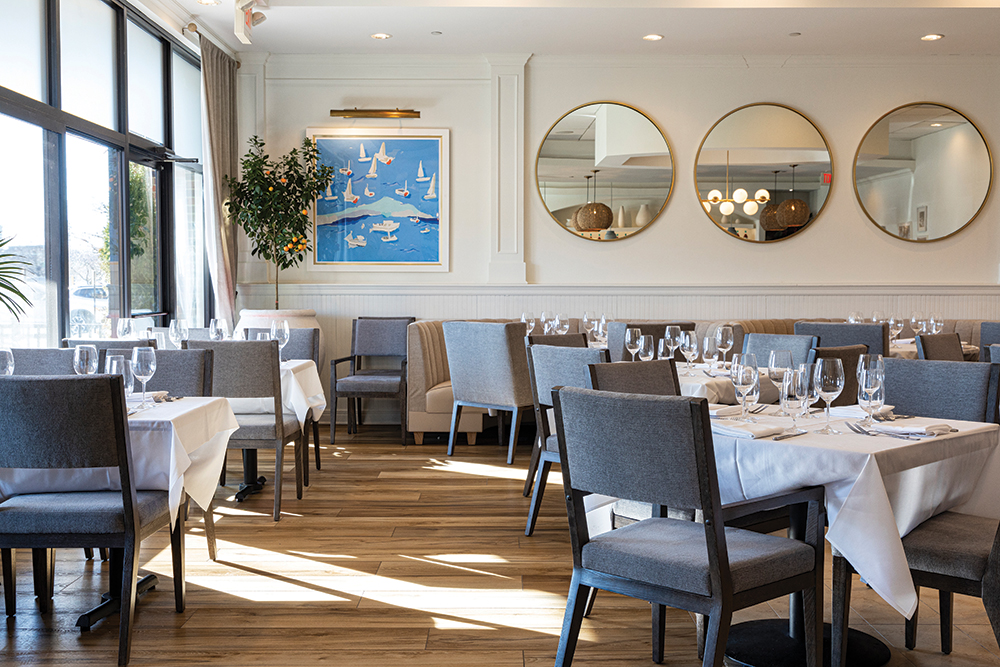 Democracy, philosophy, and science are great and all, but they don't hit the spot quite like some of Greece's other exports: We're talking figs, gyros, and baklava, of course. Páros Estiatorio brings those flavors and more to Leawood's Mission Farms.
Although it's run by the owners of Overland Park's casual Cozy Cafe, this new concept is decidedly upscale. That leads to a bit of a disconnect between what the restaurant seems to want to be and where it has landed. Rather than a joyful welcome into the world of Greek dining, Páros feels almost sedate, despite a soundtrack of boisterous Greek music and a sizable weeknight crowd of guests.
Still, there's a lot to like, starting with the bar program. The cocktails are exceptional, creatively conceived, and well executed. The Hydra Punch calls to mind eggnog but uses goat's whey rather than a more traditional form of dairy. It's spiked with vodka and punched up with fig, spices, and honey that add delicious complexity. The Pegasus combines Johnnie Walker Black with the intensely smoky Laphroaig Scotch, which balance out sharper notes from the drink's citrus and ginger. Páros also serves up a high-dollar selection of wines, including an interesting variety of Greek vino.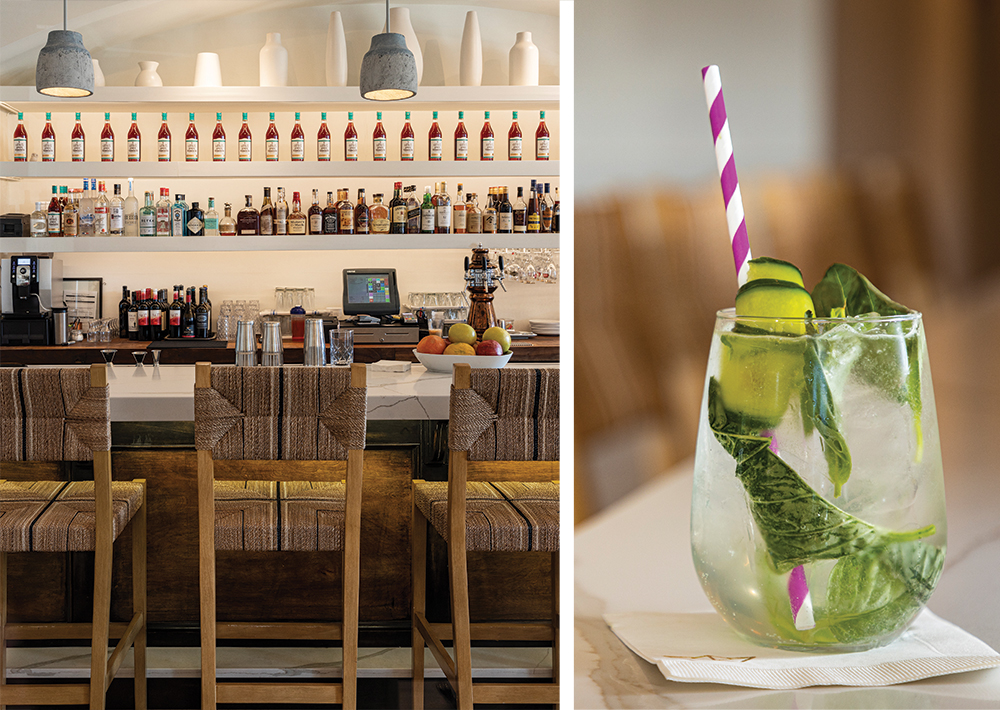 Menu items bear Greek names and many of the dishes are familiar to those who love Greek cuisine: a mezes board with dolma (tidily stuffed grape leaves), kalamata olives, and feta; filo pies stuffed with spinach, feta, leeks, and dill. The trio of dips features a thick, tangy tzatziki, a robust hummus topped with crunchy roasted chickpeas and red pepper-forward taramosalata served with soft, warm triangles of pita. For lunch, Páros serves up its moussakas along with chicken souvlaki, lamb burgers, and gyros, while the brunch menu offers a few Greek dishes as well as traditional breakfast fare.
Dinner entrees include a variety of roasted fish, presented in all their glory—bones, head and all. "They're worth the extra work," the server says.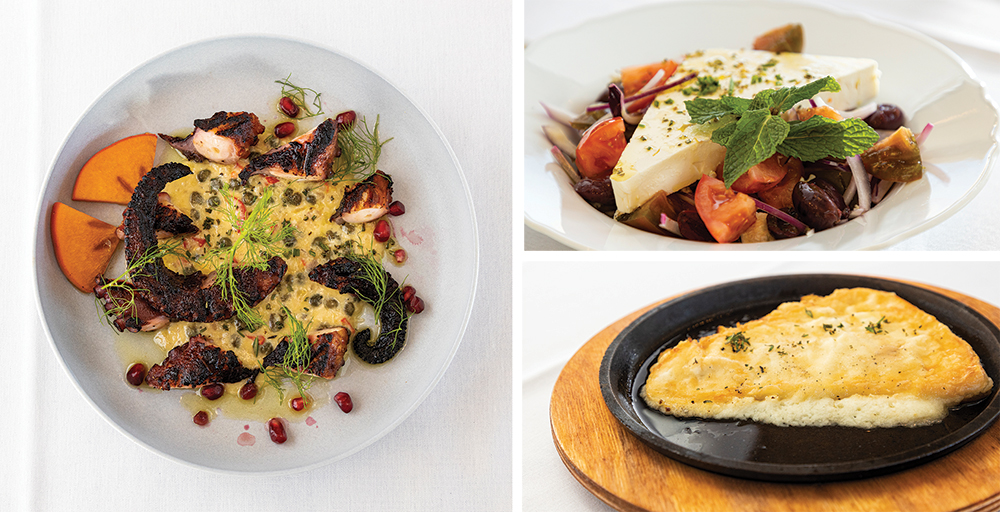 Lower-maintenance seafood factors in elsewhere on the menu, including in the hearty Maine Lobster Pasta with a cherry-tomato fennel sauce, and a Barolo wine and shrimp risotto. The "Kreatika" section of the menu, translating to "from the land," features a handful of lamb, beef, chicken, and pork dishes paired with veggies. The braised lamb shank falls off the bone but gets let down by a lack of seasoning, as do the feta mashed potatoes that accompany it.
The moussakas, on the other hand, succeeds wildly at highlighting and melding ingredients' flavors and textures. One of the dishes labeled as a Páros classic, the traditional item is baked in its own individual dish packed with nuanced, layered sweetness and spice. The casserole of ground beef, eggplant, potato, and zucchini with lamb jus and a bechamel crust doesn't just fill you up, it warms you with each bite.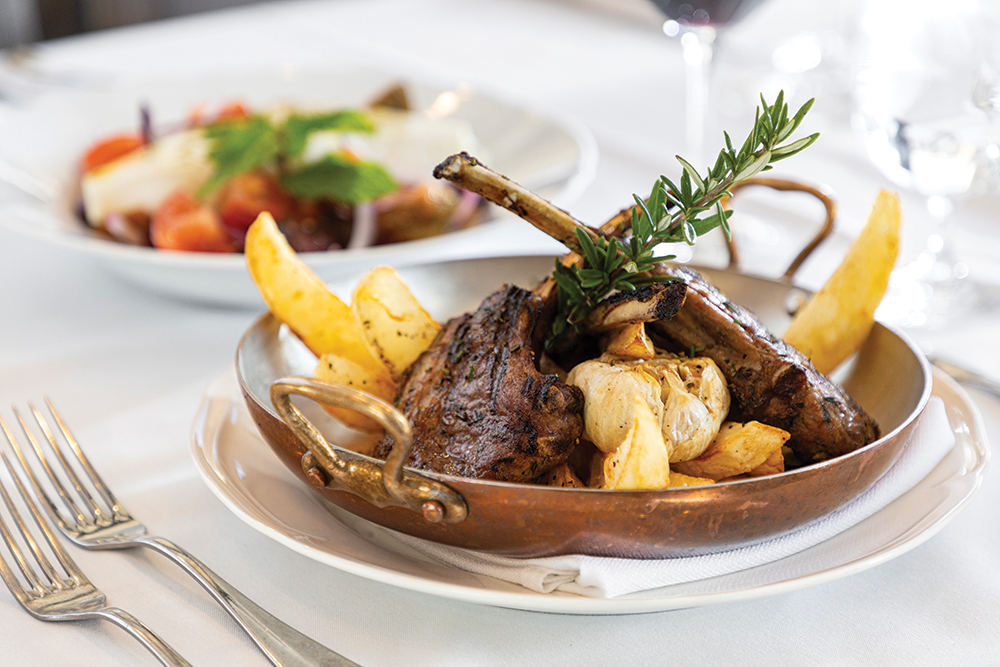 Páros also leaves an impression with its baklava, offered on the dessert menu along with an olive-oil cake, a seasonal fruit platter, and rice pudding. The dainty layers of pastry audibly crack into a shower of flakes under the gentle pressure of the spoon. Served warm with a scoop of vanilla ice cream, the dessert feels more akin to pecan pie than the firm pucks that so often pass as baklava.
Those standout dishes feel welcoming in a way the restaurant has yet to capture elsewhere. And yet despite Páros' few flaws, there's something undeniably exciting about seeing a cuisine most Kansas Citians know from food trucks and laidback cafes treated with precision and care—it just needs a little more joy in the mix.