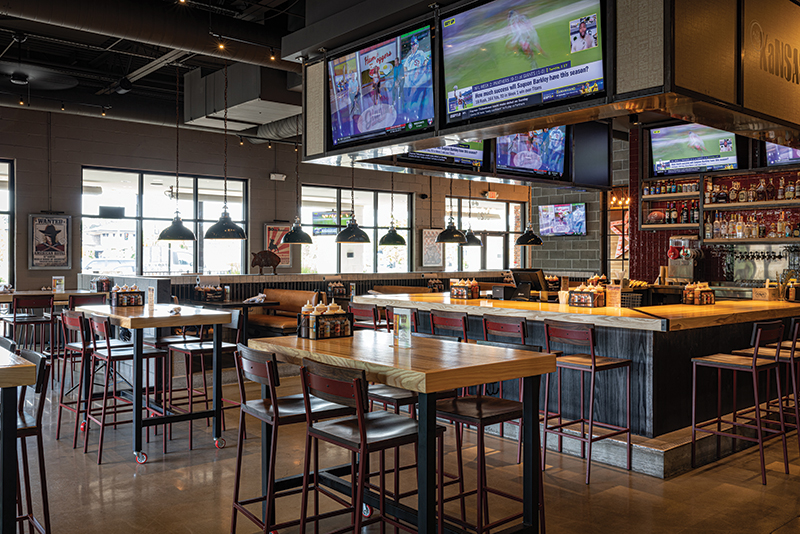 With over 100 barbecue restaurants operating in Kansas City, competition isn't just fierce, it is everywhere. So, when a new barbecue spot opens, even if it is a good one, it is easy to wonder if this town needs or can support one more. To get noticed, you typically need to offer something new and improved, or you can simply keep the main thing as the main thing by serving hot, juicy, quality smoked meat with a killer sides game and a sauce that is boss. 
Mitch Benjamin, the namesake of the award-winning competition barbecue team Meat Mitch, has enjoyed a strong sauce game for the last 20 years. The sauce was developed first for his barbecue team, then used at Char Bar Smoked Meats & Amusements, and now finally at his own barbecue restaurant, Meat Mitch Barbecue, which he opened at the end of last year with his Char Bar partners James Westphal and Mark Kelpe. The trio has added a new partner, Scott Redler, who is the co-founder and chief experience officer for Freddy's Frozen Custard & Steakburgers out of Wichita, Kansas.
Four years ago, Benjamin and his partners leased a 6,300-square-foot space at the end of the soon-to-be remodeled Ranch Mart North Center, but supply chain and construction delays during the pandemic slowed progress on the renovation. Now with the doors finally open, it is hard not to be impressed with the results. The restaurant is massive in size with a gray cinder-block, red-brick, and wood motif that is made up of several large and airy dining rooms and a horseshoe-shaped bar with TVs all around. There is an intended "industrial butcher shop" vibe to the restaurant, with a sizeable covered outdoor patio where guests can eat, drink, and play a few yard games.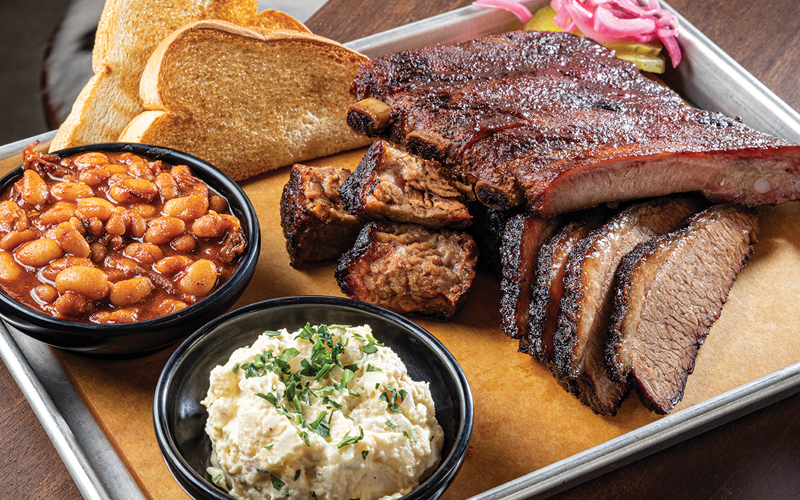 You'll smell the smoke before you'll find the front door, but once inside you'll see an open kitchen and a long stainless-steel countertop with enough space in front of it to make you think you might need to queue up and place your order at the counter, but Meat Mitch Barbecue now offers full table service, something they recently moved to after opening with a hybrid "order at the counter, pay at the table" model that was a bit confusing for guests.
Table service makes more sense at a barbecue spot that offers a full bar, and Meat Mitch has a comprehensive list of about 30 beers, including both local and national craft brands and favorite macro brews, and a host of quaffable wines by the glass, and a few by the bottle. There is also a nice list of specialty cocktails, including everything from a Black Walnut Old Fashioned to a Frosé of the Day. 
Meat Mitch's menu offers some playful appetizers and a few entrée salads, but I was here for the smoked meats. The menu listed barbecue platters and sandwiches you could get with a combination of 16-hour smoked black-angus hand-carved brisket, smoked burnt ends, pulled pork, turkey breast, smoked rope sausage, jackfruit, or St. Louis-style pork ribs. 
The two-meat platter seems like a classic way to start, and I got mine with burnt ends and rope sausage, and although the burnt ends did not resemble the shattered pieces of charred beef brisket from days gone by, they were cut in large juicy chunks and ate more like juicy pieces of Texas-style barbecue beef brisket. If I had it to do over again, I would go all in on the competition-style burnt-ends platter, and with Texas toast and two mini sides included, I think you should too.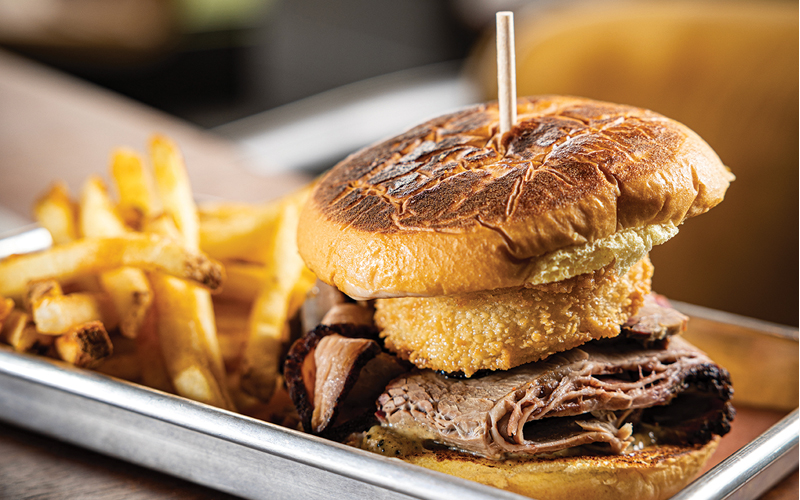 The Texas Ranger sandwich came with shaved black-angus brisket, pepper jack fun-do (a spicy molten cheese spread or sauce), and charred mayo, all topped with an onion ring. There were plenty of tender slices of beef brisket in my sandwich, but Martin's Famous potato bun was no match for the combination of moist meat, cheese sauce, and mayo. You had to eat it with a knife and fork, as there was no way to pick this sandwich up, with the bottom bun melting away underneath the heft of the sandwich. 
A word about the sides at Meat Mitch, my server swore by the bacon broccoli slaw, but I found it a bit lacking in crunch, dressing, and flavor. The jalapeño cheesy corn bake was liquid, like a thin cheese soup, and just not what I think most of Kansas City would recognize as a cheesy corn bake. My French fries were served cold and limp. All things being equal, most barbecue restaurants do a good job with their meat, so the sides are something that can set you apart from the pack. With some small operational tweaks, their sides could sing.
When my server came back to the table ready to drop my check, I placed my order for the Royal Double smash burger that comes with two patties, topped with American cheese, pickles, grilled onions, and smash sauce and a homemade whoopie pie for dessert. He snatched up the check from the table and asked me if I wanted a chocolate or banana whoopie pie. Banana was the only answer, and it was one of the best things about my visit. When I asked my server who made them, I was told a pastry chef comes in very early every morning to make them for the restaurant. I am going to need to know her name because my banana whoopie pie was large, perfectly round, moist and bursting with real banana flavor. Chef's kiss. As for my smash burger, it came out hot, juicy, made to order, and positively delicious. If this is Redler's smash-burger influence on the menu, I am here for it and would absolutely order that burger again. 
Meat Mitch Barbecue has all the right ingredients to make the time and money spent making this place look and feel like the next big thing in barbecue to actually become the next big thing in barbecue. All they have to do is put a little of their signature Whomp! on it.