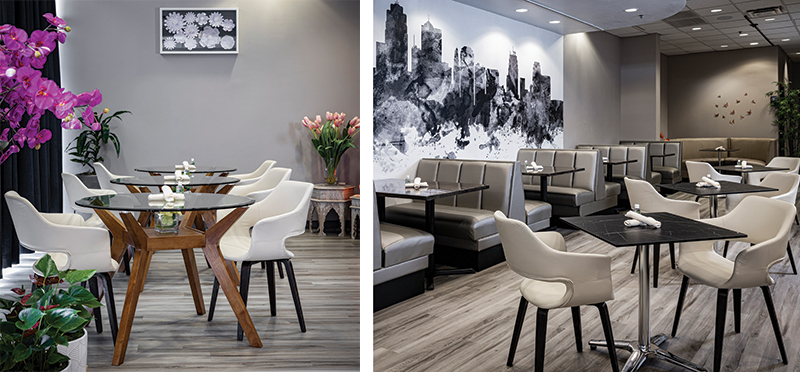 Penny Mufuka knows Thai food. The owner and chef of Overland Park's KC Thai was born and raised in Phichit, Thailand, and brings her fully realized flavors and recipes to the restaurant's menu, a gorgeous collection of traditional and unique Thai dishes.
If the frequent carry-out diners picking up neatly wrapped orders from the lobby are any indication, KC has caught on quickly to just how special Mufuka's food is. The restaurant is airy and open, thanks to light gray floors, silvery booths, and cream-colored chairs and walls. A watercolor-style rendering of the downtown Kansas City skyline in shades of gray serves as a focal point in the space, which is also studded with floral arrangements and house plants.
The kitchen is separated from the dining room by a curtain, which serves to pique diners' interest as fragrant sauces and spices make their way through, an amuse bouche that's completely calorie free but encourages the quick ordering of appetizers.
The Thai house sampler, which includes crab Rangoon, spring rolls, egg rolls, and chicken satay is a versatile place to start. Served with a quartet of dipping sauces, it immediately shows the restaurant is adept at serving up the dishes many will want with finesse—the egg rolls are gloriously flaky and crispy, the chicken satay tender and flavorful, and the Rangoon crunchy on the outside with a tangy, creamy filling. Each item is also available as a stand-alone starter along with dumplings, spicy wings, crispy tofu, and more.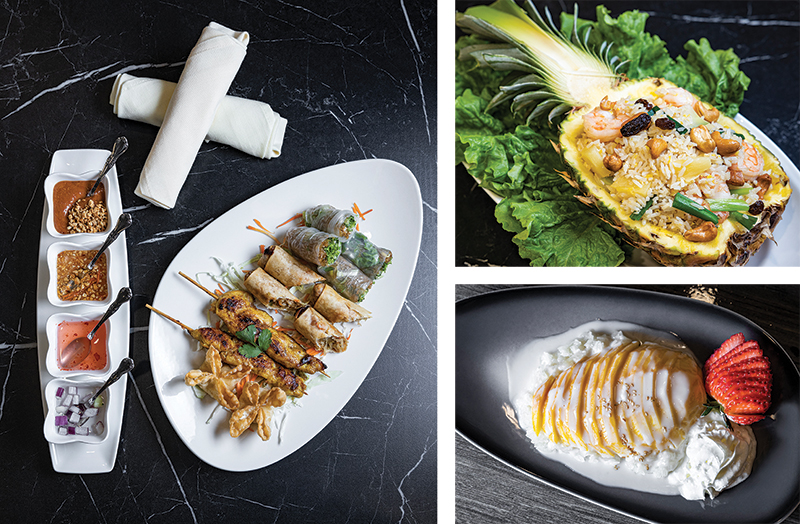 Soups, several of which are offered in small sizes suitable to enjoy as starters, include Yen Ta Fo, an authentic Thai noodle soup with fish balls, crispy wonton skin, and fermented red-bean curd sauce, and the aromatic Tom Yum. Lime, lemongrass, and cilantro make their presence known, even in the midst of a heap of chili flakes—assuming you opt for the spicy version.
Quick, efficient servers ask after guests desired spice level on most dishes. Little guidance is given about the relative levels, but they're fortunately true to their names—medium dishes have a pleasant amount of heat, and spicy orders are hot, but not unbearably so.
An ice-cold glass of Thai iced tea can help cool things down. The sweet drink, black tea topped with sweetened condensed milk, takes the edge off the fierier dishes and even comes with its own swirling stir stick, an entertaining touch that lends itself to the simple pleasure of blending the beverage's ombre layers together.
Entrées include stir-fry dishes, rice and noodles, curries and Mufuka's specialties. Among those specialties is the crispy tamarind duck served with baby bok choy, bell peppers, and onions as well as freestyle fried fish, which features crispy pieces of flounder on mixed veggies.
Many will gravitate toward pad Thai, and KC Thai delivers a take on the favorite that is striking to the eye and the palate. In the seafood version, saucy, golden rice noodles are piled with shrimp, scallops, squid, mussels and crab meat on a stark white plate. The seafood is cooked adeptly, its natural sweetness working as a counterbalance to the spice.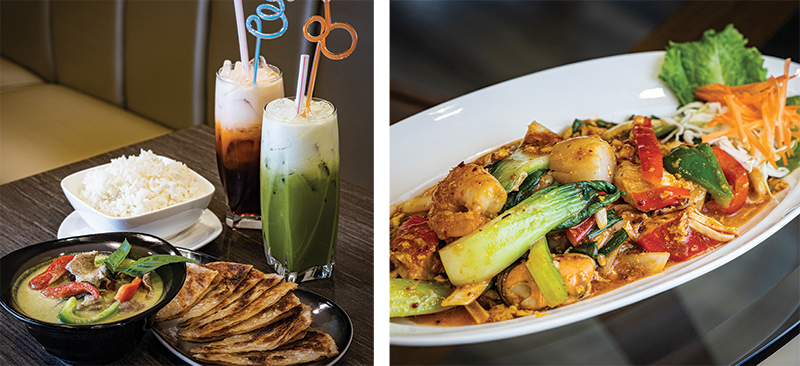 The curries are similarly nuanced—five varieties are offered, all made without fish sauce, setting them up as a solid option for vegan diners. Staff recommends the red curry and it's immediately apparent why—the curry paste and coconut milk with bamboo, bell peppers, and fresh basil hit every flavor note and leave you hungry for more.
But you might not actually have room to keep eating. KC Thai's portions are abundant and filling, all but guaranteeing diners walk out with a few carry-out containers. You won't find us complaining, leftovers the next day just mean another opportunity to relive an exceptional dining experience.