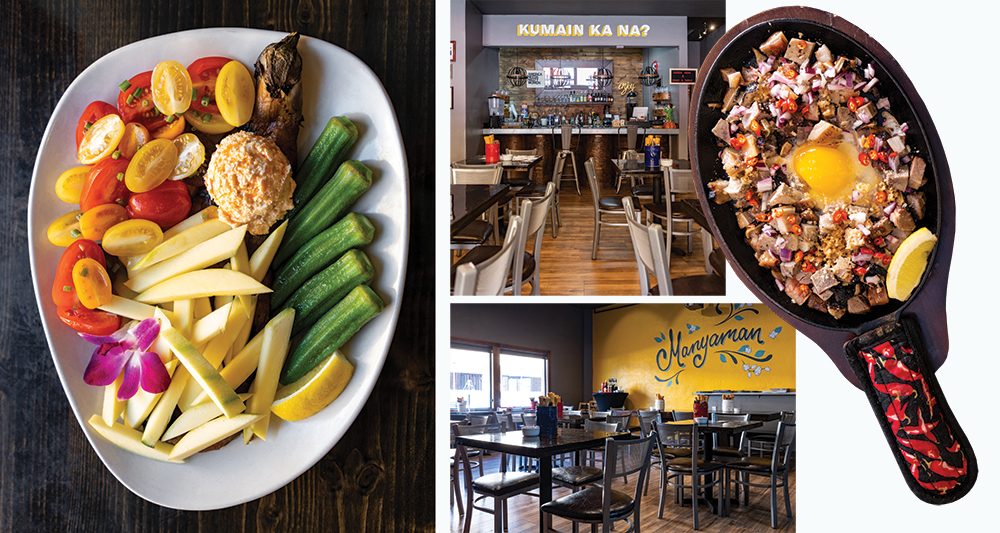 ''Kumain ka na?" Have you eaten?   
It's a common question in Filipino households and one that greets diners as they walk into KC Pinoy, Chrissy Nucum's love letter to the flavors and traditional dishes of the Philippines.
The cozy West Bottoms restaurant, open for lunch and dinner Wednesday through Saturday and brunch on Sundays, is painted a vibrant saffron yellow and sprinkled with personality—an "America needs nasty women" pennant hangs behind the counter and bowls of White Rabbit milk candy sit on each table.
KC Pinoy shares a name with Nucum's food truck as well as signature dishes like chicken adobo, pork tocino, and garlic fried rice. But the transition from food truck to a brick-and-mortar space hasn't changed KC Pinoy's laidback approach to dining, which makes every guest feel like family, an effect bolstered by a gallery wall of Nucum's family photos.
The sentiment is mutual. A couple doesn't hesitate to share their recommendations with other diners. "The good news is you really can't go wrong, and we've tried everything," they say evangelically before detailing the merits of the plates in front of them.
A little explanation is helpful, as the menu items won't be familiar to many, but Nucum and company are happy to break down the dishes as well as their histories. (Or come prepared and check out the Filipino 101 guide on the restaurant's website).
Orders are placed at the counter and delivered to your table along with drinks. Options include a handful of beers and non-alcoholic sodas and juices, such as Sarsi (Filipino root beer), milo (chocolate milk) and Suha, a pomelo juice. The cocktail menu pulls in pomelo and other juices for a bright, citrus-heavy lineup, which features the Panglao Sunset, made with light and dark rum and pineapple, mango, and dalandan (Fillipino orange) juices. Garnished with balls of lychee, the vibrant orange beverage is packed with rum flavor and sweetness that avoids being saccharine.
Small plate siomai, steamed pork dumplings, are packed with flavorful filling of carrots, red onions, and scallions and served alongside sweet chili sauce. Pork on a stick with a banana-ketchup glaze feels familiar while hitting unique notes, and the boboto, a velvety rice-flour and coconut-milk tamale, is subtlety sweet with notes of the banana leaf it's steamed in.
Vinegar plays a prominent role in Filipino food, and it shines in KC Pinoy's Adobong Manuk. Stewed in vinegar and spices, the incredibly moist chicken thighs have a balanced, deep flavor. It's not the prettiest plate of food you'll find in the city, but it's one of the most satisfying and well worth getting your hands dirty. Abandon your knife and fork and eat off the bone so you don't miss a single scrap of meat.
Nucum's Tsigsig is another standout. A mix of chopped pork ears, cheeks, and shoulder, the plate arrives sizzling with a golden egg yolk resting in the middle of the pile of meat. It's a beautiful way to present meat cuts the average diner might shy away from. Each is cooked with care, the fattiness of the pork is offset by a citrus soy sauce and chunks of raw red onion and peppers. A selection of vinegars and sauces sits in a corner, allowing you to play around with dishes' flavors, adding spicy vinegar or the sweet and salty citrus soy until your taste buds are content. But chances are they won't need much extra stimulation.
Coconut and flan figure significantly into the dessert menu. Dishes include the Maja Blanca, coconut-milk pudding with sweet corn topped with toasted-coconut milk curd. (It was added to the menu at the request of Nucum's mother, she tells guests as they order their second round of dessert.) Perhaps the most mesmerizing option is the Halo Halo, which comes in a glass packed with shaved ice, coconut milk, red beans, jackfruit, pinipig (rice grains pounded until flat) and kaong (sugar palm fruit). A scoop of cheery purple yam ice cream sits on top along with cubes of leche flan. It's a wonderfully surprising combination of flavors and textures once everything is incorporated—halo halo literally means "mix mix"—with each bite offering something different.
You're not always exactly sure what you're getting, but you are sure you want more.