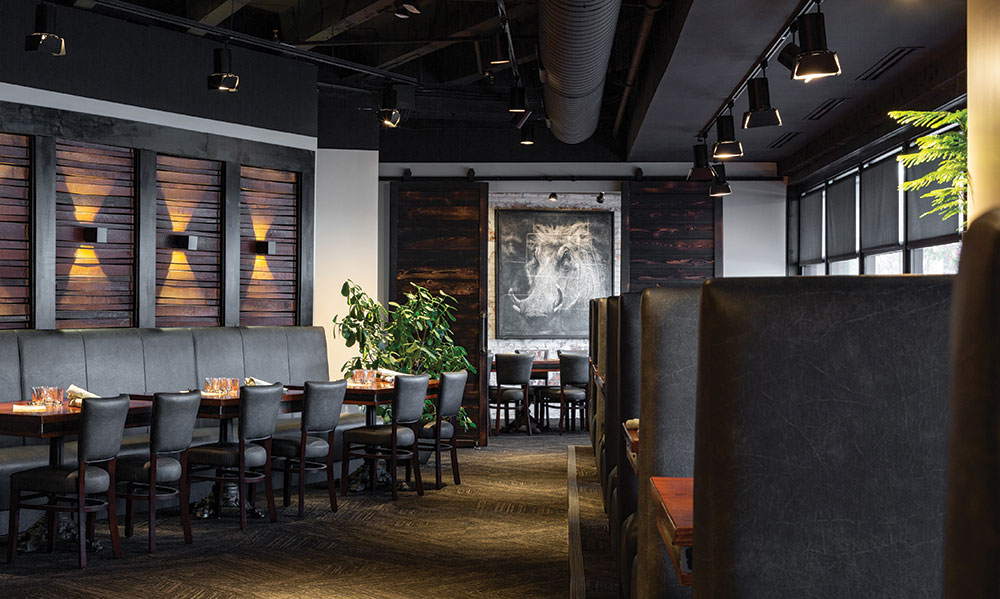 To understand the spirit of Hogshead, look no further than its burger, a thin, juicy patty topped with extra thick-cut Daily's bacon, a farm egg, red onion, pickles and Dijonnaise on a brioche bun.
It's not revolutionary, but it is incredibly satisfying.
The same could be said of the restaurant itself, which opened in the former home of California Pizza Kitchen on the Country Club Plaza in late 2017. Although Kansas City has seen its fair share of gastropubs pop up in recent years, Hogshead is something a little different—smarter and more nuanced, offering not just style but substance in the polished, masculine space, which features thick wood tables and herringbone-patterned floors.
As its name implies, Hogshead—a term for a large cask used for shipment of wines and spirits—pays attention to refreshments. Guests can choose from a long list of draft, yard, and craft beers, an impressive assortment of whiskeys and scotches and an eclectic cocktail menu. A knowledgeable, energetic server recommends the Bramblin' Man, calling the Suntory Toki-based cocktail with Clear Creek Blackberry Liquor, mint and lemon "dangerously drinkable." Locally produced spirits are prominently featured, as in the Hogsfeather, a mix of Tom's Town gin, Tea-Biotics Double Ginger Kombucha and angostura.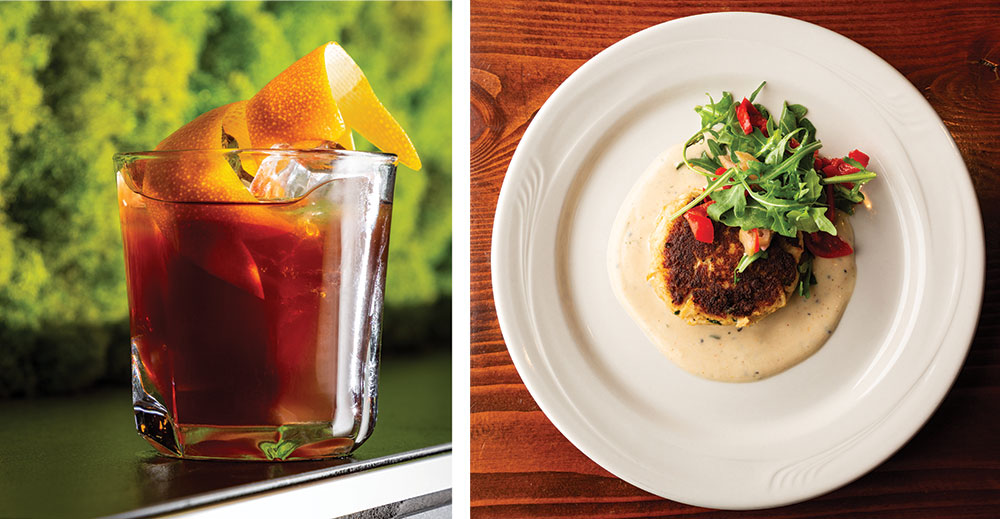 It's not a bad spot to catch a game, but the palatial counter encircling an open kitchen makes it more fitting for watching the culinary team in action as they prepare hearty, chef-driven comfort food. Executive chef Clark Grant, who previously headed up Chicago's Capital Grille before moving to the restaurant's Plaza location, seems to be having a ball marrying his fine-dining skills with a more laid-back atmosphere. No dress code, no white tablecloths, just the really good food you hope to enjoy during a night out on the Plaza.
The medjool dates are a standout among the small plates, stuffed with chorizo, wrapped in bacon and served with a rich Calabrian chile tomato sauce. Dotted with hunks of goat cheese, the dates are a seductive blend of a sweet and smoky flavor, and the accompanying pile of crispy grilled bread is ideal for mopping up every last speck of sauce.
Among the entrees, Hogshead's burger has already won a dedicated following in the short time it's been on the Kansas City scene. It doesn't come with sides, but that's not so much a problem as an opportunity, since the offerings include everything from fries to KC Canning Co. Hops Pickles (which are also a highlight of the burger) as well as jalapeño bacon cheesy corn and Broadway Butcher chorizo cornbread.
The cornbread also makes an appearance in Hogshead's unique spin on eggs benedict, taking the place of your traditional English muffin, topped with pork belly and a roasted tomatillo hollandaise, one of the restaurant's large plates. Carnivores will be just as delighted by the other options, including a 14-day dry-aged pork chop with a bourbon chimichurri, or braised short ribs with an heirloom tomato-fingerling potato salad or the filet mignon. The latter arrives perfectly cooked atop a horseradish potato mash that cuts through the richness of the steak.
The dessert menu might inspire fear or wonder, depending on how you feel about liver. The restaurant's most notable dessert is the Foie Gras "Snickers" Bar, a house-made play off the candy bar with a foie gras mousse filling in for nougat. But if that doesn't appeal, there are plenty of other options to satisfy your sweet tooth. As tempting as the doughnut bread pudding sounds, it's hard to resist a wedge of ooey-gooey bourbon pecan pie with its flakey crust and dolloped whipped cream—the primary source of sweetness in the slice that puts its nuttiness and bourbon flavor front and center.
Embracing the basics has rarely tasted so good.