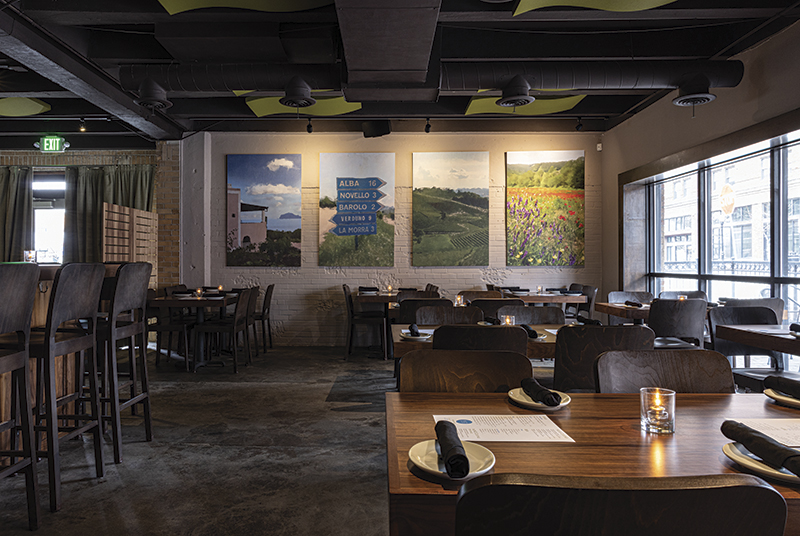 Watching Laura Norris, owner of Ragazza Food & Wine, float around the dining room chatting with guests, glass of wine in hand, as her brother and collaborator, Grant Norris, greets people at the front door, you can almost feel the relief and pride they both share now that their second restaurant, Enzo Bistro & Wine Bar, is finally open for business after numerous construction delays. 
The former Bo Ling's space in the City Market underwent a major renovation, one that most importantly (and from a construction standpoint, most expensively) moved Bo Ling's never-used cocktail bar away from the front windows to the middle of the restaurant, creating a dramatic focal point. Wrapped in warm, brown wood, the bar has almost a midcentury-modern feel accented with hand-blown glass lamps in swirls of blue and white, the color of the Mediterranean Sea, something the food at Enzo aspires to represent—but more on that in a minute.  
The new bar takes up a sizable amount of real estate inside the restaurant, which is completely on-brand for Norris. The bar has always been the social hub of her restaurants, the place where you may sit down a stranger, but you won't stay one for long. In fact, Enzo takes reservations online for either a low-top table in the dining room, a bar-height table located near the bar, or a seat at the bar itself. 
Although bar seats are prized by Ragazza regulars at Enzo, do not let that deter you from booking a low-top table at the front of the restaurant. With the old bar now gone, the large picture windows reveal a thrilling view of East 5th Street bustling with foot traffic and in full view of the City Market streetcar stop, something this restaurant shares with its sister restaurant on Main Street. Both are located on the Kansas City streetcar line. 
The other significant change that the Norris siblings made is the installation of their own private bathroom inside the restaurant, instead of sending guests to use the shared bathrooms managed by the City Market in the common space of the building. I cannot thank them enough for that little luxury.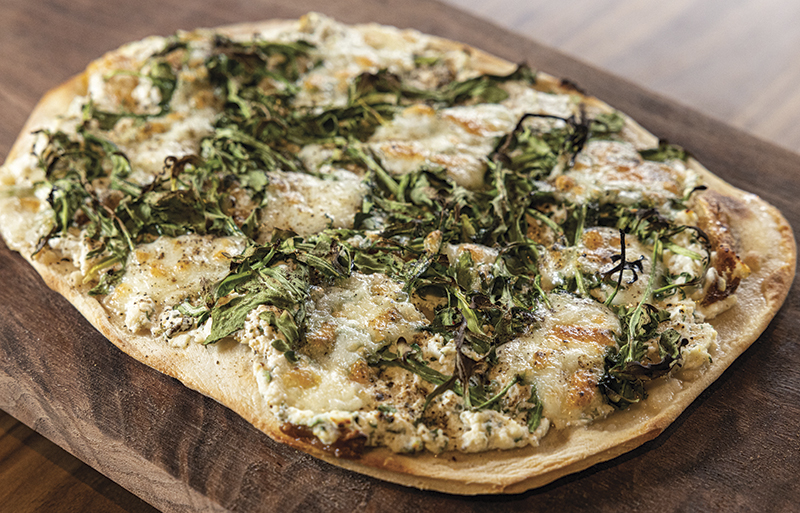 The two had originally planned to open a second Ragazza location here, which would have been much easier to execute and operate rather than investing in a brand-new concept. But they soon realized that the restaurants were just too close in proximity to justify making them exact copies, so they created Enzo's Bistro & Wine Bar, which they have marketed as northern Mediterranean cuisine that right now consists of a small menu of around 20 items. Half are Italian dishes from Ragazza's menu, and the other half are mostly Greek dishes, particularly those with lamb, and a few new seafood offerings. 
For those who already love the food at Ragazza, you will find all your favorites on the menu, such as the eggplant frites, Ragazza's Grande meatball, burrata, eggplant parmigiana, and lasagna. My goal for my meal was to order dishes that were not obviously Italian or on Ragazza's current menu, to get a sense of where else the Mediterranean menu might be headed.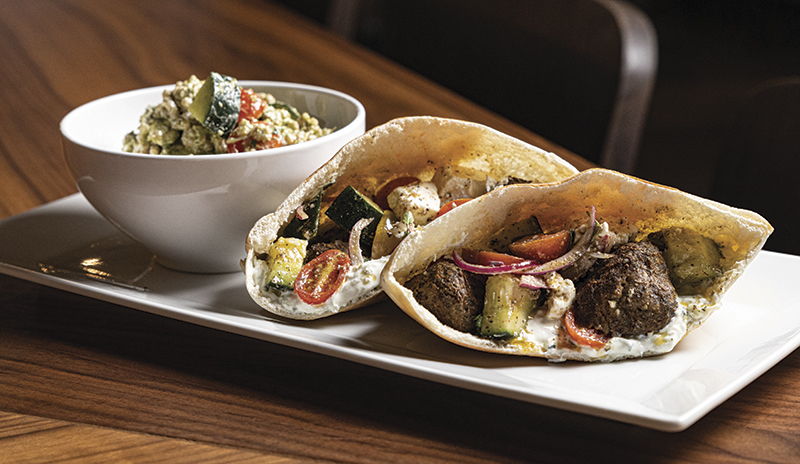 We decided on the moussaka, a layered Greek casserole, which at Enzo comes to the table in a personal casserole dish. It featured wonderfully tender ground lamb mixed with a tangy red tomato sauce then layered between whisper-thin eggplant slices with only a skin of béchamel baked on top. The dish unfortunately tasted a bit dry and lacked seasoning and spices like fresh oregano, cinnamon, or nutmeg that would have set it apart from tasting like a low-carb lasagna, which it ultimately did.
The lamb keftedes or ground lamb meatballs were tender and moist. They came three to a bowl and were served over a generous spoonful of thick, creamy and cold Greek tzatziki sauce spiked with cucumber and dill and served with grilled pita bread. 
The spicy feta dip was an ordering error on my part as another bowlful of creamy white tzatziki sauce, spiked with feta cheese, spicy Italian giardiniera, and served with crostini and pita bread hit the table.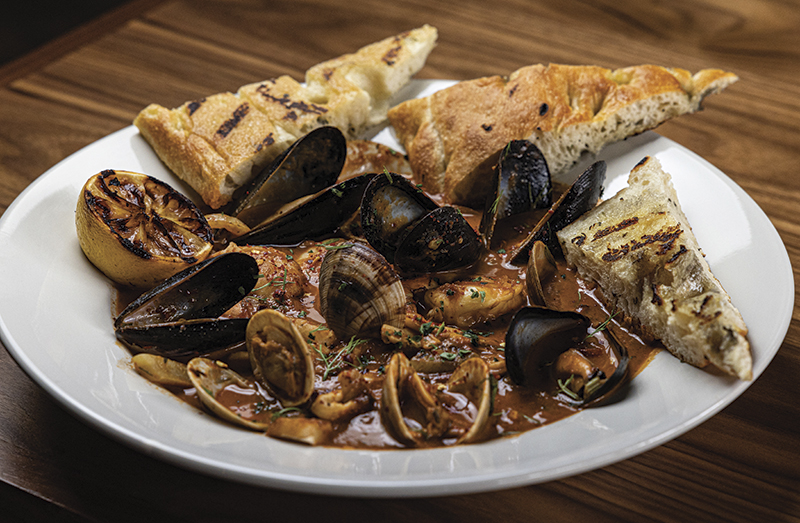 The mussels were located on the small plates section of the menu at Enzo, but what arrived at the table was a huge, generous portion of perfectly cooked steamed mussels served in a broth of white wine, butter, shallot, garlic, and tomato and served with a side of two hefty hunks of soft focaccia bread for dipping. The best dish of the night, hands down. 
We were not planning on dessert until the waiter mentioned cheesecake (never my favorite) topped with a Sambuca-spiked caramel sauce (totally my type). What came out of the kitchen was a fine piece of cheesecake, light, creamy, and drizzled with caramel sauce. I was secretly hoping it would be a flambé dessert situation. Alas, that was not the case.  
A word about the drink menu at Enzo. Wine is recommended as the words "wine bar" are in the name. Enzo serves a fine selection of almost exclusively Old-World Italian and French bottles in quality stemware glasses. Norris has always had some choice wines on her list, and if you are not familiar with European wines, ask the staff. They were quite helpful in pointing me toward a crisp glass of Aldegheri Mondello Soave Classico from Italy to start my meal.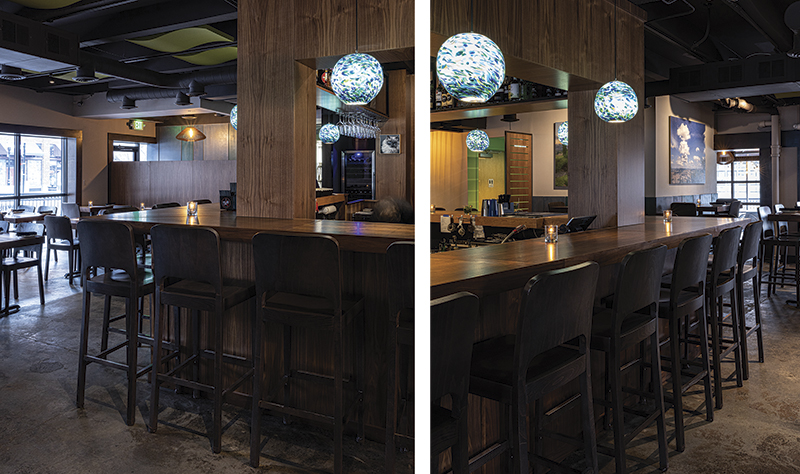 Overall, if you love Ragazza, you will love Enzo Bistro & Wine Bar. My deepest hope is that Enzo develops its own identity, becoming a true Mediterranean wine bar, offering small plates and wines from ports of call farther away than just Greece and Italy. They have the location, the bar, and the wine list, they just need to explore flavors from a few other ports of call.