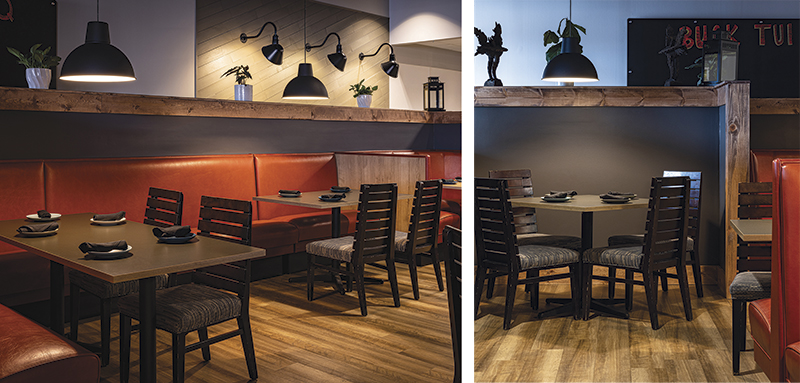 Few places on earth take barbecue more seriously than Kansas City. In a town where sauces, rubs, and cooking techniques are carefully scrutinized and compared to legendary establishments that have been in the business of barbecue for decades, is there any room for a newcomer?
Buck Tui makes it clear the answer is a resounding yes, if the packed tables during the Overland Park restaurant's first week of dine-in service are any indication. That might be because it brings a new perspective to Kansas City, with restaurateur and chef Ted Liberda melding local barbecue with the flavors and traditions of Northeastern Thai cuisine.
Buck Tui steadily ramped up, first serving at the Overland Park Farmers Market last year then hosting pop-ups and offering carry-out from the restaurant before finally opening its dining room in mid-March. The space is lively, with neutral wood-toned floors, colorful orange-red booths, a sprinkling of houseplants and an alterna-pop playlist. Shortly after opening, it understandably still feels like a work in progress, albeit one in capable hands.
Fortunately, the smoked meats don't need much to shine: Slices of Salt Creek Farms brisket marinated in fish sauce and cooked until they're so tender, the meat falls off your fork; a half or whole Gerber Amish Chicken submerged for 48 hours in a lemongrass-and-coriander brine and cooked until golden brown; and succulent St. Louis-style Duroc pork ribs slathered with a sweet chili glaze. Buck Tui also serves a tasty pulled pork; flavor-packed Issan-style Thai sausage featuring dill, cilantro, lemongrass, makrut lime, and fish sauce; and barbecue-rubbed, cold-smoked shrimp, which takes on a meaty texture akin to lobster tail that makes them extra satisfying.
Liberda's smoked meats are rivaled only by the Tiger Cry sauce they're served with. The thin sauce resembles a chimichurri, and it is packed with herbaceous flavor, but the condiment is also citrusy and a little sweet, with a seriously spicy punch that leaves your lips tingling even as you reach for the next bite. Dishes are also served with a house barbecue sauce, which has a little less body than you'd expect from a KC sauce and more tomato flavor, although it's still a tasty addition.
The meats are available on their own, or diners can enjoy them on a barbecue plate, which includes one or two choices of meat, plus a crunchy and refreshing papaya slaw, pickles, and a side of rice that is lightly seasoned and fluffy, capturing more attention than it has any logical right to.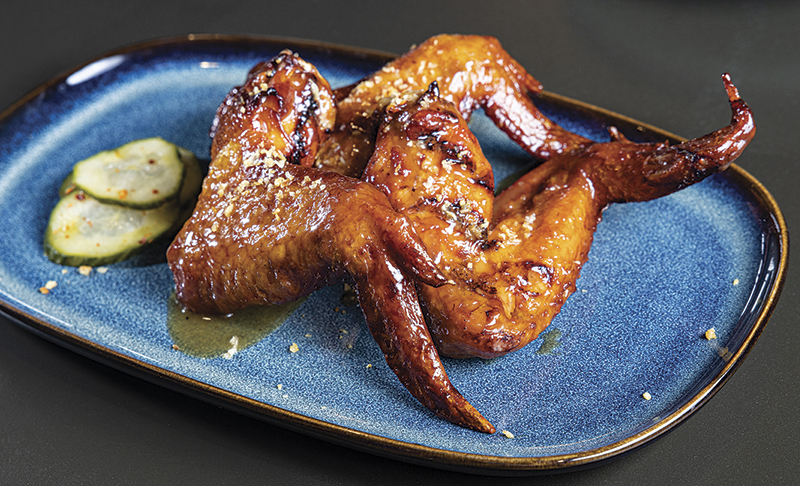 Other dishes meld barbecue and Thai flavors in more obvious ways. Think fried egg rolls filled with brisket, cream cheese, and scallions and smoked whole chicken wings with fish sauce and butterscotch—a combo that tastes much better than it might initially sound. Buck Tui noodles feature pulled pork alongside egg noodles, bean sprouts, and fried garlic, while the Khao Poon brisket pairs the protein with coconut curry and local veggies.
Buck Tui is also serving Sunday brunch, with some dishes finding their footing more solidly than others. In the smoked-beef short-rib hash, chunks of parsnip are unevenly cooked, as is the short rib served with onion, mushrooms, arugula and a crispy egg. It's not a bad dish, just one that fails to show off ingredients to their full potential. Luckily, the farmers market breakfast burrito, a holdover from the OP days, remains as delicious as ever, with barbecue pork, cheese, smoked peppers and onions, scrambled eggs, gai-lan (Chinese broccoli), and a creamy version of the Tiger Cry sauce snuggly wrapped in a Yoli Tortilleria tortilla. Smoked meats and barbecue plates are also served during brunch, along with a sweet and nutty Thai iced coffee with coconut milk and a lineup of cocktails from beverage director Matsumoto Mari.
Drinks include the Smokey Teddy, Buck Tui's signature Bloody Mary named for the restaurant's chef-owner and made with Thai barbecue sauce, the restaurant's spice rub, and an elaborate garnish involving one of those cold-smoked shrimp, as well as a more standard bloody, a michelada, and a take on the mimosa made with guava nectar. Guava also features prominently in early cocktail standout the Guavarita, made with guava purée, tequila, lime, agave, and dry curaçao.
Mari's drinks bring out the food's vibrant flavors and shine a light on what makes the concept special—in a city full of barbecue joints, Buck Tui is bringing something fresh and fun to the table.