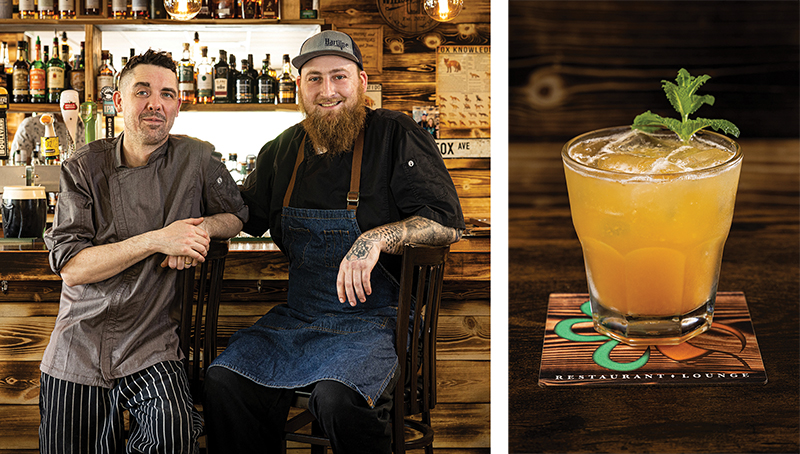 Grab a pint and pull up a chair: Brady & Fox, the Brookside spot from longtime collaborators Shaun Brady and Graham "Fox" Farris, is open for business. 
The restaurant/lounge serves up authentic Irish cuisine in a low-key atmosphere. While some stateside Irish pubs aim to bolster their credentials by displaying as much memorabilia as possible—an aesthetic that feels akin to listening to the Dropkick Murphys on max volume—Brady & Fox favors a more subdued approach.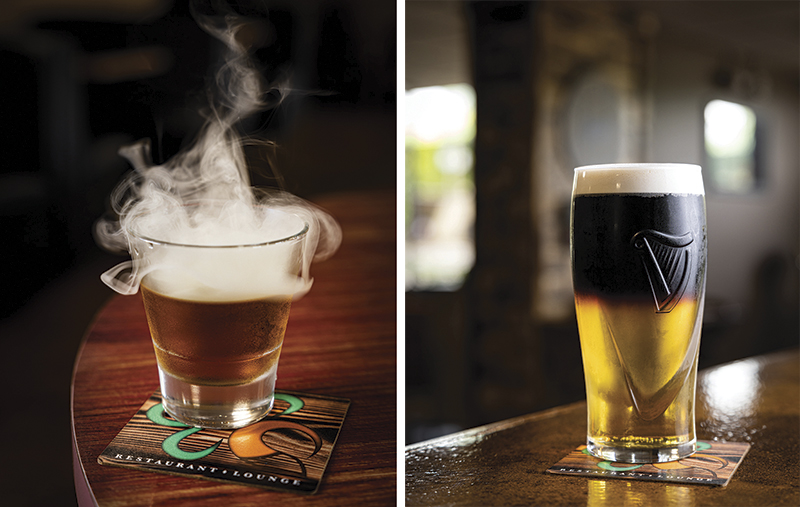 There's a whiskey bar and cozy seating area on one side of the restaurant, but most of the open space is dedicated to the dining room. Lightly charred-wood wall panels add a touch of warmth and character, and a welcoming outdoor seating area is sure to attract guests looking to cool down with a beer on summer evenings. The bar serves up Irish brands like Guinness and Harp, plus a handful of other brews for variety.
The soft-opening menu is small, with just eight dishes. But they're exactly what you would want, starting with the sausage rolls enthusiastically recommended by the server. The two rolls arrive swiftly, with the beautifully seasoned sausage wrapped in buttery, flakey puff pastry that melts in your mouth. Other options include poutine, made with braised beef, cheese curds, and gravy served over house-made fries (more on those later) and topped with crispy onions. It's a hefty dish, and one that looks more appealing than poutine has any right to.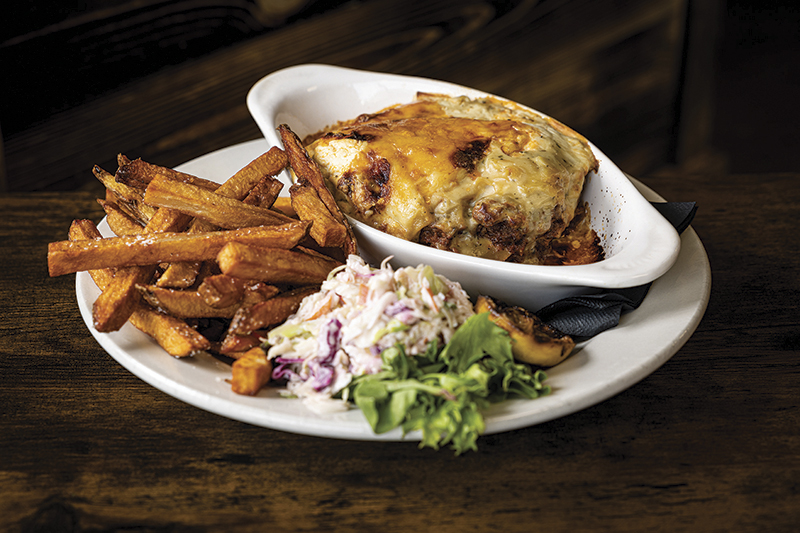 The restaurant also serves up a Scotch egg, although tonight they've run out. Or have they? 
After placing an order for the item in language that can only be described as rhapsodic, the server gently breaks the news they're sold out, only to return a few minutes later announcing the kitchen is making one just for the table. The Scotch egg itself is tasty—how could a soft-boiled egg wrapped in a half-inch thick layer of the same seasoned pork featured in those heavenly sausage rolls not be, especially when it's deep fried? Yet it's the gesture of kindness from the staff that will long outlive the memory of the simple, decadent dish, presented atop a smear of horseradish-mustard alongside a tomato and roasted red-pepper salad.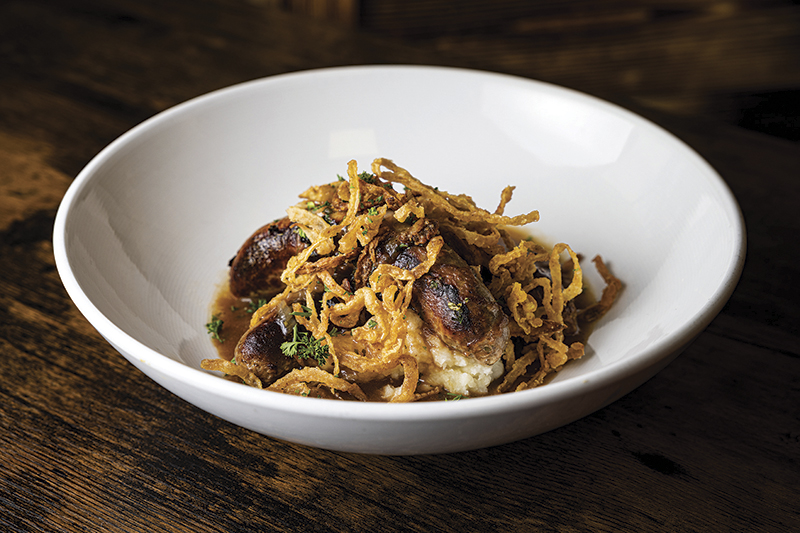 Leaving behind pork, Brady & Fox's standout entrées include the KC Irishman, a take on a burnt-end sandwich that evokes the flavor and familiarity of the barbecue classic while carving out its own delicious identity. Cubes of corned beef are slathered in sauce and Guinness barbecue caramelized onions, topped with white cheddar, and served on a Farm to Market potato bun with a heaping side of fries. Despite the fixings, the corned beef's flavor still asserts itself, although it is missing a bit of the char that makes good burnt ends so notable.
And though they're not the star of the show, do not overlook the fries served with the Irishman, as well as the fish and chips. They're fluffy on the inside with a crunchy exterior, thanks to the peel that's been left on, and bear the rich bronze hue of an expertly fried batch of potatoes.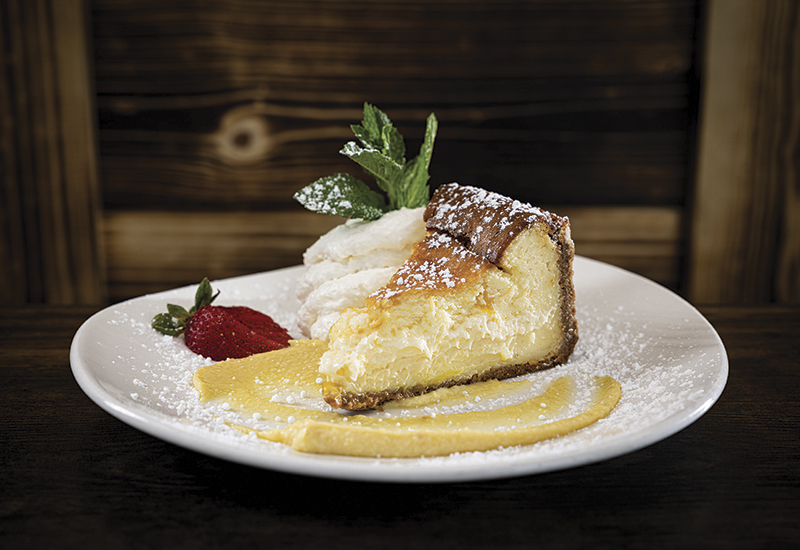 The fries, along with a cabbage-forward coleslaw and an excellent ramekin of vibrantly green mushy peas, accompany the fish and chips, which arrives on a plate lined with red and white-checked paper. Of course, the main attraction is the fish, and it fully delivers. Tender but firm, it features a Smithwicks beer batter that imparts a pleasantly malty flavor and just the right amount of crispiness. Whether you douse it with malt vinegar or enjoy it with dollops of thick tartar sauce, it's impossible to stop eating.
If you do find yourself with leftovers, don't fret. The same server who miraculously provided that Scotch egg reappears with detailed, though not overly complicated, reheating instructions, a final unexpected gesture of hospitality.
You leave Brady & Fox not just full and happy, but well cared for. What more can you ask of a dining experience?