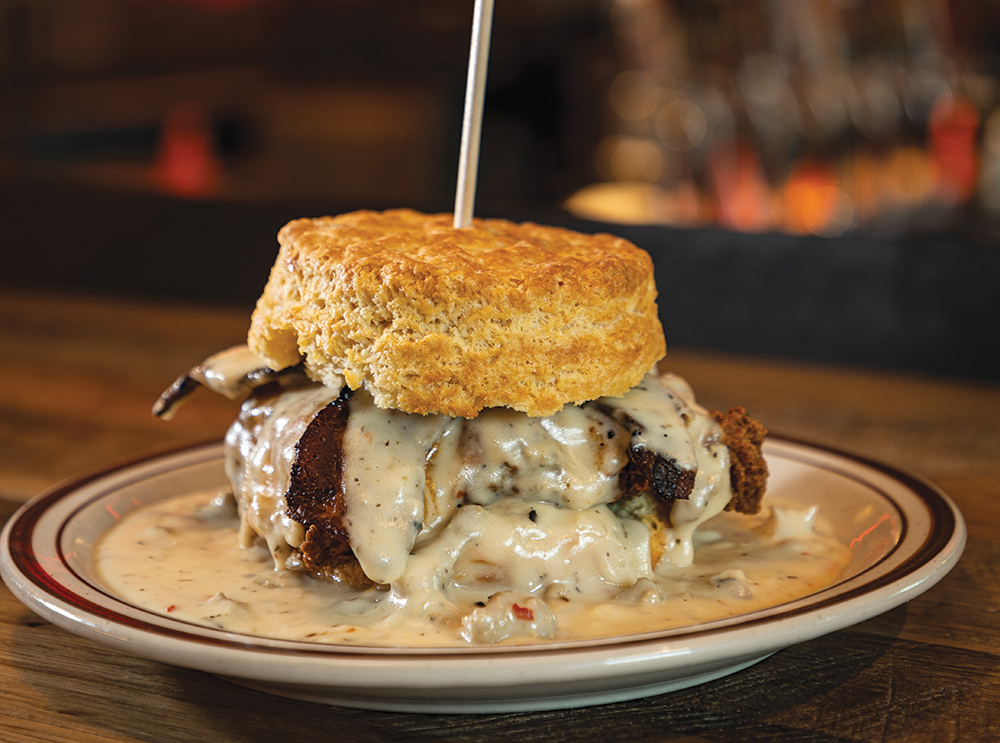 Biscuits. Pizza. Cocktails. Ice cream. What do they have in common? A spot in Westport's newly opened Atomic Provisions.
The space includes four distinct concepts: brunch destination Denver Biscuit Co., pizza joint Fat Sully's, the Atomic Cowboy bar and Frozen Gold ice cream shop. But Atomic Provisions isn't a food hall. Instead, each place has its own menu and hours, and guests order from three of the spots from their table. (Frozen Gold is an outlier, operating out of its own dedicated section with a separate entrance.)
The four-in-one idea has already proven successful in Colorado, where Atomic Provisions has several locations, and it's easy to see why: Dishes are big, bold and self-assured, unusual enough to inspire interest without feeling intimidating. Here in Kansas City, the compound is housed in the Old City Ice Building, designed to look and feel approachably cool. The bar shares focus with a few neon light fixtures inside, while outdoors guests can enjoy an enclosed patio perfect for people watching.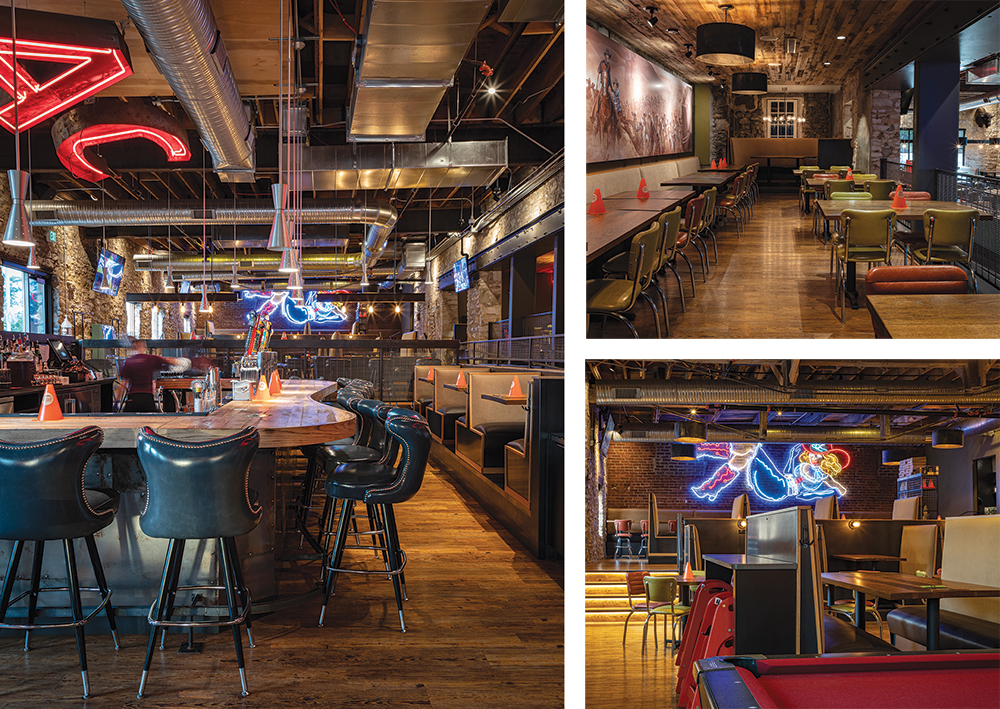 Being at Atomic Provisions is perhaps best enjoyed as a communal activity, with friends or family around to ooh and ahh over dishes like Denver Biscuit Co's giant biscuit cinnamon roll—and help with the eating. The biscuits are good across the board, but they're more a novel foundation than a true star on the menu, which includes a long list of sandwiches. The Lola features crispy, tender buttermilk-fried chicken and three fat strips of bacon with honey butter and maple syrup. It arrives floating in a pool of syrup and is so sizable, picking it up with your hands is instantly eliminated as an option. Even using a knife and fork, the sandwich is syrup-in-your-eyebrows messy.
Beyond the Lola, there's the Q39 Elmer, a pork belly-based sandwich that takes advantage of KC's barbecue prowess with Q39's sauce, fried onions, coleslaw, and house-made pickles, along with the more traditional sausage and egg-based breakfast option, The Tomahawk. Denver Biscuit Co. finds ways to utilize biscuits beyond sandwiches: in French toast, strawberry shortcake and a deconstructed biscuit pot pie that captures the essence of the original dish impressively, even if it lacks some of its cozy comfort.
At Fat Sully's, build-your-own pizza slices are loaded with the selected toppings and just the right amounts of sauce and cheese, making them an unimpeachable entry into the local 'za landscape—and a definite future hotspot for dinner before (or during) a night out in Westport. Choose single slices or a whole pie, both of which are supersized. The thin, crispy slices measure in at about a foot from crust to tip, while the house pie is a gargantuan 26 inches.
Fat Sully's also offers a burger and chicken parmesan sandwich, and some profoundly tasty waffle fries, available plain or fully loaded with a deeply flavored sausage gravy, Tillamook pimento cheese, crispy bacon shards and scallions. The fries are such a perfect hangover food that it's tempting to have a few too many just to have an excuse to enjoy them in their element—fortunately, they're available all day, along with drinks from Atomic Cowboy.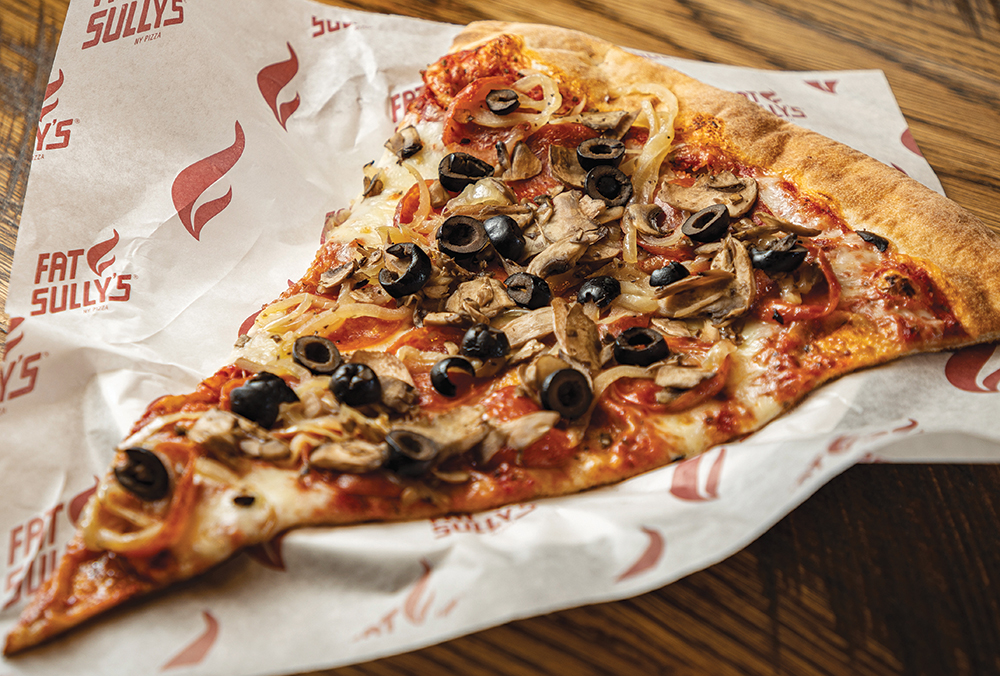 Since guests could be enjoying biscuits or pizza, the bar's menu covers its beverage bases with craft beers from the KC and Denver areas and brunch-friendly cocktails. There's the Atomic Bloody Mary, which throws Boulevard Steep Drop Nitro Milk Stout into the mix, as well as an easy-to-drink breakfast sangria, made with grapefruit vodka, St. Germain, lychee, lemon, and sparkling water. The sangria is light but layered, the ingredients offering a flash of vanilla one sip, shifting floral notes and citrus the next.
Despite its varied concepts, Atomic Provisions has a very clear identity: It's entertaining and cool, with big flavors and even bigger slices of pizza. Slated to open in late August, Frozen Gold's treats seem like a fittingly indulgent addition to the lineup, boasting cones with a surprise like caramel or fudge in the center and soft-serve offerings like toasted coconut with candied Rice Krispies and brown sugar fudge.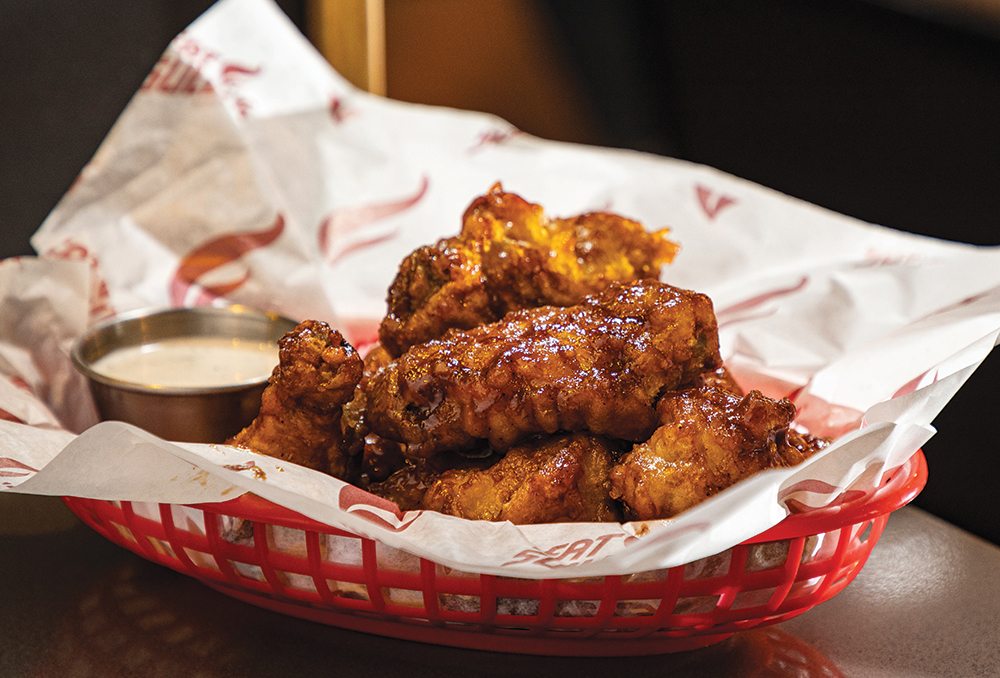 Forget about fine dining—this is fun dining. atomicprovisions.com
Denver Biscuit Co. is open 7 a.m. to 2 p.m. weekdays and 7 a.m. to 3 p.m. weekends; Fat Sully's opens at 11 a.m., with select dishes only available 4-10 p.m. Atomic Cowboy is open 7 a.m. to 10 p.m. Sunday through Wednesday and 7 a.m. to midnight Thursday through Saturday.