Ever since the popular Pirate's Bone Coffee left their unassuming digs in Brookside and announced they were re-opening in the Crossroads, folks have been clamoring for details.  Well, we tracked down owner Lydia Palma and executive chef Zaid Consuegra who are furiously working to finish up construction at their new 20th and Main location (the former Brioche bakery locale).
When we visited, the duo was maneuvering the arrival of a giant cooler. From the looks of it, everything still appears in a bit of disarray—but, never fear, people—construction is supposed to finish up this week and not a minute too soon, apparently. Palma and Consuegra are chomping at the bit to fling open the doors and show off the new space, new menu, and new concept. "There was no light before in here and now it's open. We re-did almost every aspect of it," says Consuegra. "We designed it, we built it—it was a three-person operation."

Coffee lovers, don't despair—the new Pirate's Bone Burgers will still accommodate their java junkie clientele, but only in the morning. Around lunchtime, the joint promptly switches gears. "This will be a diner—not a coffee shop. That's one of the biggest differences," says Consuegra. "We're bringing the espresso machine, but we're not focusing on it." (Read that: no WIFI, no plug-ins, and don't expect to put your feet up for four hours and read a book, young lady.)
What should patrons expect? Some killer plant-based grub in a casually cool environment. Everything on the ambitious menu is vegan-tastic—including burgers, hot dogs, French fries and plantains, among a litany of other items. "We're having a lot of fun with it," says Consuegra.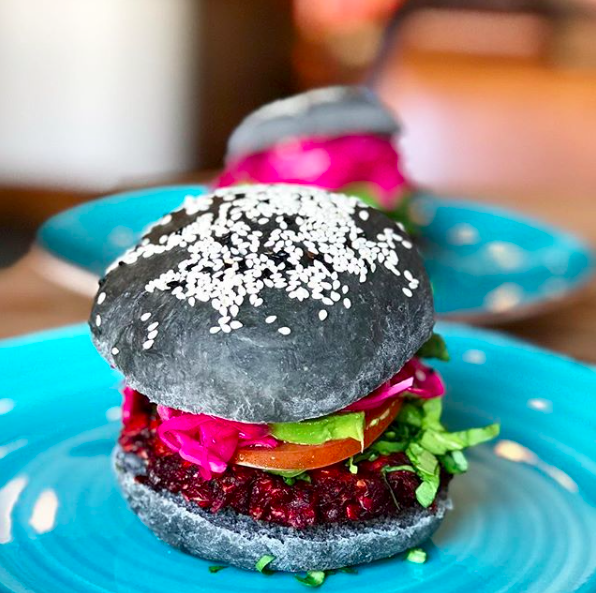 Turns out the plant-based burgers were a huge hit when they were unveiled in the eatery's test kitchen. "If you make it plant-based—but it's still something familiar, like a burger—well, it gives comfort and allows you to branch out," says Palma. The overall goal? "Feeding more plants to more people. We're not trying to turn people vegan, but if that's a by-product—great," she laughs.

The new restaurant promises to keep its civic-minded focus—ensuring anyone and everyone is welcomed with open arms. "We wanted to be very inclusive—people with different backgrounds, walks of life and ideas. We want to be inclusive to people with disabilities. We'll be 100% ADA accessible," says Palma. "Menus are in different languages and in braille as well. This is a more inclusive space for the community—a safe space, an open space." And bonus—a relatively inexpensive price point will ensure guests can eat healthy and not break the bank.

Finally, when we asked what questions do they keep hearing over and over from impatient guests? They both laughed. Here they are, in no particular order:
1) Are they getting vegan ice cream? Well, the definitive answer is—mebbe. "We are definitely looking into it. it's one thing we really want to get in here," says Consuegra.
2) Are they serving liquor? "That is the plan. We won't open with it, but we're working towards it," says Palma. "Beer and wine. Simple. Like sangria—or slushy sangrias," Consuegra chimes in.
3) When are they opening? "It's up to the city, but definitely August. Exactly when is to be determined," says Consuegra. "We've been working non-stop. It's been a lot of work—more than we thought it would be. I'm ready for us to open."