Kansas City's formidable barbecue scene has long been dominated by spots with decades of history: Gates, Jack Stack, Joe's Kansas City, and Arthur Bryant's, just to name a few. But in driveways and brewery parking lots, something new has started cooking—small-batch, craft barbecue that pays tribute to Kansas City's traditions while looking to other parts of the country and world for inspiration.
The masterminds behind three of these next-generation spots share their approaches to barbecue and how they're expanding the boundaries of what KC has to offer.
---

Scott Umscheid
Scott's Kitchen and Catering at Hangar 29
11920 N Ambassador Drive
Scott Umscheid knows that his namesake restaurant right off I-29, just a few minutes from Kansas City International Airport, has its quirks.
"We're very off the beaten path," he admits. "In fact, most people would not consider us a good location. We don't look like a restaurant."
But barbecue has long thrived in unexpected places, and Scott's Kitchen is no exception. Since opening in summer 2017, it's become a hub for competition and craft-style barbecue, cooked with plenty of hands-on attention and extra, labor-intensive steps that can make it challenging to pull off in a restaurant setting.
Umscheid learned the style first-hand on the competitive barbecue circuit, entering his first competition back in 2009 and taking ownership of the chicken.
"I practiced and researched and practiced more," he remembers. "In my very first-ever barbecue competition, we heard our name called for first place in chicken, and that set the hook for my passion and intensity to learn more about barbecue and especially the competition style of barbecue."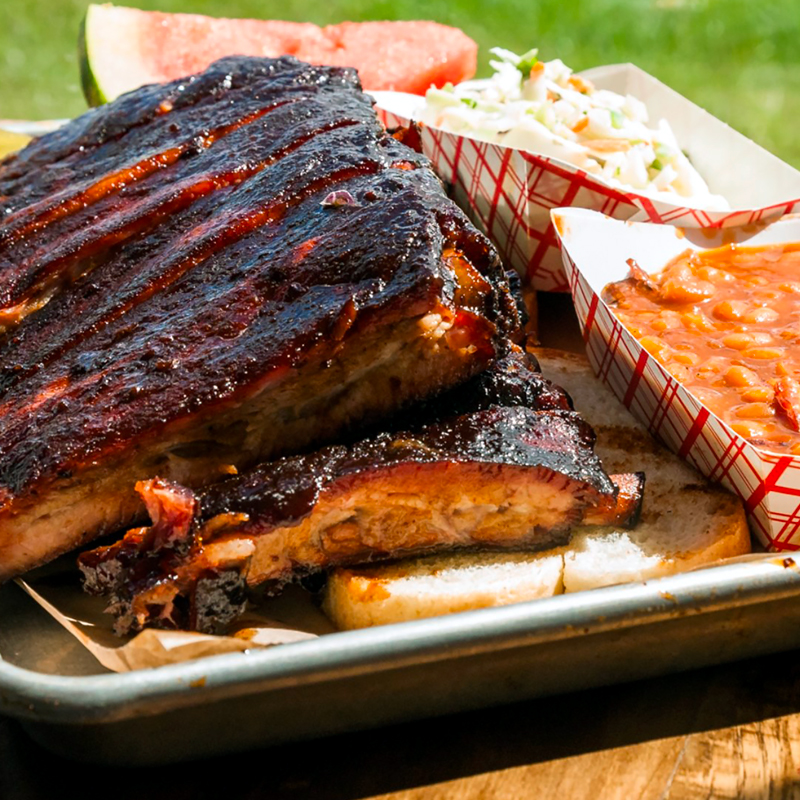 Umscheid always wanted to own a restaurant and learned tricks of the trade from the small business owners he encountered while working in sales for distribution company U.S. Foods. Eight years after that first competition, he decided it was time to take the leap.
The barbecue he serves up at Scott's Kitchen includes all the usual suspects: brisket, burnt ends, pulled pork, and St. Louis ribs, as well as chipotle ghost-pepper jack smoked sausage and tender, smokey whitefish. But although you'll find proteins are served in traditional barbecue formats—on sandwiches and gratifying meat plates—they're also incorporated into a lineup of Mexican-inspired burritos, tacos, and bowls.
Offering those dishes is partially just good business, Umscheid explains. Not everyone is willing to give a new barbecue spot a try in Kansas City, but they may be intrigued by pulled rib tacos or the burnt-end breakfast burrito Food & Wine dubbed the best burrito in Missouri. It also means neighbors have more than one type of cuisine to enjoy when they stop in. Even in Kansas City, barbecue isn't often on the menu for diners every day, a trend reflected in Scott's Kitchen's sales.
"The barbecue leads the way, but some days it's neck and neck," Umscheid says.
After almost five years in business, Scott's Kitchen has built up a devoted following and continues to attract raves from customers and critics alike. But Umscheid, who saw the success of Q39 and Slap's BBQ in the years before he opened as a sign that Kansas City was willing to embrace new barbecue restaurants like his own, is gratified to see a new wave of craft-style barbecue spots now finding success.
"I couldn't be more excited for them," Umscheid says.
---

Tyler Harp
Harp Barbecue
6515 Railroad Street
Barbecue started as a refuge for Tyler Harp. He was trying to avoid the party atmosphere that comes with working in the restaurant industry, so instead of going out with co-workers after a shift, he would head home and fire up his smokers, an experience that proved to be a turning point in his life.
"I got my head on straight," Harp says. "I found barbecue."
He started selling barbecue from his driveway in 2015, around the same time Texas Monthly barbecue editor Daniel Vaughn wrote a damning takedown of Kansas City-style brisket. Angered by the critique, Harp joined his father and uncle on a road trip to Texas to do some investigating and discovered surprising similarities between Texas-style barbecue and their own.
"We never really set out to cook Texas-style barbecue but cooking with wood and using simple ingredients was always the way we cooked, and that was just something I believed in," Harp explained. "It was just almost like a natural alignment between what we wanted to do and what we saw a lot of people down there doing."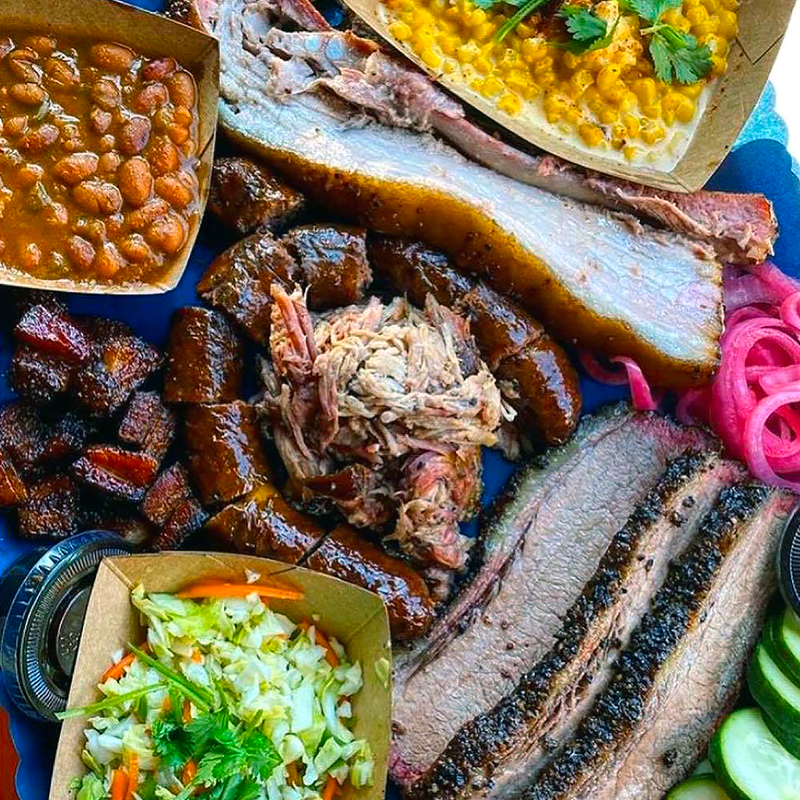 Just a few years later, Harp set up shop at Crane Brewing Co. in Raytown, where he serves food on Saturdays from 11 a.m. until it's sold out: brisket, pulled pork, and pork belly burnt ends by the half pound; half and full slabs of pork ribs; and creations like the blueberry white-cheddar sausage, one of the products he's proudest of.
It turns out Daniel Vaughn approved. The day after Harp quit his job to focus on barbecue full time, Vaughn showed up in his line at Crane's Brewing and later penned a story calling Harp's brisket the best in Kansas City, which gave business a big boost.
Harp is also quick to point to his extensive research as a factor in his success: At one point, he ate at every single barbecue restaurant he could find in Kansas City, a list that covered 125 spots, as well as at barbecue destinations around the country, to determine what he could offer that wasn't already being done.
As a result, inspired by his time living in New York, Harp started making pastrami; boudin, a rice and meat sausage that's a Louisiana favorite; and whole hog barbecue, considered the oldest continuous form of barbecue in the U.S. The flavors in his pork are inspired by western Tennessee, where he's spent a lot of time cooking, and the glazed ribs take their cues from Kansas City, whereas his brisket is pure Texas with its thick-cut slices and handsome crust.
"We're truly, deeply trying to understand the different regional styles of barbecue," Harp says.  "So we can execute that at a high level and bring something to Kansas City that represents every region in one place."
---

Justin Easterwood
Chef J BBQ
401 W. 13th Suite G Street
"I've always been a fire guy," says Justin Easterwood. "A lot of people cook in different styles around here, and I just believe in the fire."
So do the Kansas Citians and out-of-town visitors who lineup for Chef J BBQ, Easterwood's West Bottoms restaurant in the belly of The Beast, the neighborhood's legendary haunted house. While it may seem like a strange place to set up shop, it was just right for Easterwood, who was looking to take his barbecue to the next level after several years of doing catering and a handful of pop-ups.
After Covid-19 hit Kansas City the same week Chef J BBQ was set to open in March 2020, Chef J's spent several months doing pre-orders. Fortunately, that word of mouth did the restaurant justice.
These days, guests know it's worth waiting in line for the slow-smoked brisket, cold-smoked sausages made from the trimmings of other meaty menu items and a rotating array of creative specials, from a chopped brisket and bacon onion jam grilled cheese on toasted sourdough to potatoes wrapped in beef tallow, baked in the restaurant's pit and topped with fixings. And you'll want to get in line sooner rather than later, as doors open at 11:30 a.m. and stay that way until 4 p.m.—or Chef J runs out of food, which can happen much earlier.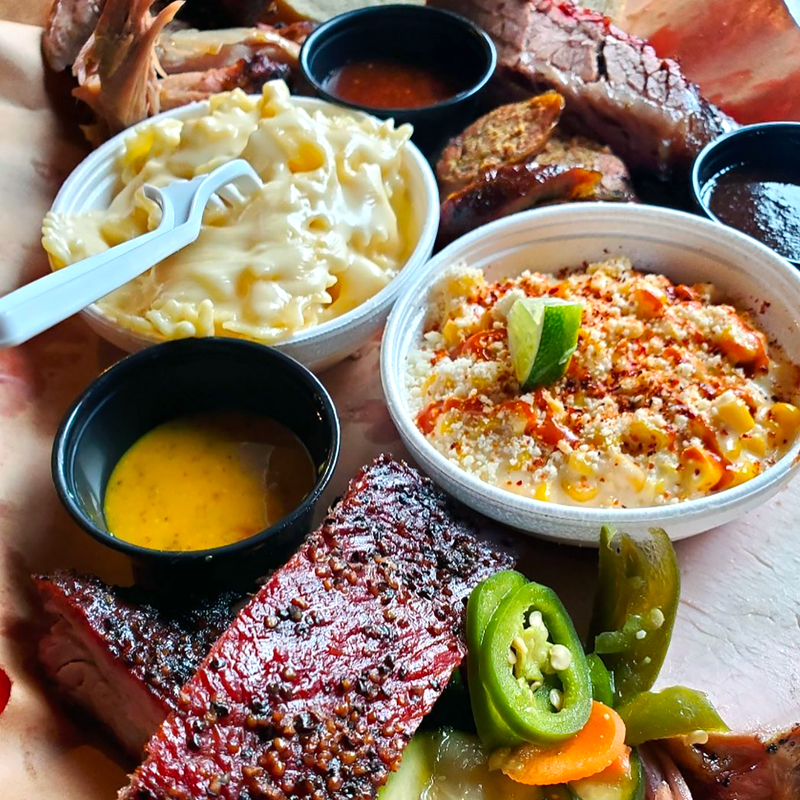 Cementing that Chef J is a different kind of Kansas City barbecue spot, Easterwood recently introduced Barbacoa Sundays, adding a day of service dedicated to exploring different regions' form of barbecue—first and foremost, barbacoa. Easterwood's version is a mix of beef cheeks and brisket lightly smoked to give it a bit of bark, steamed and then slow cooked for ten to 12 hours in a heavily spiced consommé. Pulled fresh to order, the meat will be served on Yoli Tortilleria tortillas. Other featured dishes will include Louisiana-style boudin sausage, kalua pork, and char siu pork-belly burnt ends.
"We're trying to bring in some different styles, just show what barbecue can really be," Easterwood explains.
Behind all his creativity is a commitment to quality that's not for the faint of heart: Although Chef J's is only open Fridays, Saturdays, and Sundays, Easterwood and his fiancé put in 75-80 hours of work per week, firing up the smoker around 9 a.m. Thursday mornings and only breaking for a few hours at a time until Saturday night.
"It's probably the hard way of going about it, but it's the right way and it's the best way," he says. "We don't do anything automated. We're out there feeding the fire, putting the logs on, grinding down the meat to make the sausage; we try to have as much of a hands-on aspect as you possibly can."
---
KC Barbecue Spots You Might Have Missed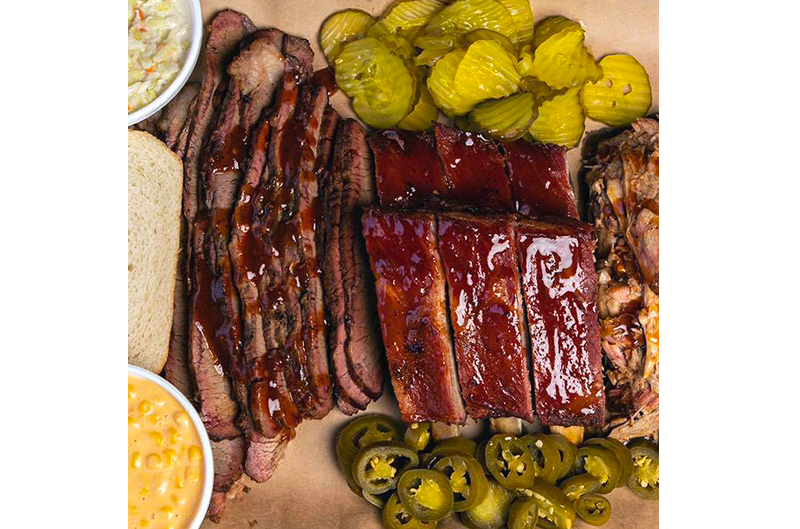 Slap's has its roots in the competition circuit, and owners (and brothers) Mike and Joe Pearce continue to compete to stay on top of their game. It shows. This Kansas City, Kansas-based restaurant serves up some of the best barbecue in town without frills but with plenty of flavor.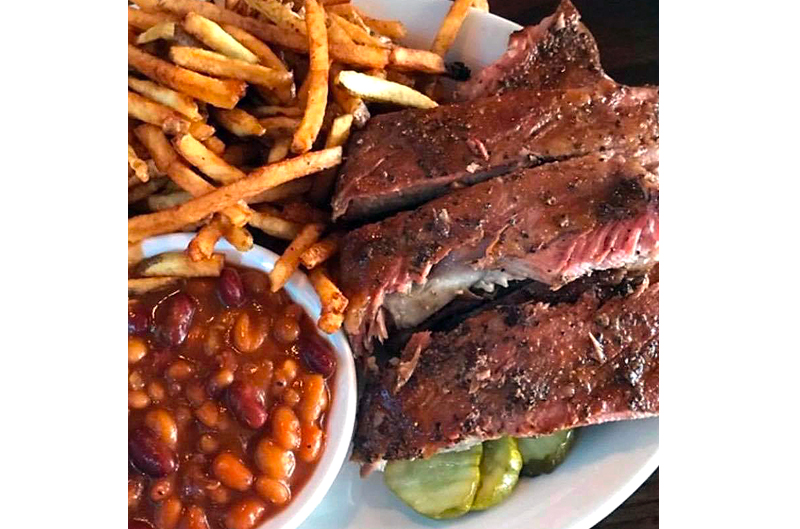 Weston's Tin Kitchen features pecan-wood-smoked barbecue meats straight from the pit, including competition-style St. Louis Ribs. Housed in a building from 1842, the restaurant's charms extend from the menu to the cozy dining room.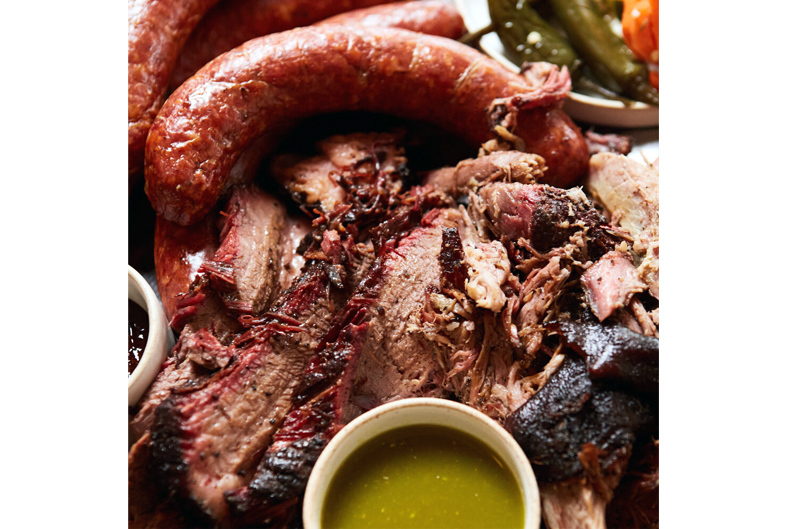 Vaughn Good, chef/owner of Fox & Pearl, cooks the same premium, pasture-raised meats you'll find in his restaurant with a barbecue twist at this pop-up concept. Online orders open Saturday afternoon for pick up Sunday with a fresh menu each week.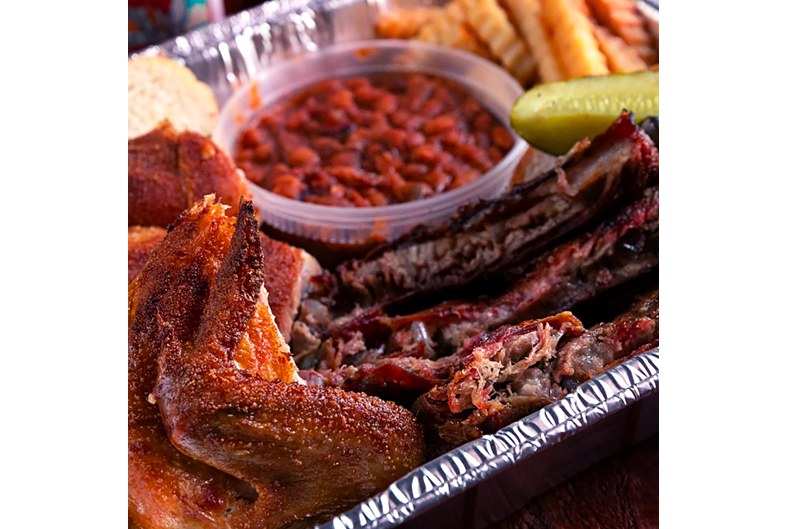 There's plenty to love about the new generation of Kansas City barbecue, but sometimes you just need a taste of tradition. For more than 80 years, Rosedale Bar B Que has been serving up brisket, ham, pork, and turkey, plus hot dogs—a nod to Rosedale's early days as a hot dog and beer stand.