Sponsored content: 

After this winter's constant one-two punch of mind-numbing cold and mounds of snow, we are all ready to get outside and enjoy nicer weather. The folks at Mission Farms want you to know that—for all intents and purpose—spring has officially sprung. That's because a majority of their eateries have flung open the gates to their outdoor patios, albeit a bit early.
Yes, Virginia—patio season has arrived.
If you're like us, you want to indulge in alfresco drinking and dining before it gets unbearably hot. (You know, pre-mosquito.) Well, game on. Here's a quick list of some of the Mission Farms' restaurants offering up the chance to socialize in the great outdoors:
Martin City Brewing Company
With a dozen or more locally crafted beers on tap at any given time, you can bet it's always a party at Martin City Brewery Pizza and Taproom—especially after work. Besides their extensive selection of MCBC beers and signature cocktails, this jocular JoCo haunt also offers up stone-fired pizzas, sandwiches, salads, and more. Their happy hour is always rockin', but the pub is also known to stay open late. Even better? Check their roster for live music. Beer and cheer on the patio? Yes, please.
Happy hour, Sunday – Thursday 3:00 p.m. – 6:00 p.m. | Reverse Happy Hour Every Night 9:00 p.m. – Close

Tavern at Mission Farms
Want to see and be seen? Your best bet is the spacious outdoor patio at Tavern at Mission Farms. With an endless array of decadent, happy-hour menu items (fried mac and cheese, anyone?) and some creative, $5 handcrafted adult libations to give you life, it's simply the place to be. Get the party started and get some fresh air while you're at it. "It's been a long, grim winter," says owner Anthony Zarate. "We're enthusiastic and eager to bring our guests new cocktails, spring/summer menus, and fun events."
Happy hour, Daily 4:00 p.m. – 6:00 p.m. | Reverse Happy Hour Every Night 8:30 p.m. – Close

Blue Koi
Blue Koi has been rockin' their outdoor Leawood patio since 2007—with noodles and dumplings and sake, oh my! With a menu as colorful as their décor, it's no wonder people like to imbibe here. They call their food "undeniably cool Chinese," but we like to call their beverage selection "undeniably lethal libations." Heck, they even have plenty of non-alcoholic drinks up their sleeve if you're the designated driver. (Read that: their famous selection of bubble teas.) Sit outside and enjoy their imaginative dishes or kick back with an oh-so inventive cocktail. Fresh air + Asian flair = the perfect happy hour.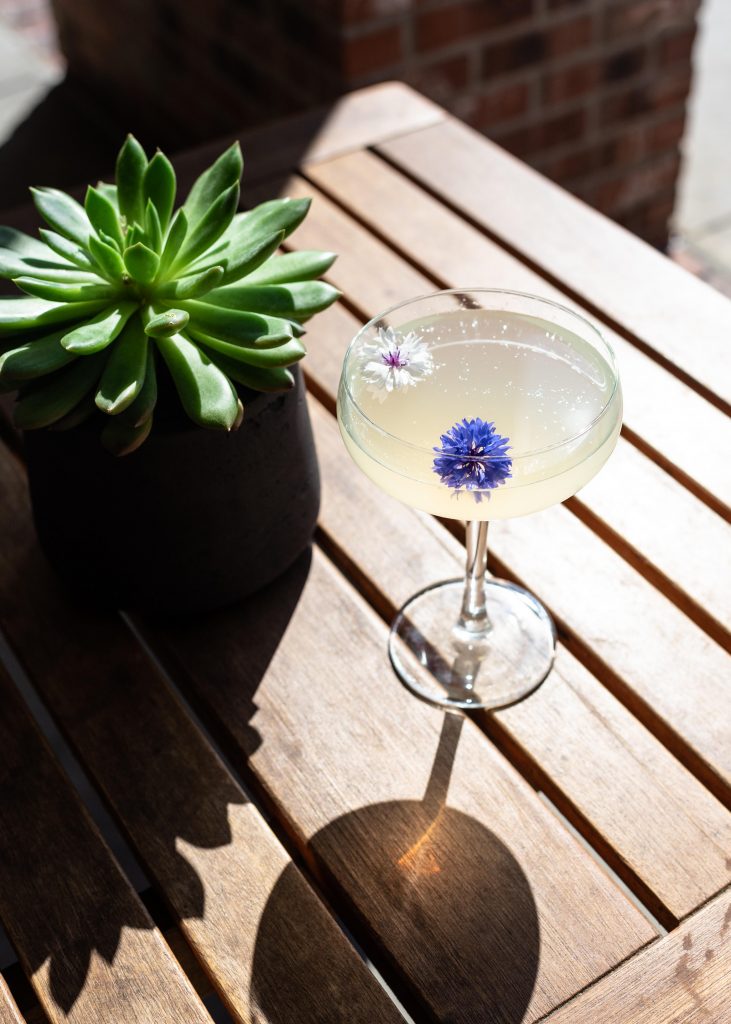 Enjoy Pure Food + Drink
Enjoy Pure Food + Drink's got a cozy little outdoor nook for you to enjoy while you partake of their tasty and oh-so healthy offerings. The idea behind Enjoy is as pure and simple as their menu. They create nutrient-rich, clean foods that are lovingly prepared. You can enjoy Enjoy after a lively workout or grab some food to energize you after work. Life moves fast—so if you need to decompress for a hot second, their outdoor patio is the perfect place to regroup, recharge, and reboot. "With the expansion of our space comes the expansion of our bar program.  In the next week, we will be introducing: PURA by Enjoy—The Clean Cocktail Experience. Our new full Cocktail and Mocktail Menu uses the freshest and most natural ingredients, like lavender in the 'Lavender Bees Knees' or homemade lemonade with agave used with Prosecco in 'The Antoinette,'" says founder Staci Cross. "And our patio will be transformed into a garden of herbs and flowers for the spring and summer with expanded dining and casual seating."
Rye
Nestled in the back of Mission Farms, you'll find Rye—a well-known eatery that offers a wrap-around patio with room to spare. While they're famed for their upscale comfort food, you might be surprised at how many folks swing by for nosh and nibbles after work. Tasty snacks will help you fill the void after a rough day at work. (Get. Their. Deviled. Eggs.) Plus, they've got an extensive assortment of drinks from which to choose. ($5 Manhattans? $5 martinis? Yes, please.) But come on—sometimes you need to eat your feelings. Good thing they have always have plenty of pies—yes, pies—to squelch your sweet tooth. Co-owner and chef Megan Garrelts is a pie perfectionist. Who said happy hour needs to be booze-oriented? Sometimes sugar soothes the savage soul, yes?
Happy Hour, Monday – Friday, 3:00 p.m. – 6:00 p.m.