Sponsored content:
If you haven't been to Pearl Tavern, you need to add it to your list. When the casual seafood restaurant opened in Lee's Summit last July, all of Jackson County immediately started salivating. Pearl Tavern is another successful restaurant from Andy Lock and Domhnall Molloy, the duo behind Summit Grill, Third St. Social and Boru Ramen Bar.
Pearl Tavern has a large, craveable menu full of variety. There's truly something for everyone like the Mushroom Stuffed Salmon, King Crab Legs, or the Angus Beef Tenderloin. It's fresh. Always. Just check out their fresh daily fish list, given to every table listing all of the different sea-to-table items. This Lee's Summit restaurant is worth the drive and has found a loyal following from locals as well as folks from Johnson County and beyond eager to try its stellar seafood-centric menu.
"We're casual, fresh—and we're different," says executive chef Kent Long. "The sheer variety alone keeps people coming back. Our fresh fish sheet changes daily. We receive fresh seafood six days a week. Everybody takes off Sundays—except for us."
Long—who is partial to serving the restaurant's freshly caught fare—says guests often order their fresh fish "simply grilled with salt and pepper—or blackened. It's just straightforward." He agrees that would be his first choice as well. "I like a nice grilled piece of fresh fish—but we get a lot of compliments and comments on our Tavern Boil. There's a lot to it. It's a very traditional Southern dish—onions, potatoes, corn, sausage, shrimp, snow crab, and a simple seasoning. Guests rave about how good it is."
We've got a crush on Pearl Tavern's signature Crushes too. These popular cocktails are served with fresh squeezed juices over crushed ice, are offered in a variety of flavors like the Cherry Limeade, Blackberry Bramble or Strawberry Basil.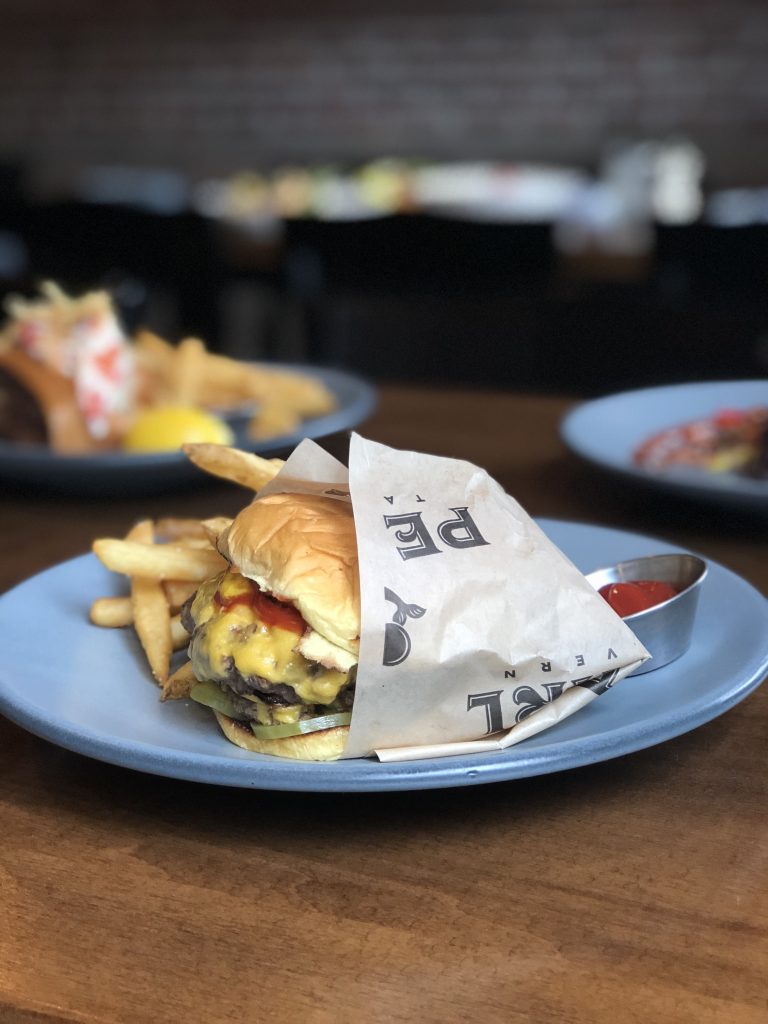 If you're not an a-fish-ionado of seafood, Long is quick to point out that Pearl Tavern offers hungry patrons plenty of other tasty options. "Oooh, our smashed Tavern Burger is the best around," he says. "Our burger has a lot of flavor. It's two seared patties with caramelized onions, pickles, ketchup and mustard wrapped up like the good 'ole juicy burger you crave."
A quick glance of the menu and it's easy to pick out any number of decadent fish-free dishes—like the Romano-crusted chicken pasta in a creamy alfredo sauce with spinach and grape tomatoes and the Andouille Sausage Sandwich with peppers, onions, pepperjack cheese and jalapeno aioli on a Leidenheimer po' boy roll
What caught the entire staff off-guard, however, was the sheer number of oysters that guests consume daily. Even Long was a little gobsmacked by their popularity. "Oysters are huge out here! I think since January we've sold over 85,000 oysters," he says. "Oysters intrigue people. Our fresh oyster bar brings in oysters from both the east and west coast. Every oyster has a different size, shape, and flavor. A lot of people who haven't tried oysters come in over lunch or for happy hour and try one of Delaware Bay oysters for just $1 each." Shuck for a buck, indeed!
When pressed about the aphrodisiacal qualities of oysters, he was coy. "I'll say yes," he says with a laugh. "I mean, some people will order one—others will come in and put down 40-60 of 'em." Why the overwhelming appeal? He has a theory: "Everybody has their own way of eating oysters—it's fun to watch. Some people like them plain or with a squeeze of lemon. Some like cocktail sauce or tons of horseradish. When I run into an oyster virgin, I suggest they swish it around like a glass of wine and swallow. No chewing. No. Chewing."
Speaking of lunch specials, the restaurant features an abundance of lunch features "under 10 clams," Long says. 11 lunch entrees to be exact. All under $10. Pair that with a $5.95 glass of wine and you've got yourself quite a deal. "And our happy hour is buzzworthy. It's from 3 p.m. – 6 p.m. seven days a week. That, plus our reverse happy hour in the evening reels them in."
Be sure to save room for their famous pies too. Pies are well-known staple at Pearl Tavern "and they're to die for." Chef Long recommends the coconut crème pie. (We concur wholeheartedly.) At any given time, there are six different pies on the menu, served by the slice and made fresh daily by Pearl Tavern's own pastry chef.
And finally, with a name like Pearl Tavern, we had to ask—has anyone actually found a pearl in an oyster yet? "Our first month a couple came across a pearl and framed it for us," Long says. "Since then, a handful of people have found pearls along the way."