Keto, vegan, low-carb—whatever school of thought you subscribe to, there are more options than ever before when it comes to eating healthy in Kansas City, without sacrificing flavor or variety. We talked to the owners behind four health-oriented dining concepts about what's on the menu and what eating healthy means to them.

Staci Cross | Enjoy: Pure Food + Drink
Staci Cross was an entrepreneur trying to balance traveling around the country, raising two kids and eating a vegan diet when she first dreamt up Enjoy: Pure Food + Drink.
"It was nearly impossible to find decent food anywhere—food that even tasted good, much less that was healthy," Cross explains, adding that she often found herself putting together a meal at Whole Foods. "I just thought, 'This is not the way people should have access to healthier foods. There should be a greater awareness of healthier food and what that really looks like: organic food without all the chemicals, and really healthy things that taste good.'"
Her answer was Enjoy, which opened in April 2016 in Leawood's Mission Farms serving up cold-pressed juices and smoothies made with organic produce, as well as a lineup of breakfast, lunch, and dinner dishes featuring lean proteins, whole grains, and lots of veggies. Case in point: The restaurant's bestselling Take on the World bowl, which includes quinoa, kale, beets, broccoli, hemp seeds, almonds, avocado, and a ginger miso dressing.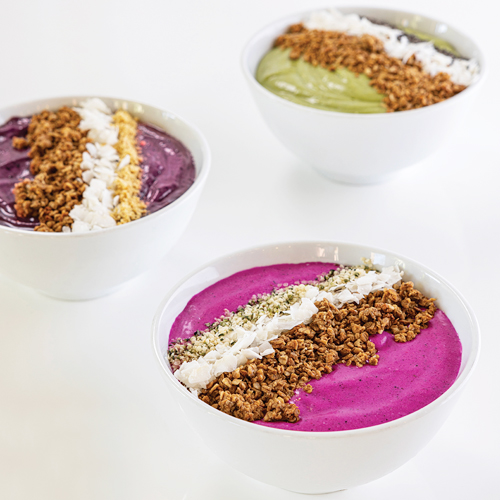 Although Enjoy makes a point to offer vegan, vegetarian, gluten-free and dairy-free options, the menu doesn't cater to any specific diet—rather, it aims to incorporate ingredients that help people get the balance of foods they need to feel their best.
"People really aren't concerned with weight as much as they used to be in terms of calories and food and all of that," Cross explained. "They just want to know that what they're eating is healthy. It's not loaded with fat, but has healthy fats, like avocados and almonds."
Kansas City has an appetite for the concept—Enjoy expanded its space in February 2019, and Cross plans to open another metro location this summer before eventually franchising the concept to make nutrient-rich foods more broadly accessible.
---
Kerry Goebel | Cultivare Greens & Grains
For Kerry Goebel, healthy food has to taste good.
Goebel opened Overland Park's Cultivare Greens & Grains with his brother Kevin in summer 2020, and he boils down the restaurant's approach to a few simple points: "Is it balanced? Is it good for you, and does it taste so good that you want to come back and eat it tomorrow?"
Cultivare aims to check all those boxes by serving up an ar
ray of salads, grain bowls, soups and paninis that are crave-able and satisfying. The menu includes dishes like the ahi tuna poke bowl with avocado, mango, and cucumber; savory diced-chicken thigh lettuce wraps; and Goebel's personal favorite, the steak and gorgonzola salad, which is made with petite beef tenderloin and a black-pepper horseradish dressing. (Cultivare's dressings and sauces are a particular point of pride for Goebel.)
The brothers have owned pizza concepts in KC for a decade but decided to branch out and open a more health-minded restaurant based on what they wanted to see as local diners and the growing popularity of similar concepts around the country.
"I feel like a lot of adults now who haven't deliberately spent time learning about nutrition and the science behind a healthier diet have sort of this very elementary idea of what healthy eating is that goes back to this pyramid we all saw in grade school," Goebel says, adding, "Ten years ago, I don't think people were very conscious of their eating."
The renewed attention isn't only changing the way people eat—it's holding grocery stores and restaurants to a higher standard and altering how they source food, he explains. Cultivare diners are already benefiting from the shift, as more locally produced ingredients make their way onto plates because of increasing demand and more widespread distribution. One example? Salads made with leafy greens from Crossroads-based Missing Ingredient, an urban farm with a hyperlocal footprint.
"In that scenario, everybody wins," Goebel says.
---

Gigi Jones | Gigi's Vegan + Wellness Café
Adopting a plant-based lifestyle wasn't just life-changing for Gigi Jones—it was lifesaving. In 2015, she was diagnosed with colon cancer. Through diet and lifestyle changes, Jones says she was able to beat cancer without surgery or chemotherapy, although she emphasizes the importance of listening to doctors and following their advice.
"Once my eyes were opened and my journey started, I was super excited," she recalls. "My energy levels went up, I looked ten years younger, I felt ten years younger. I'm turning flips with my grandchildren—I'm so excited. I thought, 'Oh my gosh, I have to go back and educate the community. This is something new, this is something that they need to know. This is how we heal.'"
Jones, a certified dietitian, nutritionist, and health and wellness coach, founded the MidWest Soul VegFest, an educational event featuring national and local speakers, workshops, plant-based cooking demos, and of course, vegan food. And in July 2020, she opened Gigi's Vegan + Wellness Café along Westport Road.
"We're not just a restaurant," Jones explains. "We don't even call ourselves that—we're a wellness cafe."
The café offers organic cold-pressed juices and smoothies, wellness shots, and vegan breakfast, lunch, and dinner options, like the customer-favorite Westport Burger, a veggie burger nestled inside lettuce served with avocado mash. No sugars, salt or oils are added to Gigi's foods, and Jones works with farmers and suppliers in Kansas City and grows some ingredients in a garden behind the café.
Beyond serving up food, Gigi's offers support on going vegan, develops meal plans and provides meal prep services, hosts health and wellness classes, and even has an on-site infrared sauna. A medical doctor will be joining the team this year to serve even more people.
"We just want to be that resource in the community, and believe that we're becoming that," Jones says.
---

Robin Krause | Unbakery & Juicery and Billie's Grocery
After selling five businesses and struggling with feeling worn out, Robin Krause decided to press pause.
"I took a year off to study health coaching," she says. "I did an herbal apprenticeship; I did a yoga teacher training just to try and find that next path —'What is actually healthy? What is health?'"
It's a big question, and one that she explores at Unbakery & Juicery, her East Brookside grab-and-go spot as well as at Billie's Grocery, a bright and breezy midtown restaurant that serves up filling, nutrient-dense fare. Both feature food and drinks that nourish the body, support detox systems, and offer plenty of options for people with dietary restrictions, including baked goods and sweet treats.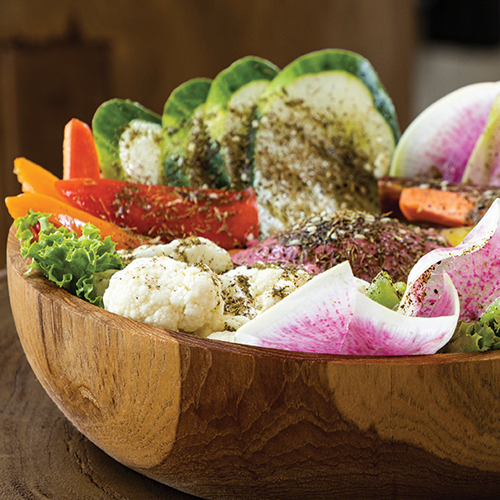 Unbakery opened in 2016 and allowed Krause to experiment with serving Kansas Citians things they might not have been familiar with at the time, like chia-seed puddings and sauces without dairy or sugar. When the concept took off, Krause decided to go to nutritional therapy school and graduated as a practitioner in 2018. She brings that understanding of nutrition to customers curious about the benefits of what they're eating and drinking at Unbakery, as well as Billie's, which opened in summer 2020. Krause says the restaurant serves healthy fats, proteins, organic veggies, and carbs, but done differently than you might expect.
"It has a little bit of something for everybody, and that was my goal, just to bring everybody together," Krause says, noting that guests can enjoy everything from a vegan soup to Billie's deli-style Reuben with house-fermented purple kraut and fries cooked in rice oil.
"Here, we don't do any fat-free," she explains. "Every cell needs fats in your body. We do have fat, we do have dairy, we do have oils—they're just a little better."