Will the Kansas City Chiefs win the Super Bowl? We can't definitively say. What does tight end Travis Kelce's dream pizza taste like that? Now that, we can answer.
By combing through endless tweets, Instagram posts, interviews and more, we've rounded up some of the local food that fuels our new Super Bowl contenders. We're not saying picking up some of their favorites will help them win—but it probably won't hurt.
Barbecue
No surprise: Chiefs players eat a lot of Kansas City's signature cuisine, starting with Zarda. The restaurant has catered Chiefs training camp for more than 30 years, serving up 160 pounds of juicy limited-reserve burnt ends, plus smoked turkey and hickory-smoked pulled pork to feed the team ahead of this season.
But that's just the tip of the barbecue wing. This fall, safety Tyrann Mathieu told us Gates and Q39 were at the top of his list. Q39 also has fans in quarterback Patrick Mahomes and Kelce, who have both shouted out the award-winning restaurant.
Then on a recent Jimmy Kimmel Live appearance, Mahomes sang the praises of Joe's Kansas City Bar-B-Que's legendary Z-Man, an epic beef brisket sandwich with smoked provolone cheese and onion rings that manages to pack so much satisfying flavor into each bite it's almost a religious experience. The quarterback told Kimmel, "I get it Postmated to me—I get it probably once every two weeks."
Mahomes also professed a controversial opinion about Jack Stack's sides (shockingly, one that doesn't involve the star's favorite condiment, ketchup) during his early days in Kansas City.
"If y'all haven't been to @jackstackbbq and mixed the cheesy corn and beans… you haven't lived!" Mahomes tweeted. Maybe combining the restaurant's smoky-sweet beans, studded with hunks of brisket, and rich four-cheese corn bake with slivers of hickory-smoked ham is the secret to MVP status.
Pizza
Of course, elite athletes can't live on barbecue alone. Enter pizza.
Kelce teamed up with Minsky's to create the Kelceroni pie at the start of this season. The pizza starts with brushed garlic butter crust, then comes a layer of pepperoni and soppressata salami topped with a torrent of Wisconsin mozzarella and finished with cupping and charring pepperoni—discs of the meat that curl up into delicious, rounded cups with crispy, bacon-y edges. The monstrously meaty pizza entirely justifies its own existence but in case you needed a little push to order it, a portion of proceeds from the Kelceroni benefits Kelce's 87 & Running Foundation.
Burgers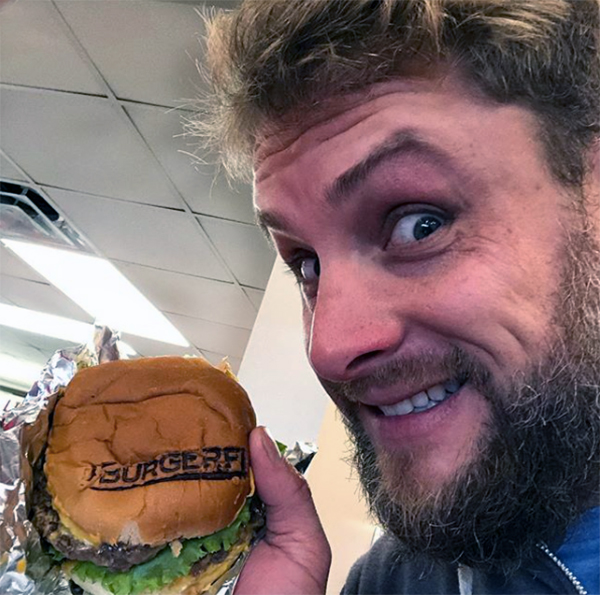 Chiefs punter and Walter Payton NFL Man of the Year nominee Dustin Colquitt opts for burgers, shouting out Leawood's BurgerFi location alongside a photo of himself with one of the eatery's signature branded buns on Instagram.
Coach Andy Reid went even more public with his burger love this fall, appearing as a guest on Guy Fieri's Food Network show Diners, Drive-ins and Dives. Reid took the noted Raiders fan to Kansas City gems The Local Pig and Pigwich, calling the latter "the greatest sandwich shop you've ever eaten at."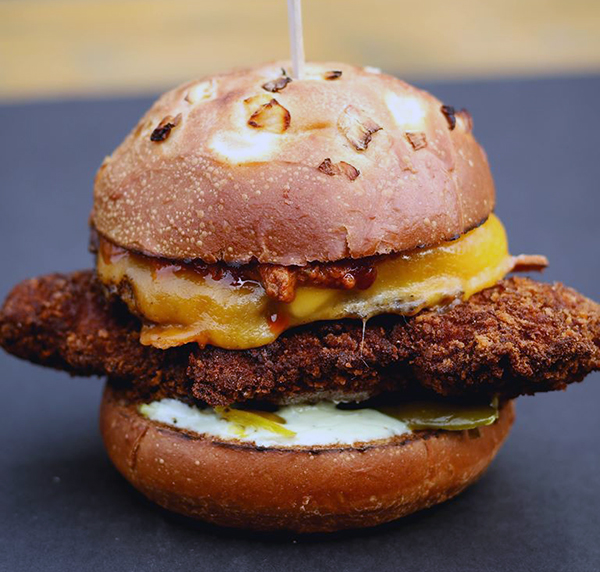 Chef Alex Pope served the famous pair a short-rib burger, the juicy beef braised overnight in red wine and complemented by traditional fixings tomato and lettuce, plus an aioli and complex tomato jam for an upgraded take on the basic burger. He also took Reid and Fieri through the process of preparing the Big Pig, which features a smoked pork burger (made by combining slow-smoked pork butt and raw ground pork into a patty and tossing it on a grill), a palatial buttermilk-brined pork tenderloin and some top-tier fixings, including house-made ranch and bread-and-butter pickled jalapeño.
"This is the best sandwich that we've ever had," Reid proclaimed.
Who are we to disagree with the man in charge, especially when he has such good taste?