The light of an early summer evening pours through the windows. Soft jazz plays in the background. Modernist chairs comfortably curve around diners who watch as more guests stream in—young women after work, couples of all ages, groups of friends. The wait staff in jeans—this '60s building with the soaring tulip columns used to be the headquarters of Lee Jeans—anticipate one's every wish. "This is so civilized," someone says at another table.
Yes, it is.
Far from the klieg lights, blaring music, and urban rustic of new eateries serving foams and spoon-size portions, the Restaurant at 1900 aims for something more difficult to achieve. Call it fine dining meets genteel comfort.
From the polished riffs on American cuisine by the executive chef, Linda Duerr, to the character-forward wine list curated by the beverage director, Doug Frost—looking for a white wine that is soft and light or full-bodied?—and the practiced, friendly oversight of general manager Keith Goldman, one is in good hands.
Relax. Converse. Sit back and enjoy.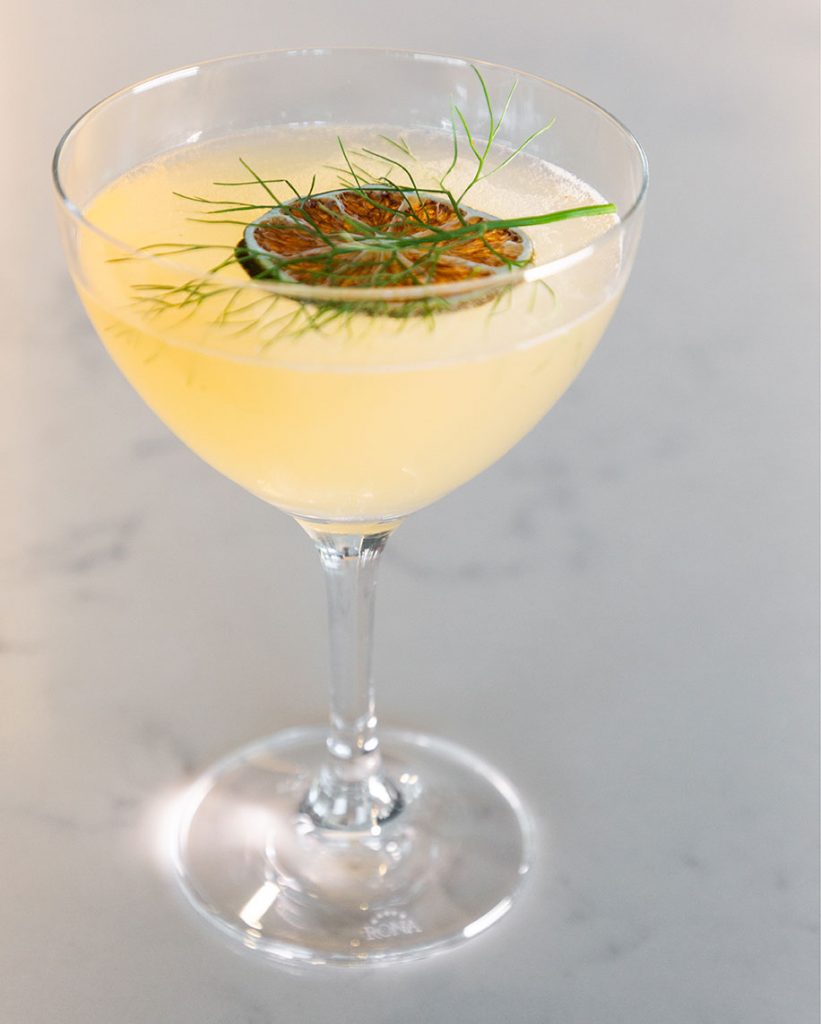 The flavors of each season will dominate the menu. Start with a signature cocktail, say Spring in E Major, with aquavit, pisco, Riesling, ginger, lemon, cardamom, and asparagus bitters to pique interest.
Duerr's cuisine is likewise classic yet inventive, no better illustrated than with the gently flavored lobster pop tart. With brandied whipped cream and a sprinkling of black lava sea salt, it's just right with a sip of Prosecco. Duerr makes all the pastas, allowing her to offer the cinnamon stick-shaped casarecce with a pesto of farm greens—kale, Swiss chard, collards—for a lemony finish. 
Before each dish comes to the table, guests receive just the cutlery and the tableware needed. A slight gesture and the wine glass is refilled, the question answered.
Soon, the entrée arrives. Slow-cooked veal breast is something not seen often. It's a traditional springtime Seder dish recently celebrated by Joan Nathan in The New York Times. In Duerr's hands, it has a texture reminiscent of a braised pork roast, crispy skin on the outside, fork-fully tender on the inside. Grilled white asparagus, a loose "latke" of grated potato and turnip, and a tangy rhubarb compote round out the flavors.
Pastry chef Elizabeth Paradise goes equally modernist. Her bay leaf-infused panna cotta with candied strips of rhubarb creates a smooth, toothsome end to the meal, but one would also do well with a trio of house-made sorbets or the cookie plate.   
As the evening settles in, one's gaze goes to the seven abstract paintings by Kansas City artist Lester Goldman lining the far wall. Although they were recently selected from the late artist's studio, "They look like they've always been together," says general manager Goldman (no relation).
That practiced, assured feeling is no accident. The Restaurant at 1900 knows what it's doing.