When the pandemic struck last year, bars and bistros got creative once they were able to offer to-go cocktails. Not only did it give bartenders an opportunity to be inventive; it gave customers a chance to enjoy a few libations alongside their carry-out orders.
One year later and carry-out cocktails are still going strong. We hit up several restaurants to find out who's serving what and to suggest a few of our top picks.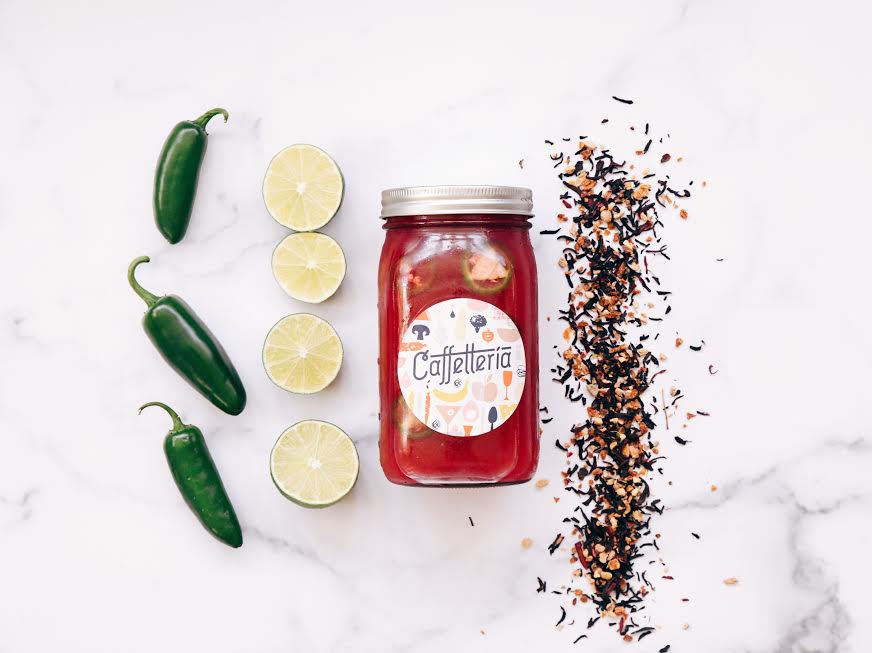 A Spicy Favorite
At Caffetteria, creativity is always on the menu. The Prairie Village eatery whips up new recipes each Monday or invents tasty cocktails, well—any day of the week, says owner Jo Marie Scaglia. Last year they unveiled their now insanely popular Jalapeno Hibiscus Margarita. "It starts with a hearty base of Hornitos tequila mixed with hibiscus loose-leaf tea, jalapeño simple syrup, orange liqueur, lemon and lime juice, and a dusting of chili lime salt around the rim," she says. "It's now our most popular top seller. To me it tastes like a SweeTart meets a Jolly Rancher."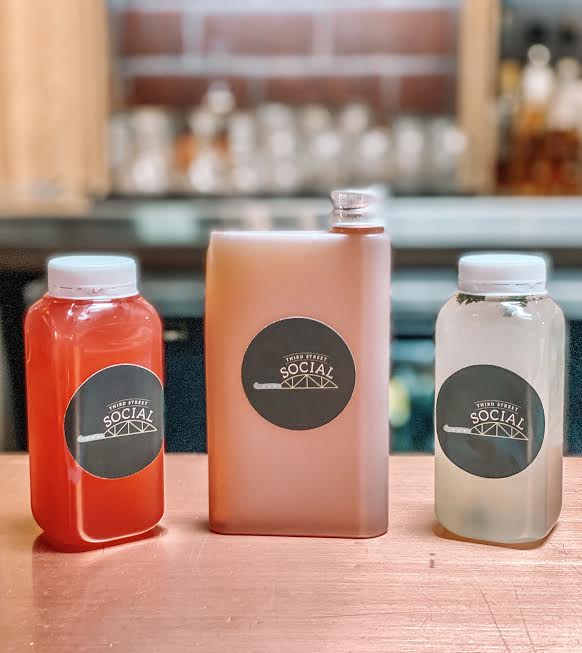 Thrice As Nice
Third Street Social is shaking up the cocktail scene with three new, single serving cocktails to go. First up, The Truman Old Fashioned, which is served with Buffalo trace, Pierre Ferrand dry curaçao, simple syrup, orange bitters, and house-brandied cherry juice. The tartastic Ruby Red Slipper features Deep Eddy grapefruit, simple syrup, triple sec, lime juice, and cranberry juice. Finally, their Cilantro Jalapeño Margarita cocktail features Espolon Blanco, jalapeño simple syrup, lime, triple sec, fresh cilantro, and cucumber.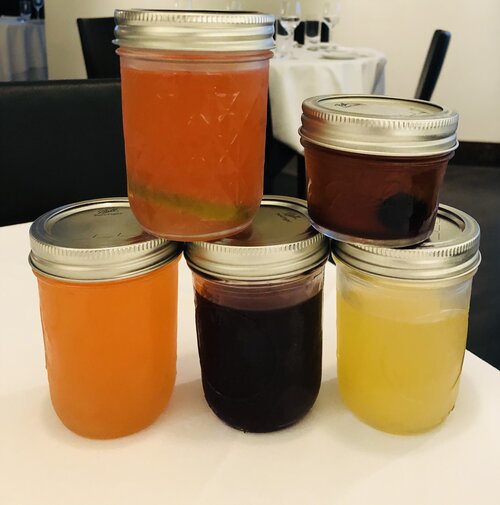 A Story To Tell
Story bartender/mixologist Daniel Perdue has been busy creating a wide variety of cocktails to go. We spied nearly ten featured libations on the menu. Here are two of his personal favorites: "The Modern Revival is my favorite cocktail on the list. It's my take on the classic Last Word. We make a grapefruit oleo saccharum, our house herbes de provence, and bitters and pair it with Tom's Town gin, Aperol, Green Chartreuse, and fresh juice. It's a wonderfully balanced, herb-forward cocktail. The No. 2 is our take on the first cocktail ever, the whiskey old-fashioned cocktail. We make a salted caramel syrup, blend it with our house-mixed bitters, and pair it with Rittenhouse bottled in bond straight rye."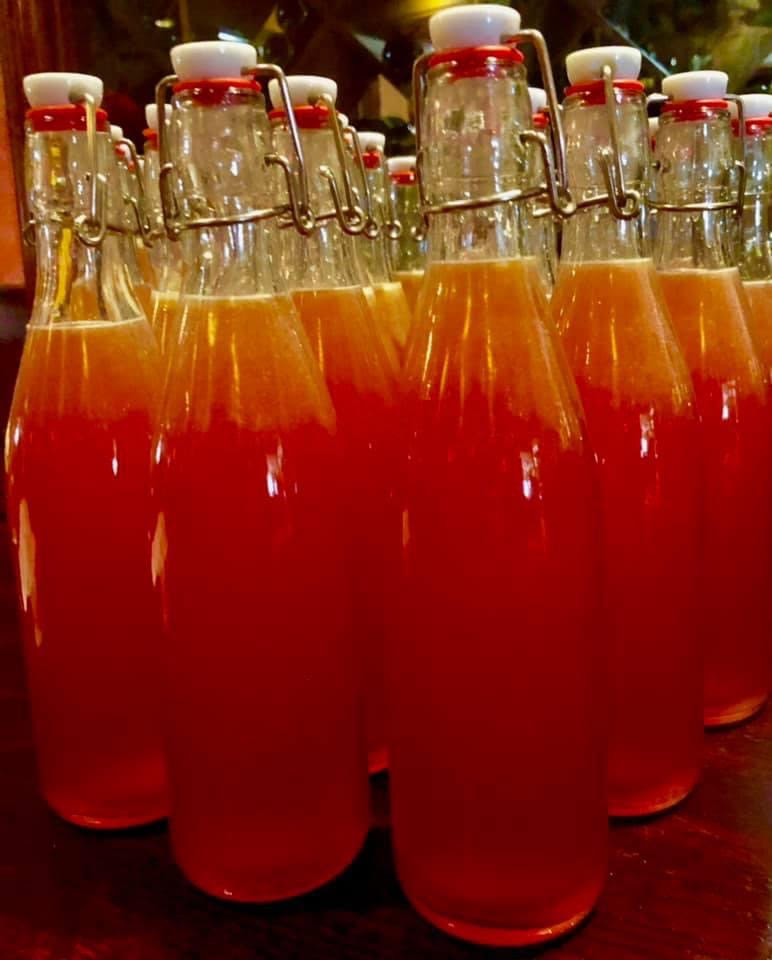 Hello, Cello!
No meal at Jasper's Ristorante is complete without tugging back a shot of his homemade limoncello or blood orangecello. "Blood oranges are named for their deep red flesh and sweet, yet tart flavor. Just so delizioso," says chef/owner Jasper Mirabile. Now you can enjoy bottles of his magically fruity, boozy elixir to take with you. It's a perfect way to cap off carbo-loading his homemade pasta. "You can make variety of different cocktails or you can just enjoy as a liqueur," he says. "Think Blood Orange Martinis or perhaps Blood Orange Mimosas prepared with prosecco."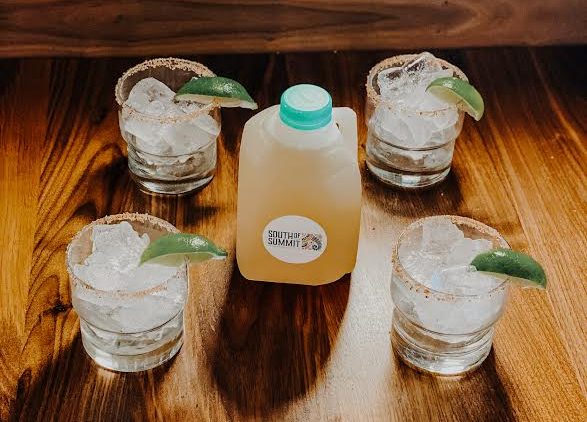 Margs on the Move
South of Summit is ratcheting Taco Tuesday up a notch! Every Tuesday, tacos at the Waldo eatery are just $2.50 all day long. Guests taking their tacos to go can wash them down with SOS's house margaritas. The quart of carryout margaritas is $19.95 and makes four to six margaritas. The special is available for both dine-in and carryout orders.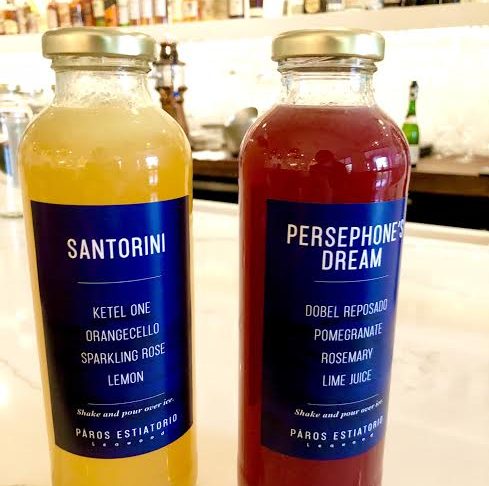 Mediterranean Mod
Paros Estiatorio in Leawood has a unique Greek spin on their to-go libations. Their 16 ounce, shake-and-pour bottles serve three to four people. May we suggest The Med, a concoction of Skinos Mastiha, basil, sugar, lemon juice, soda water, and cucumber? We're also fans of their Santorini, featuring Ketel One, Orangecello, sparkling rosé and lemon. Another crowd favorite is Persephone's Dream with Dobel Reposado, pomegranate, rosemary, and lime juice.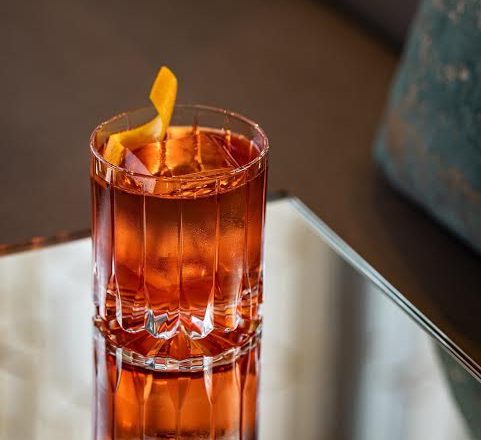 Hey, Pal!
For Verdigris's spring/summer menu, head bartender Adam Chase wanted "to feature a lighter body cocktail with more savory flavors that still maintains the booze-forward style we all love at our bar," he says. "The Old Pal, a Negroni variation, was one of my favorites when I started drinking cocktails at my first bartending job. Our recipe uses an Italian dry from Bèrto for our vermouth component, Campari and Gran Classico red bitters, then rye whiskeys from Ezra Brooks and our Verdigris Private Barrel #1 from Knob Creek."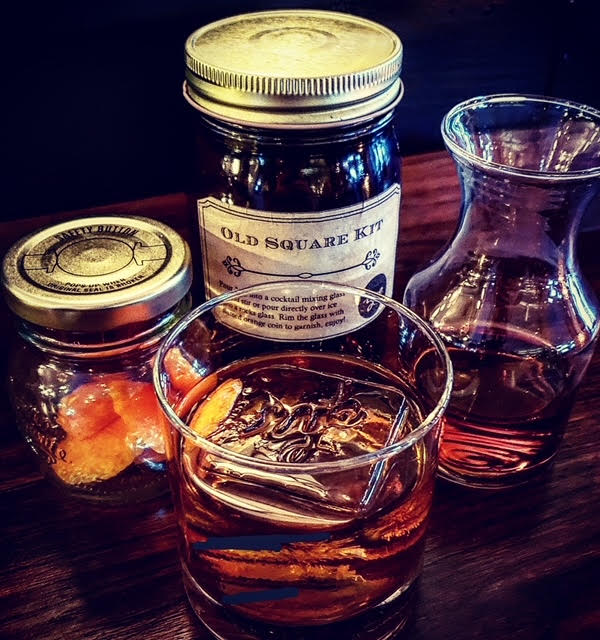 Everything But The Ice
Rye has an inspired twist on an old New Orleans classic, the Vieux Carre. "Our Old Square is blended in small batches and barrel-aged in-house," says co-owner Megan Garrelts. "We've slightly adjusted the recipe, and we always serve over a cube of crystal-clear ice and garnish with a flamed orange peel." Available to go at either location. Kits start at $25—and include everything but the ice.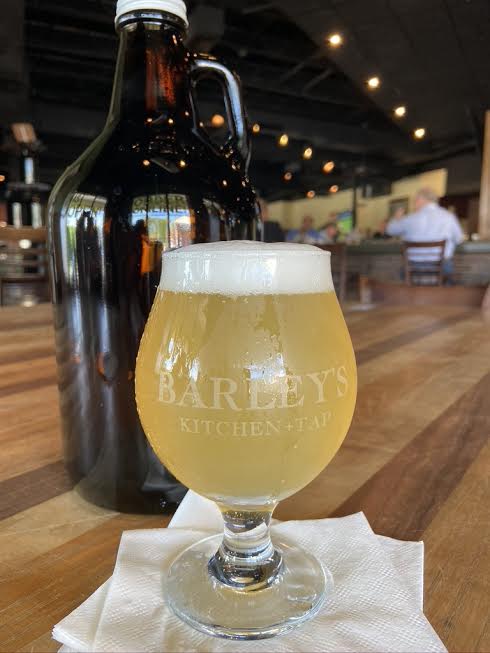 Never Fear, Beer Is Here
Barley's Kitchen + Tap in Overland Park offers 99 beers from which to choose, and you can enjoy their craft beer Growlers To-Go for $15, $25, and $35. And bonus, you can bring them back to be refilled! Order when you dine in and take home to enjoy, or order online.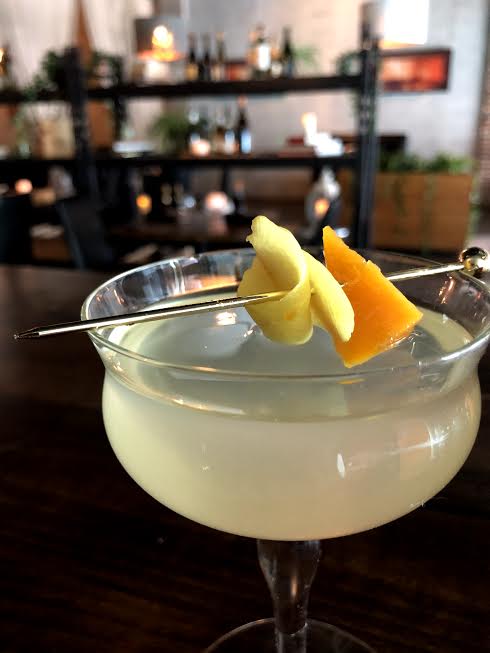 Smooth and Faintly Sweet
Affäre's bar director, Chase Ihde, says his cocktail The Zephyr is all about originality. The sparkly libation offers a smooth, faintly sweet, aromatic mix of bison-grass vodka, fino sherry, and a spiced ginger-lemon pickle syrup. Perfect to go alongside Affäre's famous schnitzel.

It's Not Easy Bein' Green
Green with Envy is one of Monarch's most popular cocktails to go. "It's a riff on a classic mojito," says bar director Brock Schulte.  "We substitute Thai basil for mint, and the addition of kumquat and ginger gives it a citrusy little kick." Plus, instead of topping with soda water, Green with Envy sports sparkling coconut water, which lends a cooling and thirst-quenching finish that adds a great texture and body to the cocktail. (P.S. It's practically a health drink.)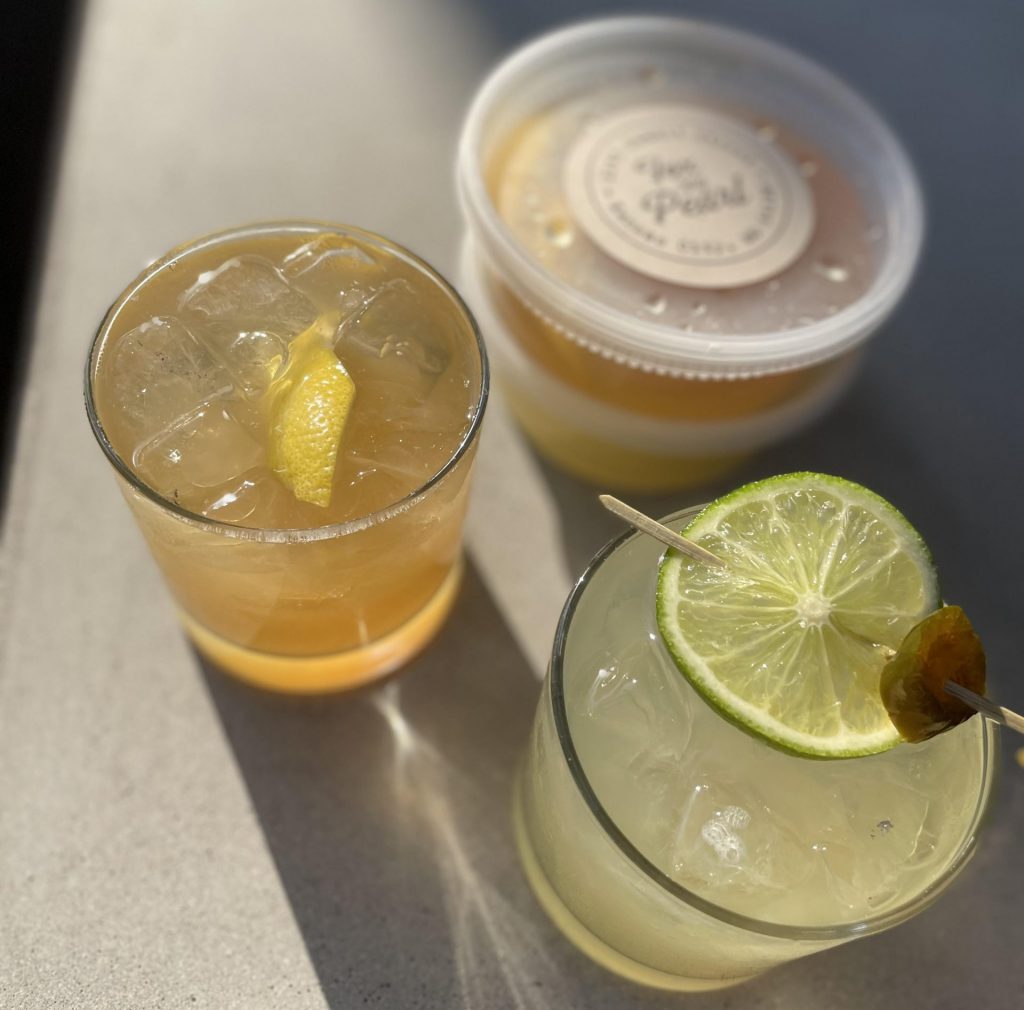 Kick Back and Relax
Katie Shipman, Fox and Pearl's bar manager, has created a couple of unique adult beverages to enjoy at home. First up, her strong-but-not-too-strong Ride to Live features an applewood-smoked bourbon blend, Mommenpop orange vermouth, citrus, angostura bitters, and lemon peel garnish. Shipman's Take it Easy cocktail will warm you up from the inside out. She combines jalapeño-infused sotol wheeleri, Giffard triple sec, citrus, agave, and adds a lime wheel and candied jalapeño garnish.

Growlers Aren't Just for Beer!
BRGR in Prairie Village is offering five drink options in 32-ounce growlers from both locations. Options include the Casa Margarita, Red Sangria, Vodka Lavender Lemonade, White Sangria (all available at P&L) and Aqua Fresca. Plus, BRGR's signature Vodka Lavender Lemonade is made with infused Tito's vodka, house-squeezed lemonade, crème de violette liqueur, and lavender.

Let's Taco'bout It!
Tacos and margaritas go together like peanut butter and jelly. Taco Republic knows you can't have one without the other, which is why they offer 12-ounce and 32-ounce Casa Margaritas, Verde Margaritas, and Palomas to go daily. What is a Verde Margarita, you ask? It's filled with Taco Republic's signature spicy serrano pepper-infused Milagro Silver tequila, cilantro poblano syrup, and fresh lime juice.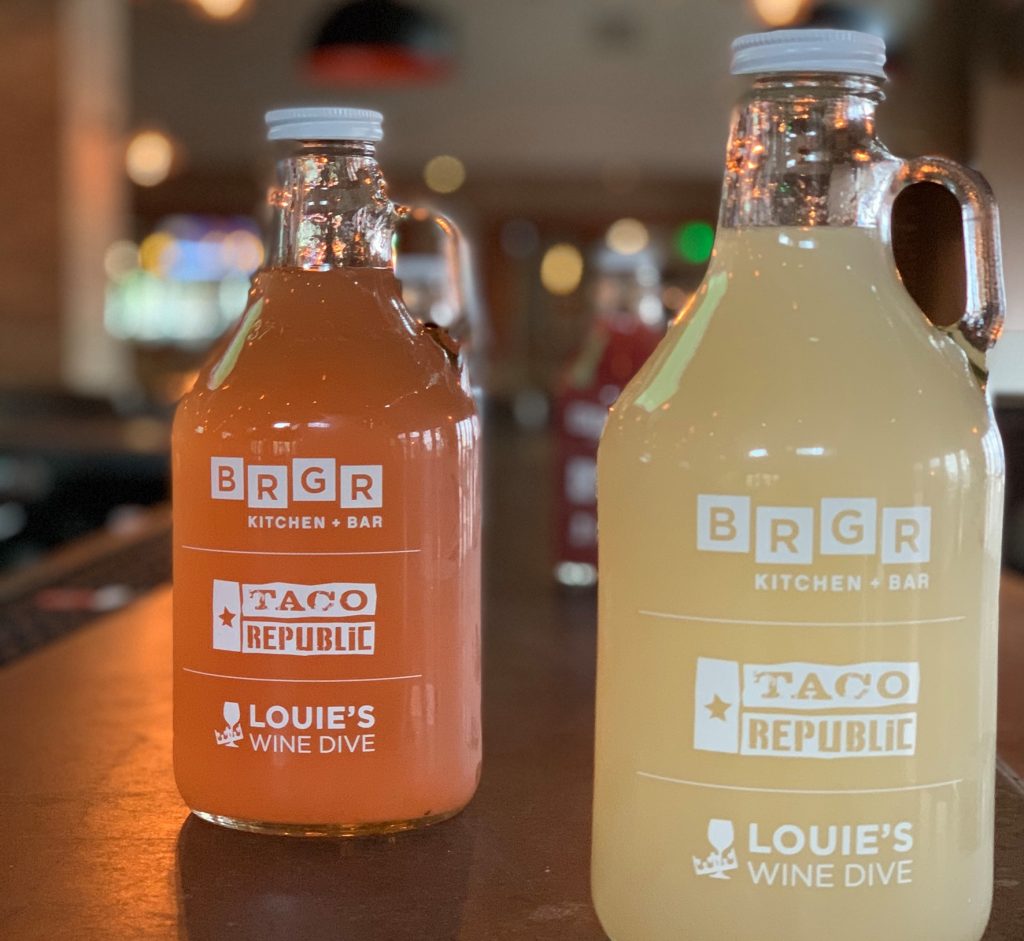 What's In a Name?
Don't let the name fool you, Louie's Wine Dive has a lot more than just wine! In addition to their delightful food options, Louie's has four delicious to-go cocktails available—including the Lavender Lemonade, Red Sangria, Old World Fashioned, and LWD Rita. Order the 12 ounce (serves two) or 32 ounce (serves four). And, because they just couldn't leave out the wine (it is in their name, after all), guests can also choose from sauvignon blanc, pinot noir, and sparkling rosé wine bottle options to go.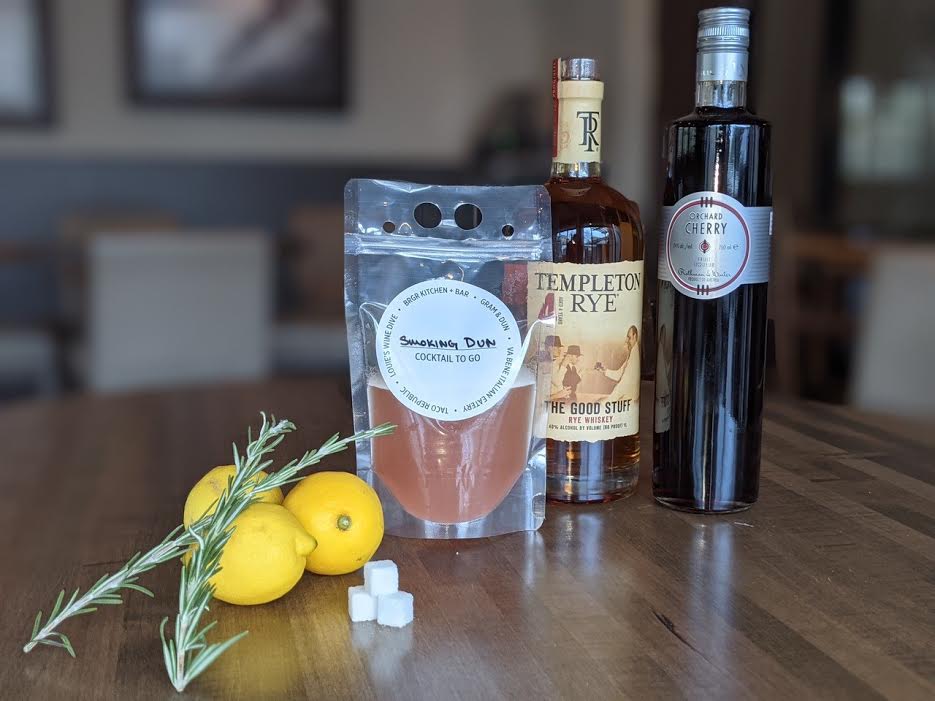 Dash & Drink at Gram & Dun
Why visit the liquor store and your favorite restaurant when you can make just one stop? Country Club Plaza's refreshed and reinvented Gram & Dun offers its Bourbon Old Fashioned, D Cup, G&D Margarita, and Red Sangria to go. Cocktails not your thing? They also offer a buy a bottle option for wine lovers, with red, white, and bubbles selections to choose from.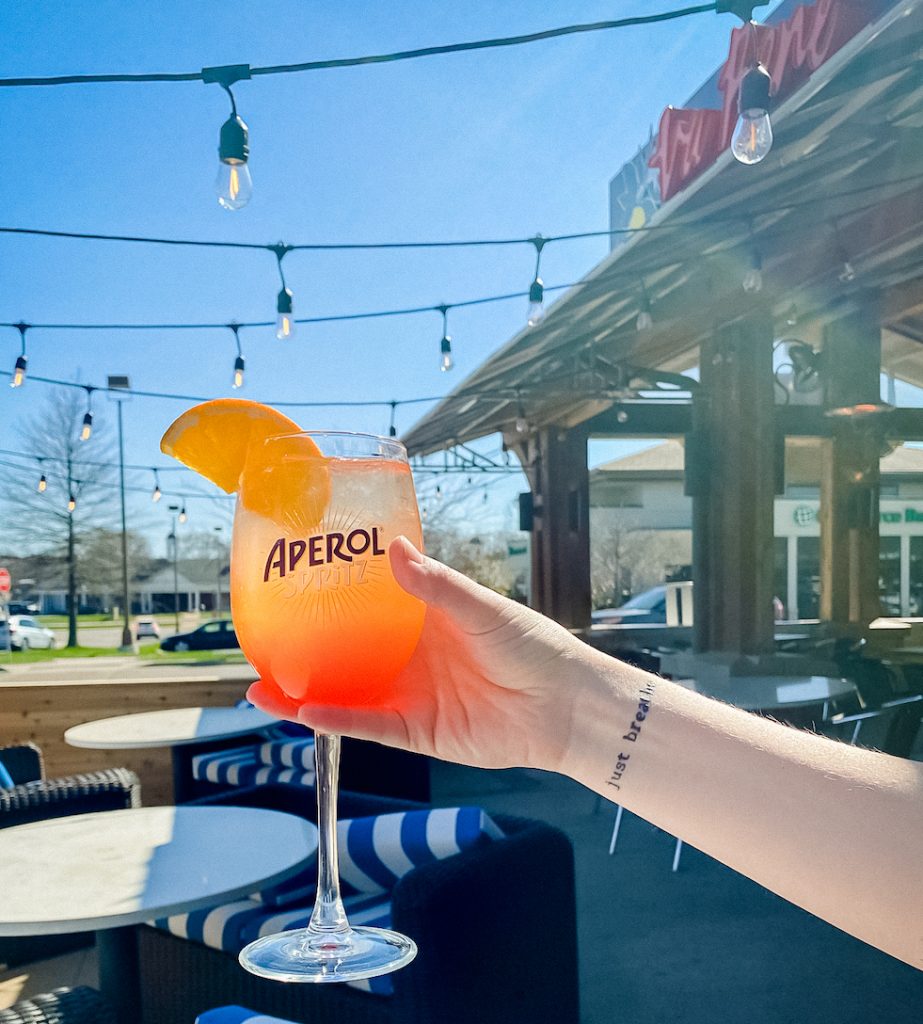 Mangiare e Bere!
It wouldn't be an Italian night in without a little booze! Va Bene, a new little Italian spot located in Corinth Square in Prairie Village, offers its signature Aperol Spritz, Italian Mule, and Tito Lito to go daily for $14 per cocktail. Va Bene also offers six different wine varieties for those looking for a more classic wine and pasta night at home.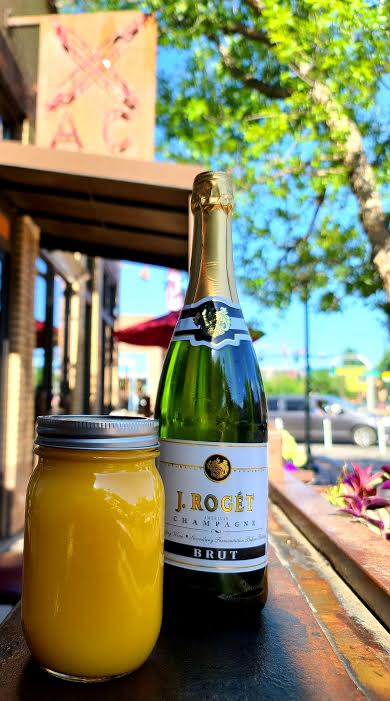 Two-In-One
Drink up! Atomic Cowboy in Westport offers atomic size cocktails to go that serve four people. Get 'em daily from 7 a.m. to  close. Guests can get an Atomic Bloody Mary, DBC Supermosa, Strawberry Rhubarb Mule, Atomic Margarita, Classic Mimosa, and Mom's Iced Latte to go. Meanwhile, when Denver Biscuit Co. is open from 7 a.m. – 2 p.m., guests can choose from nine single-serving carryout cocktail options, in addition to the multi-serving options. The DBC Supermosa (pictured) includes sparkling wine, Svedka Clementine vodka and orange juice. Yes, please!