Healthful food is the name of the game when it comes to meal planning in the new year. Turns out, local chef Chris Hall of Blue Springs-based Colonial Kitchen has the perfect recipe to try at home.
Hall's Kohlrabi and Carrot Salad recipe is a quick fix chock-full of bright, flavorful ingredients that are healthy too.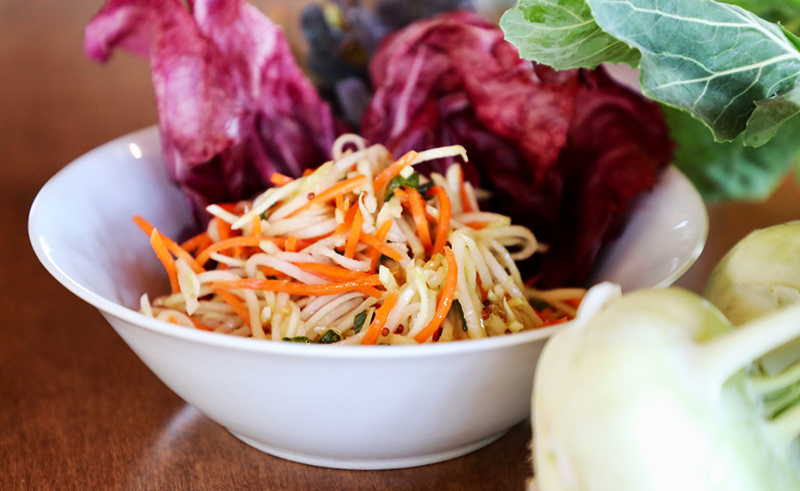 Kohlrabi is a winter vegetable like cabbage and often is an ingredient in European and Asian dishes. It's high in antioxidants such as vitamin C, promotes gut health with high fiber content, supports a healthy immune system, and may lower the risk of heart disease. It can be enjoyed raw or roasted in salads like this recipe, or in slaws, stir-fries, and soups.
Meanwhile, carrots are a known power veggie that reduces the risk of cancer, lowers blood cholesterol, helps with weight loss, and strengthens eye health. The bright orange vegetable is a good source of vitamin A, biotin, vitamin K1, potassium, and vitamin B6.
Kohlrabi and Carrot Salad
Prep time: 15 minutes
Serves four 
Ingredients: 
1 fresh kohlrabi (julienned)

6 ounces fresh carrots (julienned) 

1 tablespoon chopped green onions 

2 tablespoons Dijon mustard 

2 tablespoons cider vinegar 

2 tablespoons grade A maple syrup 

4 tablespoons canola or peanut oil 

Pinch of salt 

1 cup fresh microgreens 
Directions:
In a medium bowl, mix mustard, vinegar, maple syrup, and salt, and slowly whisk in canola oil. Toss this mixture with the kohlrabi and carrots. To serve, place ¼ cup of microgreens onto a plate, spoon mixture onto greens, and top with chopped green onions.