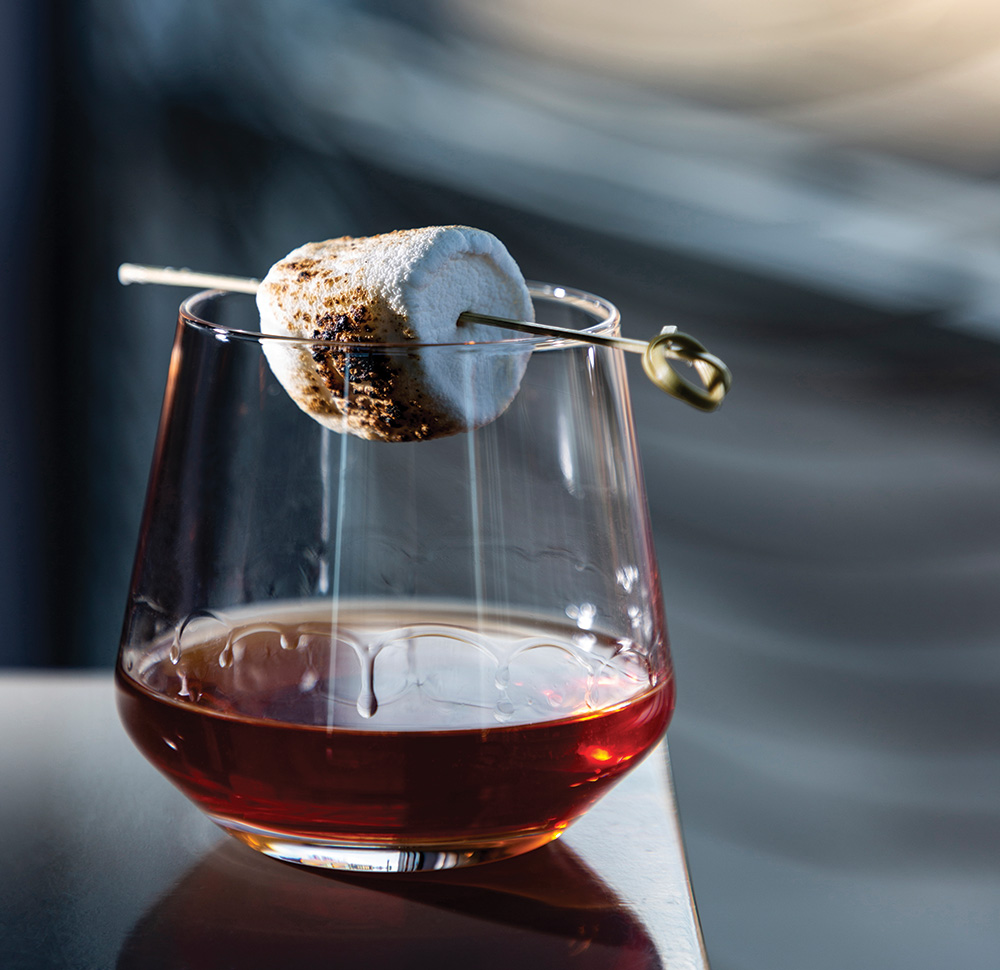 Julep's commitment to cocktails goes far beyond its namesake beverage. Although whiskey is the star of the show (if you have any doubts, just check the sign by the front door), anyone who's stepped into the Westport watering hole can attest to the fact Julep caters to all tastes.
Opened by husband-and-wife duo Keely Edgington and Beau Williams in 2014, Julep (4141 Pennsylvania Ave., Suite 104) emerged at a time when beer reigned supreme in the neighborhood and throughout the rest of Kansas City. Nearly five years in, it's as persuasive as ever at making a case for sipping a cocktail or spirit, whether you're enjoying a Nellie Bly, a vodka-based libation with a kick courtesy of jalapeño and mint plus sweetness from pineapple, or one of four house-made Old Fashioneds. As for its eponymous juleps, options range from the traditional, made with Julep's Private Buffalo Trace Single Barrel bourbon, to the Decadent & Depraved, which introduces Old Overholt Rye and PX Sherry to the classic sugar and mint. Both are best enjoyed during the bar's annual Derby Day party.
The cocktail bar is a respite for drinkers in search of a more sophisticated experience in Westport without sacrificing a sense of fun. The whiskey selection is almost staggering, with bartenders routinely shimmying up ladders just to reach the rows and rows of options needed to create the perfect pour. But while many whiskey bars lean into their masculinity, Julep opts for a playful blend of swanky and Southern with pops of teal and glamorous light fixtures. It's always stylish, but never stuffy, just like its patrons.
Its Southern flair extends to the food. Executive chef Charles Barr doesn't settle for your standard bar bites. Bar nuts get an upgrade with applewood-smoked bacon and sweet and spicy notes that make them borderline addictive, and heartier plates like pork tenderloin pay tribute to Julep's low-country inspiration. Barr makes eating at the bar just as enticing as drinking, especially when brunch rolls around every Sunday from 10 a.m. to 3 p.m. If bottomless mimosas aren't enough to get you in the door, the cornmeal waffles with whipped spiced butter and house-made bourbon maple syrup and the delta blue shrimp and grits topped with ponzu sauce certainly will be.
Guests in search of a more intimate night out can book a table at Soft Conspiracy, a cozy hideaway located in Julep's back room where all cocktails are made tableside. The offerings, both food and drink, lean toward the more experimental. Sign us up.
---
A Walk in the Woods
Julep's A Walk in the Woods is a seasonal, old fashioned-style drink with a few elements that set it apart. It originated from Williams thinking about camping cocktails, something that "you could take with you on a getaway and not have to bring all those shaker tins and jiggers and the whole bit," he explains.
The rye is smoked as a subtle nod to a campfire, but if you don't have a smoking gun (or it just sounds like too much work), Williams encourages making the recipe your own. Make a batch and sip it from a Mason jar or pour it into cups; chill it down or enjoy it neat.   
1 ounce applewood-smoked Old Overholt rye whiskey

1

ounce Amontillado sherry

1

teaspoon maple syrup (preferably grade b; it should be rich and dark)

2-3

dashes of Angostura aromatic bitters
Build the drink in an old-fashioned glass and swirl together. Toast a marshmallow to serve as a garnish or opt for a high-quality black cherry.