Now that we've finally stumbled into autumn, it's time to break out those hearty recipes you've been squirreling away since February. But, hey—since we're givers, we'll do you one better! Every Sunday through November, we're offering up one new, delightfully delicious soup recipe from some of our fave chefs in the metro. Souper—er, super, huh? We thought so too.
Next up? We have a smooth, rich cauliflower bisque courtesy of our friends at Grand Street Café. It doesn't just taste divine; it looks delicious too. (Presentation, people!) And don't forget to invite your friends over because this recipe has enough to send your guests home with leftovers. (Plus, we all know soup is better the second day!) "Besides cauliflower being a great fall product, I've always liked pureed soups with a more composed garnish like that; they're better cooked and more texturally variant," says executive chef Aaron Wells-Morgan.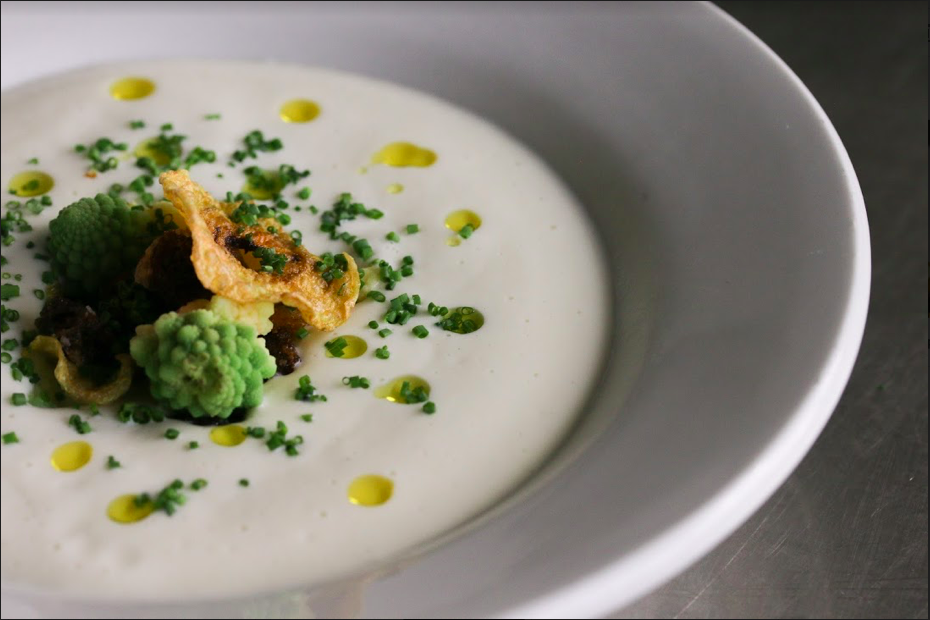 Cauliflower Bisque
(serves up to 20 people)
Ingredients:
1 whole head cauliflower
1 yellow onion
3 cloves of garlic
3 stalks of celery
4 tablespoons unsalted butter
1 quart vegetable stock
2 quarts milk
2 cups heavy cream
5 ounces pecorino cheese
2 tablespoons salt
1/2 tablespoon white pepper
1/4 tablespoon nutmeg (freshly grated)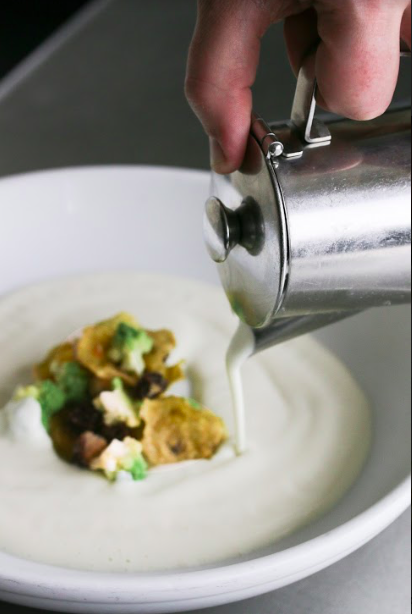 Garnish:
Rye bread croutons
Broccoli or cauliflower florets lightly blanched
Roasted extra-virgin olive oil
Minced chives or parsley
Directions:
Remove the stem and green leaves from the base of the cauliflower and discard them. Rough chop the cauliflower. Peel and thin slice the onion and garlic and then chop the celery. In a large flat-bottomed saucepot, melt the butter and then add in the vegetables. Cook the vegetables over medium heat until lightly softened, make sure to stir frequently in order to not caramelize or color the vegetables. Deglaze the pan with the stock and milk and bring the soup to a simmer.
Allow the soup to simmer for 15 minutes or until the vegetables are fully softened. Add in the remaining ingredients and simmer one more minute stirring constantly. Using a standing blender work in batches to fully blend the soup until completely smooth. Transfer the blended soup to a storage container or serving vessel and cool or serve. Garnish the soup with anything you like. (The chef's garnishes listed above are his preferred items.)