Now that it's autumn, it's time to break out those hearty recipes you've been squirreling away since February. But, hey—since we're givers, we'll do you one better! Every Sunday in October, we're offering up one new, delightfully delicious soup recipe from some of our fave chefs in the metro. Souper—er, super, huh? We thought so too.
Next up? It's a zingy, tart little number from our friends at Kauffman Center Dining Experience. You can find it on their new fall menu. "We wanted to do something bright and fresh for the end of summer and beginning of fall, and like to play with unexpected flavors and combinations," says the executive chef, Laura Comer. "This is a fun dish that really hits the palate everywhere with hazelnuts and almonds, bright and tart from the Meyer lemon and Granny Smith apples, sour and spice from the pickled grapes."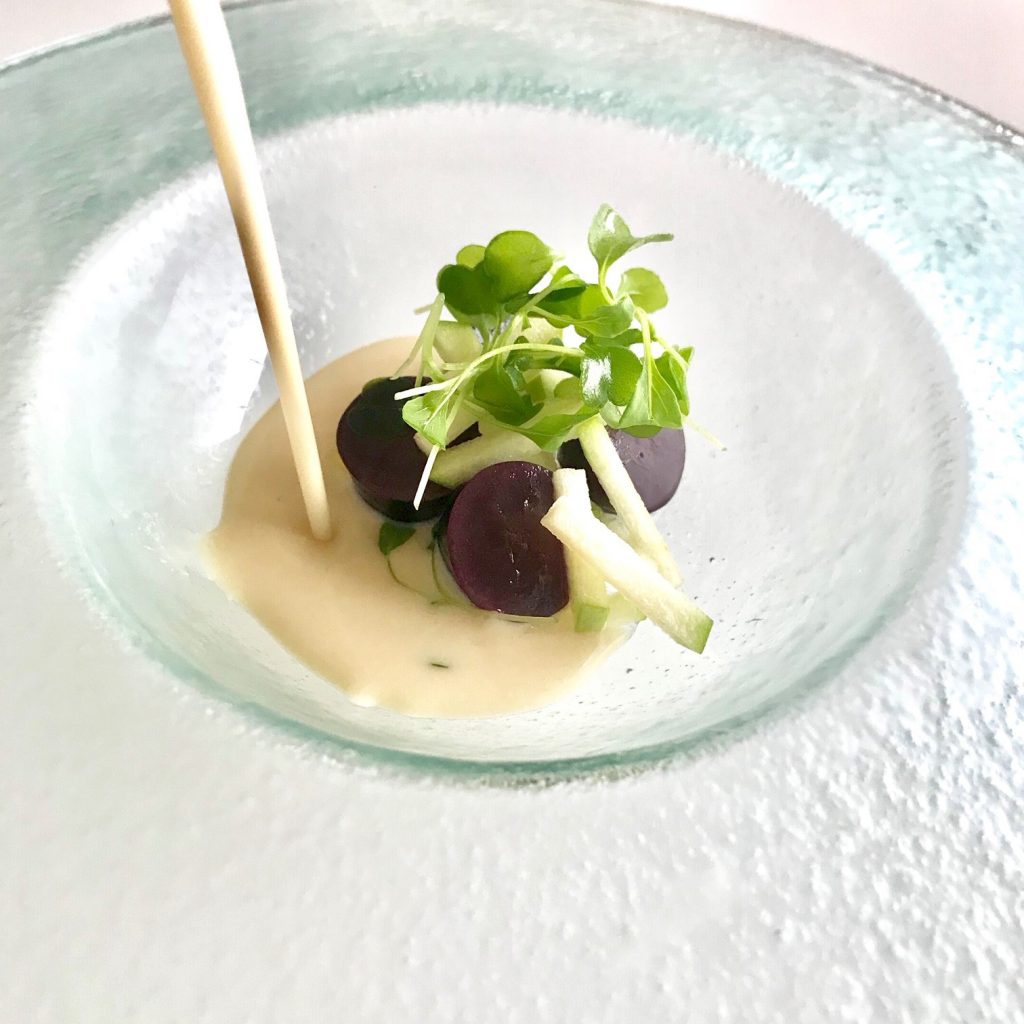 Chilled Ajo Blanco Soup
Yield: 4 Quarts
3 cups blanched Marcona almonds, pre-soaked overnight in water, strained
3 cups blanched hazelnuts, pre-soaked overnight in water, strained
15 slices white bread, dried out overnight and cut into cubes
6 cloves garlic
3 ounces sherry vinegar
6 Granny Smith apples, peeled and diced
6 cups cold water
3 cups olive oil
16 ounces almond milk
Kosher salt, to taste
Instructions:
1. Place the stale bread into a bowl and cover with the cold water and vinegar, blend until mixed well with an immersion blender, or place into a blender.
2. Add the strained almonds, hazelnuts, diced apple, garlic and almond milk.
3. Blend with immersion blender.
4. While blending, slowly add the olive oil.
5. Taste and adjust seasoning with salt and vinegar.
6. Strain through a fine mesh strainer or chinois. Strain excess pulp with cheesecloth.
7. Pour two cups of soup pulp and three cups of soup in a blender and mix until completely smooth, add back to the soup liquid and chill.
Pickled Grapes
1 pound black seedless grapes
4 ounces champagne vinegar
4 ounces water
4 ounces fresh-squeezed orange juice
2 cinnamon sticks
8 whole cloves
2 tablespoons granulated sugar
Instructions:
1. Wash and cut grapes in half.
2. Combine vinegar, water, orange juice, cinnamon sticks, cloves, and sugar. Bring to a boil.
3. Remove from heat and pour over grapes.
4. Chill. Let sit at least 2 hours before use.
5. Strain off liquid before serving.
Meyer Lemon Gel
5 ounces water
3/4 cup sugar
3 tablespoons agar
5 ounces Meyer lemon juice
Instructions:
1. Boil water and sugar. Once boiling, add agar and continue cooking until dissolved.
2. Once dissolved pull from heat and allow to cool. Once cooled, add lemon juice.
3. Set mixture in a shallow pan, and chill until firm.
4. Blend in a high-powered blender until smooth, adding water by the teaspoon if needed to thin. Strain.
To serve:
Serve soup chilled, in chilled bowls. Garnish with Meyer lemon gel, pickled grapes, and julienned Granny Smith apple if desired.