Beets are good for you, yes? Well, bless our hearts—we just discovered an amazing new cocktail at Third Street Social in Lee's Summit called "Gimme A Beet." Why have a V-8, when you could have this inspired libation? Think of all the vitamins and minerals and, um, booze? It's practically good for you!

We got the skinny (pun intended) about the genesis of the drink from general manager Jeni Rooney. "The drink is actually a collaboration between chef Donnie Dupin and me. So it's kind of a kitchen-meets-bar-drink recipe. Donnie thought that something with beets would look nice in a cocktail with the vibrant pink color that they put off," she says. "I knew I wanted to do a cocktail with gin, so we just went from there. We tested a few different recipes and this is what we came up with."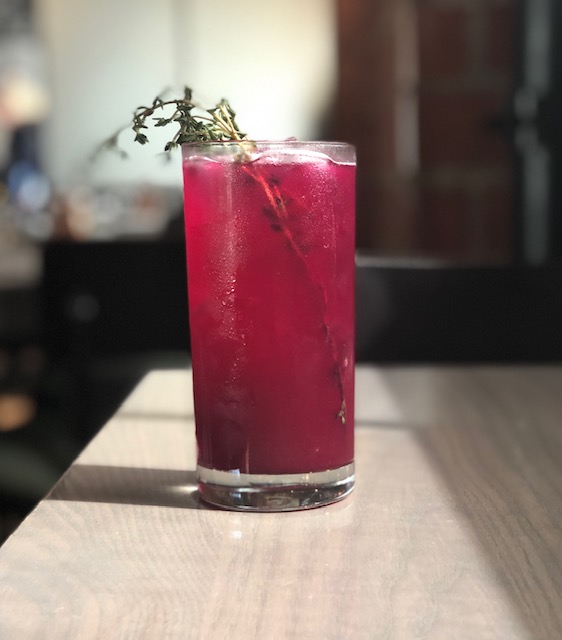 Gimme a Beet!
 Beet Puree:
2                      Green apples, cubed
2 ounces          Fresh ginger, sliced
6                      Medium red beets
1 cup               Sugar
4                      Sprigs of thyme
1 quart            Beet/thyme juice (left over from boil)
 *Peel and boil beets and thyme until beets are knife tender.
*Blend all ingredients until smooth.
*Cool before serving
Liquor:
2 ounces          Rieger Gin
3/4 ounce        The Big O Ginger Liqueur
3/4 ounce        Beet puree
1 ounce           Honey simple syrup
1 ounce           Lemon Juice
Fresh Thyme
Splash of soda
Mix beet puree, honey simple syrup, lemon juice, gin, ginger liqueur, leaves from one sprig of thyme and a splash of soda in a mixing tin. Shake and strain over ice into a high collins glass. Garnish with 2-3 sprigs of fresh thyme. Serve and enjoy!