This time of year, something decadently carbo-licious is just the ticket. So when chef Kristi Hogue unleashed her Sweet Corn Bread Pudding to the masses, we just had to steal the recipe.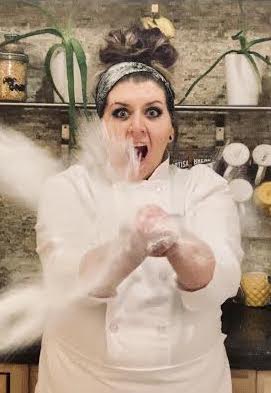 Hogue is known for her pastry prowess and divine desserts around the metro. She says she's given this particularly filling dessert her own spin. "It's a Midwestern twist on a Southern classic—the perfect combination of sweet and savory," says Hogue. "It's a delectable fall-inspired dish."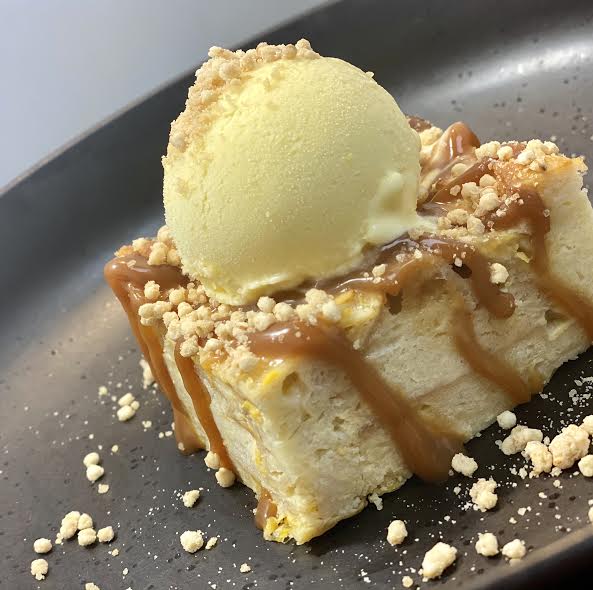 Sweet Corn Bread Pudding

Ingredients for bread pudding:
12 ounces croissants (about 6 croissants)
9 ounces baguettes (about 6 cups)
Custard:
3 cups creamed corn
2 cups whole milk
2½ cups heavy cream
¾ cup granulated sugar
1½ teaspoons vanilla extract
One dozen large eggs
1 tablespoon bourbon
Directions:
Start with cutting the croissants and baguette into 1-inch cubes and set aside. In a medium-sized stockpot, combine milk, heavy cream, sugar, vanilla, and bourbon. Place milk mixture on stove and bring to a boil—careful not to let it boil over.
While milk mixture is heating up, crack eggs into a large bowl and whisk together until well combined. Once milk mixture has come to a boil remove from heat. Using a ladle, slowly temper the hot liquid a little at a time into the eggs whisking constantly. (Chef note: adding too much of the hot liquid at once will cause your eggs to scramble.) Once all of your hot liquid has been added to the eggs, strain your custard through a fine mesh strainer. (Chef note: this ensures there will be no lumps in your custard if you tempered your liquid too quickly into the eggs.)
Return custard to a large bowl and whisk in the creamed corn. Add your cubed bread to the custard and fold everything together making sure all of the bread is covered evenly. Let sit at room temperature for 30-45 minutes, stirring occasionally. Grease a 9-inch by 11-inch baking dish generously. Stir your bread pudding mixture once more and pour into prepared baking dish. Bake at 350 F for 30 to 45 minutes until golden in color and center is set with no jiggle.

Caramel sauce ingredients:
3 cups granulated sugar
2½ cups heavy cream
6 tablespoons butter
¾ tsp salt
Directions:
Place sugar in a large saucepan. Add water to sugar until wet sand-like consistency forms. Make sure there are no sugar crystals on sides of pan, this will cause your caramel to crystalize. Combine cream and salt in a separate pot and bring to a simmer. Place large saucepan of sugar on stove and cook until dark amber color is achieved.
Carefully whisk your butter into caramel. Slowly stream your cream into your caramel whisking constantly. (Chef note: Be very careful! Caramel will bubble up. You don't want to burn yourself!) Once all the cream is added, strain caramel through fine mesh strainer. Serve warm over warm bread pudding. (Chef note: Not sweet enough? You're welcome to add a heaping scoop of ice cream you deem suitable. I do.)