If you think creating the world's best grilled cheese sandwich is unattainable, chances are you've never met the owner of Best Regards Bakery, Robert Duensing. He takes his grilled cheese sammiches very seriously.
In fact, when we asked about a recipe for his famed comfort-food rendition, we didn't know we'd get a dissertation about ingredients, uh, alongside the ingredients.
 So, in honor of National Grilled Cheese Month, here's his scientific spin on the diner staple.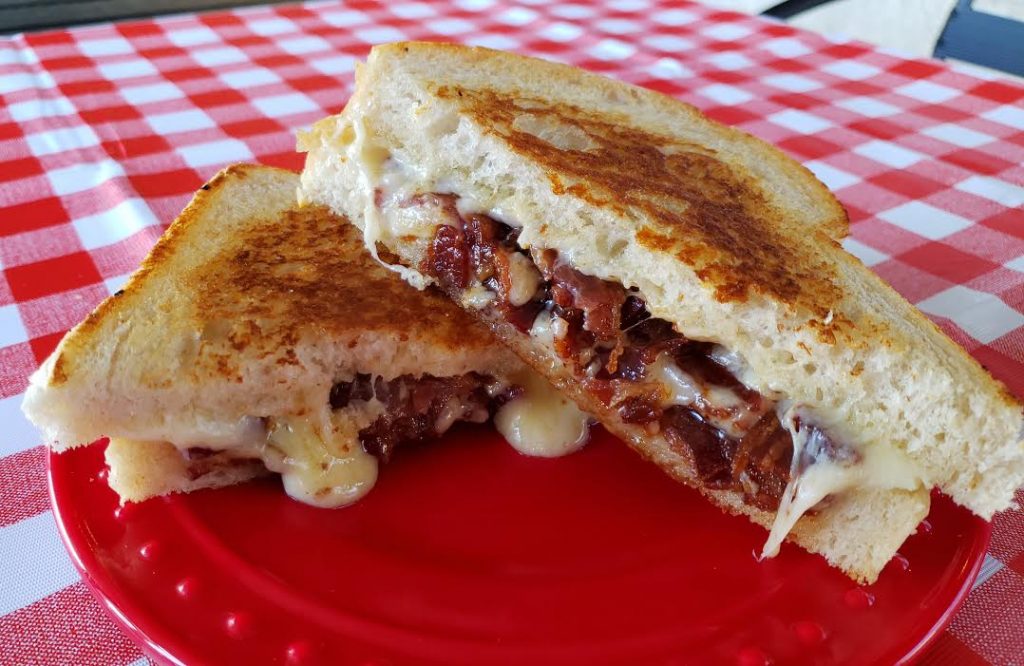 Best Regards Bakery & Café Paradise Bacon Grilled Cheese
Ingredients:
Two thick-cut slices sourdough bread. (Chef note: "Bread is the foundation for an amazing sandwich. The best bread for making a sandwich like this is a locally made, naturally leavened bread. it should only have three ingredients: flour, water, and salt.")
A few tablespoons European butter (melted or softened).
Two slices Paradise Locker thick-cut slices Berkshire bacon, cooked and chopped. (Chef note: "The only choice is thick-cut slices of bacon from Paradise Locker Meats in Trimble, Mo. Their pork is from field-raised Berkshire/heritage hogs. The bacon has a slightly sweet taste that will remind you of old country-style bacon from a family farm.")
Two slices Havarti cheese and one to two ounces shredded Tillamook extra-sharp cheddar. (Chef note: "The cheese should complement the bacon, but not overpower it. The best companion cheese to Tillamook cheddar (black label, aged 2 years) is Havarti.")
Directions:
Preheat your grill/pan to medium heat. Lightly brush one side of each slice of bread with softened butter. Place each slice of bread, butter side down on your work surface. Place 1 slice Havarti cheese on each slice of bread. In a small mixing bowl, combine bacon and shredded cheddar cheese. Spread bacon/cheese mixture onto one slice of bread. Spread evenly, but not too much on the sides; you don't really want the cheese oozing out the sides. (The melted cheese oozing out the sides may make for a cool photo but takes away from actually eating an awesome grilled cheese.) Put the two sides together and grill the sandwich. If you hear a loud sizzle when you place it on the grill, the heat is too high. Lower the heat to medium and toast the sandwich until it is a nice shade of dark brown and flip to finish on the second side.
Chef tips and techniques:
If your cheese is cold, you need to let it come to room temperature, or you can microwave it for about 15 seconds to take the chill off.
The best grilled cheese sandwich is made Kansas City-style, as in low and slow. Your grill, skillet or flat-top needs to be set at medium heat. If your grilled cheese is fully toasted and brown in less than 5 minutes per side, then you are going too fast.
Lastly, when you take the sandwich off the grill, flip it over so that the last side on the heat is facing up.  This will allow the steam to escape and the bread to crisp up.