Before she was an esteemed pastry chef, Deepal Patel ("Dee" for short) worked as—get this!—a geneticist in England. Fortunately for us, she took up baking as a hobby in 2013 and ended up making quite the career change.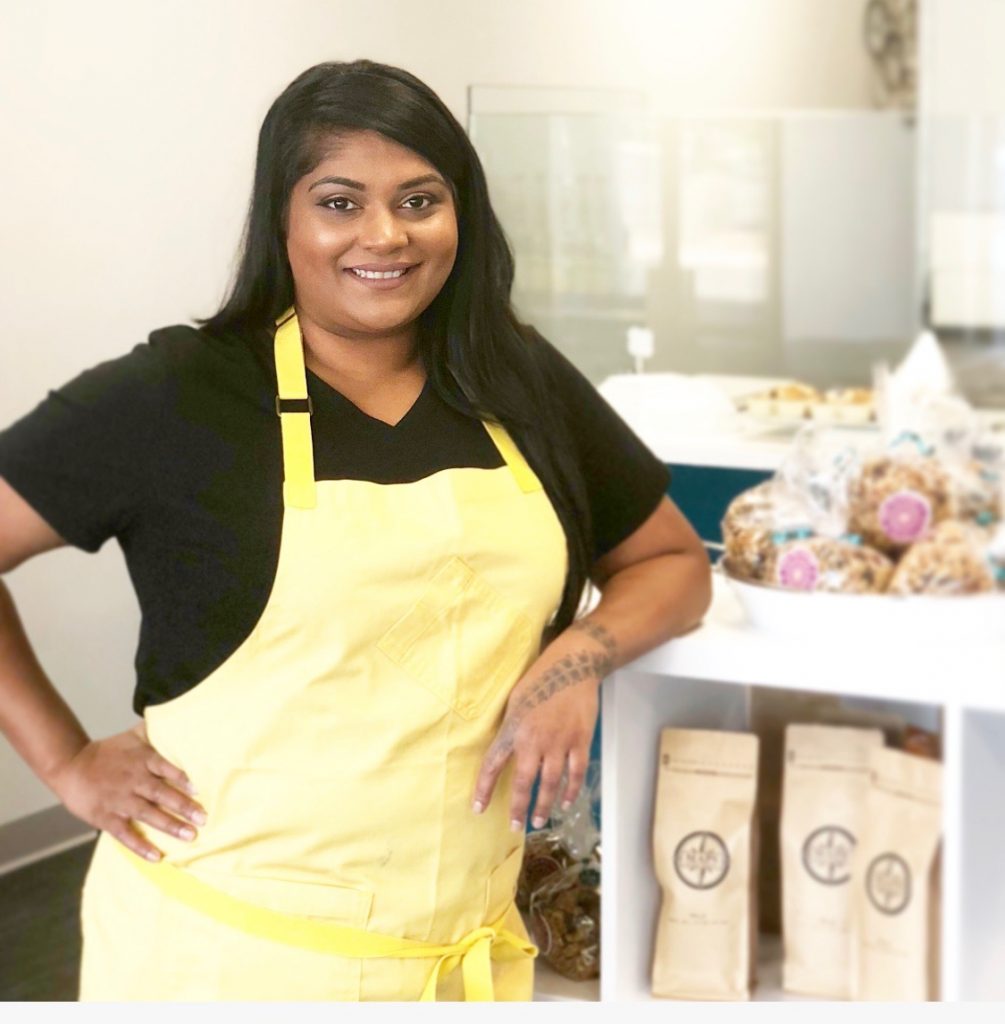 Five years of perfecting her craft and one culinary degree later, Dee got the chance to show off her mad skills when she competed on Food Network's Spring Baking Championship in 2018. From there, she decided to let her creativity thrive and opened The Pantry KC. Her bakery—still less than a year old—focuses on custom desserts with unique twists, whether it's a wedding cake, birthday cake or small treats.
Knowing full-well that KC is a St. Patrick's-centric town, Patel gave us her take on a sweet treat to serve this Sunday. "This is a classic that I've put a couple of spins on. It's not only a coffee and chocolate version of the traditional vanilla, but I've put a little Irish whiskey in it to really put some hair on your chest," Patel says. "Served with a rich, dark-stout ice cream, that warm butter cake will have you fired up and craving it all year."

St Patrick's Day Special: Irish Whiskey Gooey Cake and Dark Stout Ice Cream
Whiskey Gooey Cake
(Chef note: "This is mixed in two separate bowls, layered in a 9 x 13-inch pan and then baked in a preheated 350-degree oven for 20 minutes.")
Ingredients:
1 package of chocolate cake mix (any brand)
1/2 cup melted unsalted butter
2 eggs
2 teaspoons vanilla extract
2 tablespoons whiskey
Combine all the ingredients and press into the bottom of a lined 9 x 13-inch pan.
Top Layer:
8 ounces softened cream cheese
4 cups confectioners' sugar
2 eggs
2 teaspoons vanilla extract
2 tablespoons whiskey
Combine all the ingredients and mix with the whisk attactment until light and fluffy. Start the mixer on low and gradually increase speed to avoid a mess. Pour the top layer over the base and bake. After baking allow to cool slightly before serving with the stout ice cream. If you have left overs they can be reheated to serve.

Stout Ice Cream
8 ounces of Guinness Extra Stout (pour early or from high a couple of times)
1/2 teaspoon salt
3/4 cup granulated sugar
6 large egg yolks
16 ounces heavy whipping cream
1 teaspoon vanilla bean paste
Whisk the cream, sugar, salt, and vanilla in a saucepan and bring to a boil. Remove pan from heat and temper egg yolks. Return the custard to heat and cook to 170 degrees. Remove from heat, pour into a bowl and whisk in the stout. Cover the surface with plastic wrap and chill overnight Following instructions on your ice-cream machine, churn the custard until it's the consistency of a soft serve. Store the ice cream in a pre-frozen, air-tight container and allow to firm for at least six hours in the freezer.
Serve the ice cream over warm Irish Whiskey Gooey Cake
(Chef note: "This is a super simple recipe using a few cheats to speed things along, and you can always pick up the ice cream at The Pantry KC if you don't have an ice-cream maker.")