The only thing better than sweet and savory? It's sweet, savory, and a li'l spicy. These homemade black pepper biscuits from INN at Meadowbrook's pastry chef, Nikka Vavra, are our new (strawberry) jam. "They are the perfect summer breakfast treat," she says. "They're fast and easy to make, especially if you're in a pinch for time. The biscuits are light and fluffy. And the jam adds just the right amount of sweetness."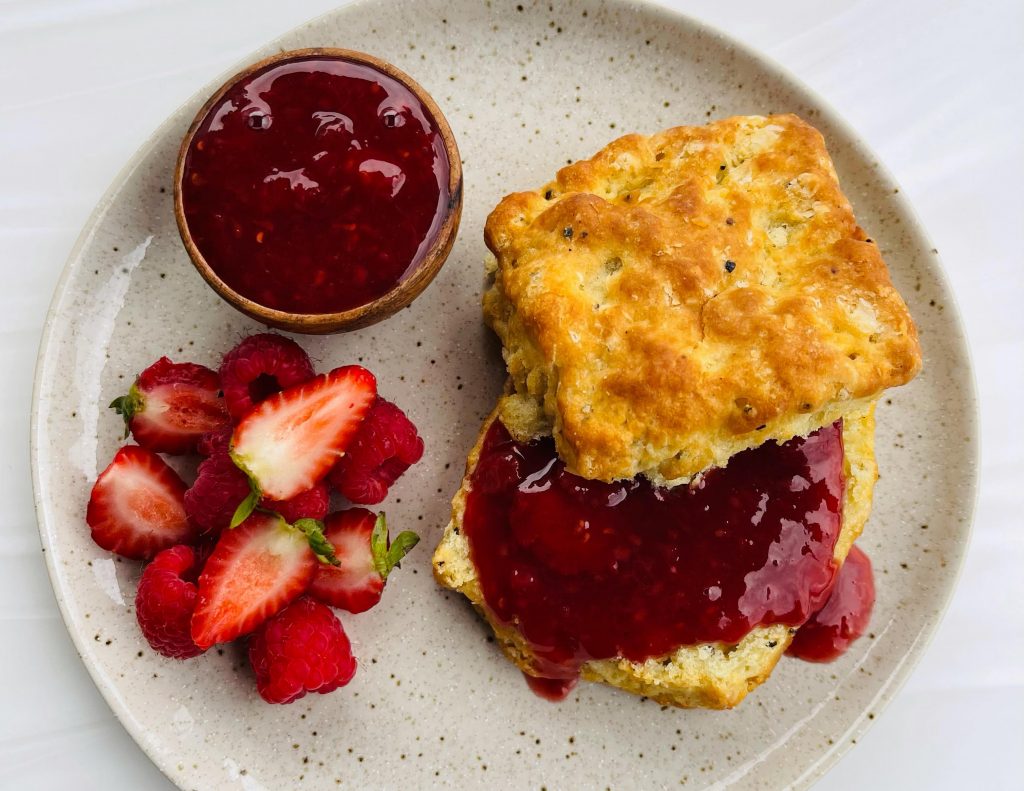 Black Pepper Biscuits with Strawberry Jam
Yield-12 biscuits
Ingredients:
4 ½ cups all-purpose flour
2 tablespoons baking powder
2 1/2 teaspoons baking soda
1 1/4 teaspoons kosher salt
1 1/4 teaspoons black pepper, ground or coarse
1 cup butter, shredded and frozen
2 cups buttermilk
Directions:
Shred your cold butter or cut into very small cubes. Put it in the freezer for at least 15 minutes. Preheat your oven to 375 degrees. In a large mixing bowl mix all your dry ingredients, flour, baking soda, baking powder, salt, and pepper. Fold in your butter, mix well. Slowly fold in your buttermilk, a little at a time until your dough begins to come together. Lightly flour your counter and place your dough on the surface, using floured hands or a rolling pin gently press the dough into a square or rectangle about 1" thick and about 2"x 2". Cut into 12 biscuits. Freeze biscuits for 15 minutes before baking. Line a sheet tray with parchment. Bake 15-20 minutes until light golden brown.
Red Berry Jam
Ingredients:
3 cups fresh strawberries
2 cups fresh raspberries
1 ½ cups sugar
Zest and juice of half an orange
1 teaspoon vanilla extract
Directions:
Put all ingredients in a saucepan and bring to a simmer until all the sugar is dissolved. Bring mixture to a low boil, stirring continuously, boil for 15-20 minutes. (Chef note: it should be thick enough to coat a spoon.) Place jam in a jar or heat-proof container and put in the fridge immediately to cool. Lasts two-to-three weeks in the fridge.