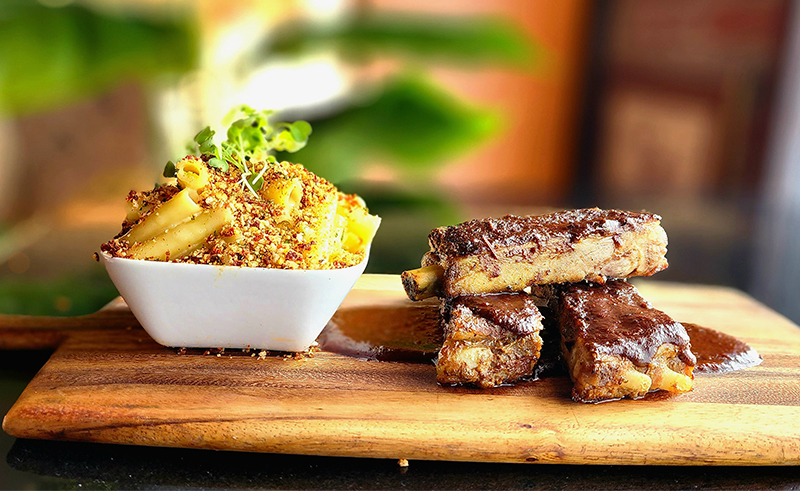 For the last nine years, Kansas City's top chefs have gathered for Cook for Courage, a battle of skill in the ultimate Kansas City food category: barbecue.
A signature event for the Child Protection Center (CPC), the Ninth Annual Cook for Courage on May 15 will bring in nine chefs from some of Kansas City's best restaurants: Vince Brink of Torn Label, Colby Garrelts of Rye, Cherven Desauguste of Mesob, Linda Duerr of the Restaurant at 1900, Anita Moore of Soiree, Vince Paredes of The Farmhouse, Ben Wood of City Barrel Brewery + Kitchen, and Scott and Kate Meinke of Heirloom Bakery and Hearth.
Plus, Cinder Block Brewery, City Barrel Brewery + Kitchen, Crane Brewing, Double Shift Brewing Company, KC Bier Co, Stockyards Brewing Co, and Torn Label Brewing Company will compete for Kansas City's best brew.
This year, the chefs will make smoked ribs and a side dish that patrons will sample along with a celebrity panel of judges that includes Mayor Quinton Lucas, Matt Besler, Pete Dulin, Tamara Day, and Jenny Vergara. Get tickets to Cook for Courage here.
Ahead of the cook off, Mesob's Desauguste is sharing his recipe for mac and cheese and jerk ribs.
"Cook for Courage is for a great cause, and I'm excited to be able to mingle with some of my colleagues in the industry, see some new faces, and ultimately give something back to the community," says Desauguste. "And barbecue—we actually started it in Haiti—and we have ribs on the menu at Mesob."
Cherven Desauguste's Mac and Cheese
Ingredients

16 oz elbow macaroni, cooked (or other tubular pasta) *

1 tbsp extra-virgin olive oil

6 tbsp unsalted butter

1/3 cup all-purpose flour

3 cups whole milk

1 cup heavy whipping cream

4 cups sharp cheddar cheese shredded**

2 cups Gruyere cheese shredded

Salt and pepper to taste

1 1/2 cups panko crumbs

4 tbsp butter melted

1/2 cup Parmesan cheese shredded

1/4 tsp smoked paprika (or regular paprika)

4 oz pancetta

1 /½ cups panko

 1 tbsp parsley chopped

 ½ tsp thyme



* Cook pasta to slightly less than al dente—about 2 minutes is perfect. 
** For best results, use block cheese and shred. Pre-shredded cheese won't melt properly.
Instructions 
Preheat oven to 350F. Lightly grease a large 3-to-4-quart baking dish and set aside. Combine shredded cheeses in a large bowl and set aside.
Cook pasta one minute shy of al dente according to the package instructions. Remove from heat, drain, and place in a large bowl.
Drizzle pasta with olive oil and stir to coat pasta. Set aside to cool while preparing cheese sauce.
Melt butter in a deep saucepan, Dutch oven, or stockpot.
Whisk in flour over medium heat and continue whisking for about 1 minute until bubbly and golden.
Gradually whisk in milk and heavy cream until smooth. Continue whisking until you see bubbles on the surface and then continue cooking and whisking for another 2 minutes. Whisk in salt and pepper.
Add two cups of shredded cheese and whisk until smooth. Add another two cups of shredded cheese and continue whisking until creamy and smooth. The sauce should be thick.
Stir in the cooled pasta until combined and pasta is fully coated with the cheese sauce.
Pour half of the mixture into the prepared baking dish. Top with the remaining 2 cups of shredded cheese and then the remaining mixture.
In a small bowl, combine pancetta, panko crumbs, Parmesan cheese, and paprika. Sprinkle over the top and bake until bubbly and golden brown, about 15 minutes. Serve immediately.
Cherven Desauguste's Jerk Ribs
Ingredients

1 rack of baby back or St Louis spare ribs




Medium-size bunch of scallions, trimmed and roughly chopped

½ small yellow onion, peeled and roughly chopped

4 cloves garlic, peeled

4 habanero peppers, stemmed and seeded

1 serrano pepper, stemmed and seeded

Kosher salt to taste

2 tablespoons dried thyme

1 tablespoon garlic powder

2 tablespoons ground allspice

1 teaspoon chipotle powder or habanero powder

1 teaspoon ground black pepper

½ teaspoon chili powder

½ teaspoon onion powder

½ teaspoon smoked Spanish paprika

¼ teaspoon ground cinnamon

1 tablespoon dark brown sugar

¼ cup soy sauce

¼ cup dark rum



Instructions
Preheat oven to 300F. Place scallions, onions, garlic, and peppers into a food processor with a pinch of salt, and pulse to mince.
Add spices, sugar, and soy sauce, and blend for 15 to 20 seconds. Add rum, and pulse to combine. Add water to thin the marinade—approximately 1/4 cup. Refrigerate for 30 minutes or until ready to use. 
Slide the handle of a wooden spoon, or the edge of a butter knife, below the membrane on the back of each rack of ribs and use your fingers to grab it and pull it off. Season the ribs aggressively with salt and pepper.
Place each rack of ribs on a large sheet of aluminum foil, and slather with the jerk marinade. Wrap the ribs tightly in the foil and place them on a sheet pan in the oven for 90 minutes.
Remove the sheet pan from the oven, carefully unwrap the ribs, and baste again with the jerk marinade. Return the ribs, uncovered, to the oven, and continue roasting for an additional 90 minutes, or until the meat is crusty and has just begun to pull back from the bone. Remove ribs from the oven, allow to rest 5 minutes, then slice into individual ribs and serve on a warmed platter.