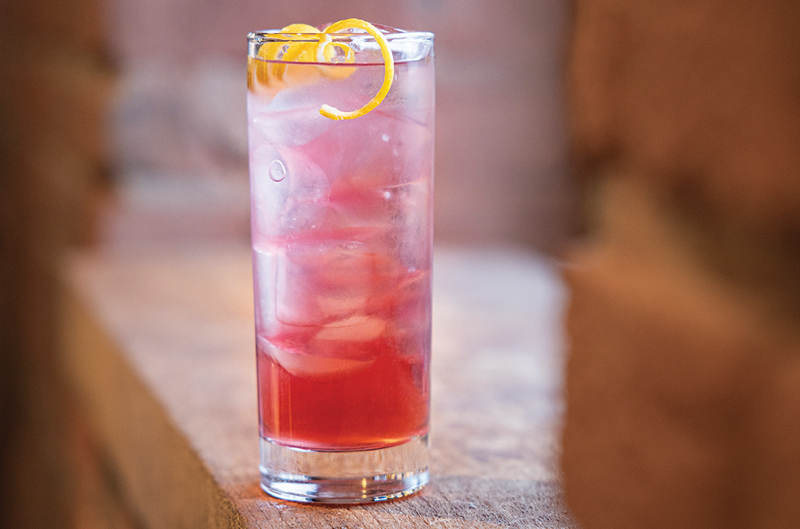 It's hard to decide what's more compelling at Tannin Wine Bar & Kitchen, the food or the drinks. Then again, the beauty of the Crossroads spot is that you never have to prioritize one over the other, as they work in resonant harmony.
We'll state the obvious—wine is kind of a big deal here. Approached with love and curiosity, rather than the reverence that can make wine-focused establishments seem inaccessible to the novices among us, Tannin offers wines by the taste, glass, or bottle. Finding your footing? Start by checking out the list of vino available by the glass, a manageable selection that covers the major categories. Happy hour also provides a superb introductory experience from 4 to 5 p.m. Tuesday through Friday and 2 to 5 p.m. Saturday and Sunday. Guests can score half-price glasses of wine, $10 cheese plates and charcuterie boards, and $3 pommes frites.
Oenophiles will find themselves swept away in the pages of the weightier list of wines by the bottle, an impeccable collection that includes creations from around the world that exemplify their styles and show off surprising, under-appreciated facets. For the deeply committed, Tannin's wine clubs include a personal wine locker where a bottle is delivered each month, among other tantalizing perks.
All that said, you don't need to give a damn about wine to fall for Tannin. The dinner menu features an expansive range of snacks and appetizers, such as creamy smoked salmon and caper dip and truffled mushroom soup, as well as entrées. The kitchen produces one of the city's most consistently delicious takes on risotto as well as a luxurious braised beef short rib with fluffy whipped potatoes and garlic green beans. Or skip straight to dessert. Tannin's fudge-stuffed peanut-butter cookies have developed a loyal following for good reason, especially when they're served Elvis-style, aka topped with banana ice cream and bacon.
The indulgent cookies are also available during Sunday brunch, when Tannin serves up latkes, shakshuka, pastrami hash, and challah bread French toast, among other edible delights. Since 10 a.m. is a little early for wine, you'll want to peruse the brunch cocktails, a lineup that includes mimosas by the glass or bottle and the KC Sunrise, a combo of tequila, orange, lime, and beet juice that's sure to wake you up.
And don't overlook the regular cocktail menu, a seasonal selection of goodness that this winter includes a warmed butter-washed Jamaican rum with turbinado syrup and star anise as well as the bourbon-based honey crisp, a drink that also features spiced honey syrup, lemon and a dry cider.
Of course, Tannin is still a wine bar at its core, so it's only fitting to slip a little vino into its cocktails every now and then. The Joan Collins, a favorite among many of Tannin's regulars, highlights Bugey Cerdon, a French wine region that produces a sweeter style of sparkling rosé.
"There are lots of wonderful producers in this region, but the style of wine produced is the same, so any wine from Bugey Cerdon will work," explains bar manager Brooke Silvey.
---
Joan Collins
1 ounce Corruption Gin from Tom's Town
.5 ounce house-made lemon syrup
2 ounces sparkling rosé from Bugey Cerdon
Stir ingredients over ice. Strain into a Collins glass over ice and top with wine. Garnish with a lemon twist.