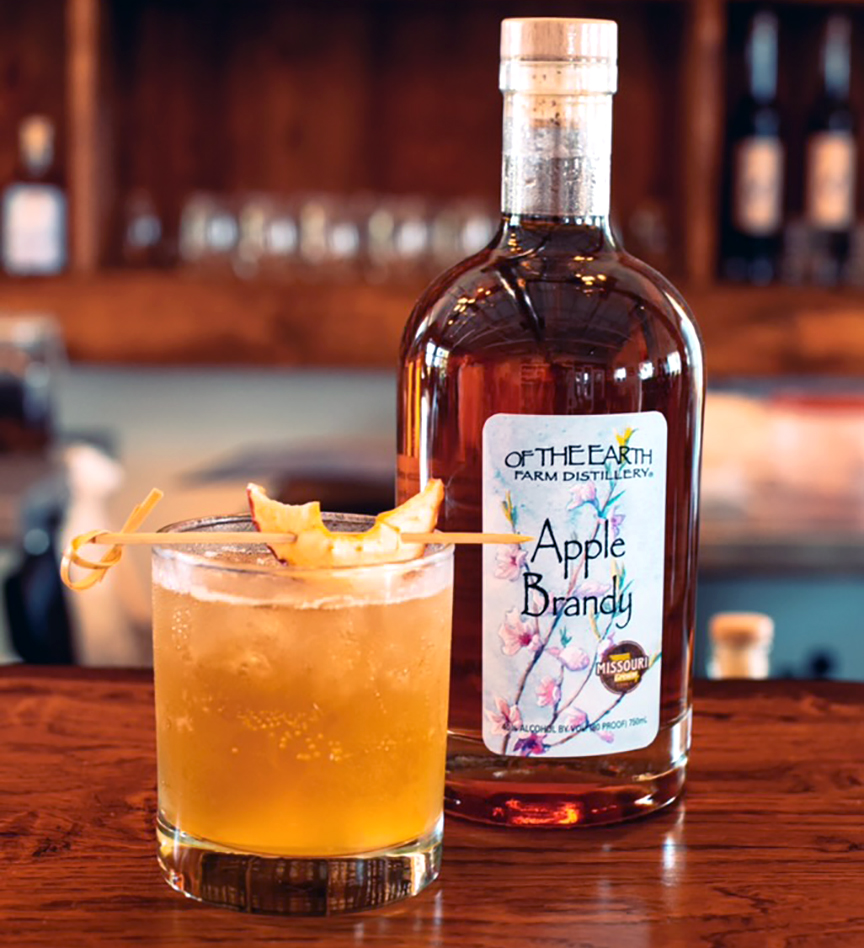 The French call it eau de vie. In Scotland, it's better known as whisky.
"Every culture has a word for what comes off the still," says Of The Earth Farm + Distillery co-owner Jim Pearce. "Whatever you distill has historically been referred to as an eau de vie."
Jim and wife Sarah Burnett Pierce brought their own version of the spirit to Missouri: Apple brandy, made from fruit grown on their farm and others in the area and aged in Missouri white-oak barrels.
It's one of many offerings introduced by Richmond, Missouri-based Of The Earth Farm + Distillery since its distilling operation started in 2012. The Pierces were looking for ways to increase income at their small, family-owned farm when Jim attended a conference and learned about the possibility of turning their fruit into spirits.
He still vividly remembers trying a cherry eau de vie during that trip: "It was like standing in a cherry orchard," he recalls. "I could smell the blossoms and I could see the trees. It was a really moving kind of experience."
After receiving grant funding from the Missouri Department of Agriculture, the Pierces were able to begin production in a one-car garage using a small 50-gallon still from Portugal. Jim admits he didn't know much about the process or the industry, but perhaps the biggest unknown was how their spirits would be received. He started selling their apple brandy at City Market and found it connected with customers.
"I'm consistently playing with different cocktail recipes and trying to find things that pair well with our spirits" – Sarah Burnett Pierce
Their demand has driven Of The Earth's growth over the years. The company now makes a long list of spirits, including rum, rye, and gin; raspberry, blackberry, and coffee liqueurs; and grappa. The pommeau, a blend of apple brandy and fresh apple cider aged in the used white-oak barrels, is a particular favorite of Sarah's.
"You still have some of the oakiness from the barrel, but a lot of it is offset by the sweetness and the apple flavors from the fruit juice," she explains.
All of the spirits can be sampled at Of The Earth's tasting room, an upscale country-style space which offers views of the farm and seasonal cocktails showcasing their products (including pepperoni and salami made from their own hogs). In light of COVID-19 precautions, the tasting room also now features sidewalk café-style seating from 2 until 8 p.m. Fridays, Saturdays, and Sundays so people can get out of the house while still respecting safety recommendations.
On the menu, you'll find libations like the blackberry mimosa, made with Of The Earth's blackberry liqueur and semi-sweet white wine, and the kickstarter, coffee liqueur with Boozy Botanicals Vanilla Allspice.
The current cocktail list also features The True Norman, a drink that has its roots in the Norman Conqueror, which typically features calvados, a type of apple or pear brandy from Normandy, France.
"I'm consistently playing with different cocktail recipes and trying to find things that pair well with our spirits," Sarah says. "In the beginning particularly, but still to some extent, I look at a lot of traditional cocktail recipes and kind of tweak them to fit our spirits."
Here, Of The Earth's apple brandy steps in for calvados with pommeau and apple juice bolstering the fruit flavor.
---
The True Norman
1

ounce Of The Earth Farm + Distillery Apple Brandy

1

ounce Of The Earth Farm + Distillery Pommeau

2

ounces apple juice
Dash of grenadine
Fill a rocks glass with ice. Pour brandy, pommeau, and apple juice over rocks and stir. Add grenadine and garnish with an apple slice dipped in lemon juice, pansy blossom, violet blossom, or even a sweet William blossom—they're blooming right now.